Imagine there was a way to stand in the footsteps of an Indigenous person on the shores of Botany Bay the day before Captain Cook first arrived in Sydney. One digital developer has created an interactive and immersive virtual reality (VR) world where you can do just that.
For Kooma man and digital native Brett Leavy, promoting and protecting the collective knowledge of First Nations people is fine art.
Over the last 25 years, he's been using digital technologies to engage young Aboriginal and Torres Strait Islander people with their history and cultures, culminating in the launch of a software development kit called Virtual Songlines.
"In a nutshell, we're trying to build a virtual time machine to respectfully represent Indigenous heritage in public spaces," he told create.
"It's all about taking our historically significant sites and objects of cultural importance into a technical space and creating an immersive virtual environment that is in effect a digital storytelling experience."
In researching, developing and creating Virtual Songlines, Leavy drew on his background in software development and cultural heritage management, and harnessed the knowledge and connection of elders across the country.
"We're trying to build a virtual time machine to respectfully represent Indigenous heritage in public spaces."
Virtual Songlines uses VR to respectfully represent Indigenous heritage. (Image: Virtual Songlines)
"One example of a number of projects was a VR experience we delivered alongside Noongar elders last year, showcasing the Perth CBD before the arrival of first settlers," he said.
"Elders felt that this immersive technology was a useful way that we can engage and provide a means for practical reconciliation and get the general public to walk in our footsteps."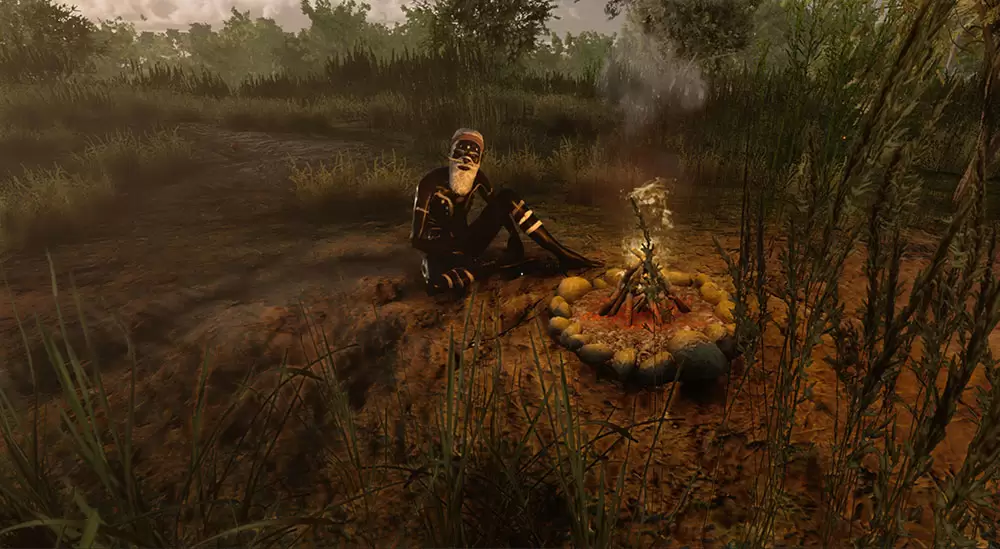 Cultural collaborations
Leavy said his team is collaborating with communities across the country to try and gamify the cultural heritage of different Indigenous nations in as many regional towns and capital cities as is feasible.
"Our work explores our cultural heritage through what we are calling our cultural heritage intelligence programming system (or CHiPS)," he said.
"It's where we program artificial intelligence in every animated person, animal and object. As an example, our animals in our virtual projects think, and each one of those animals doesn't appreciate being hunted and will react to the player who is the hunter."
The process of digitally building these virtual heritage-inspired realities draws on an incredible array of community input, historical research, data sets, credentials and information.
Leavy engages First Nations communities, researchers, historians and anthropologists to help verify and validate the knowledge he represents, while his team of designers and programmers create credible and authentic virtual artworks.
These can then be displayed in places such as libraries, schools, museums and public spaces across the country or even internationally.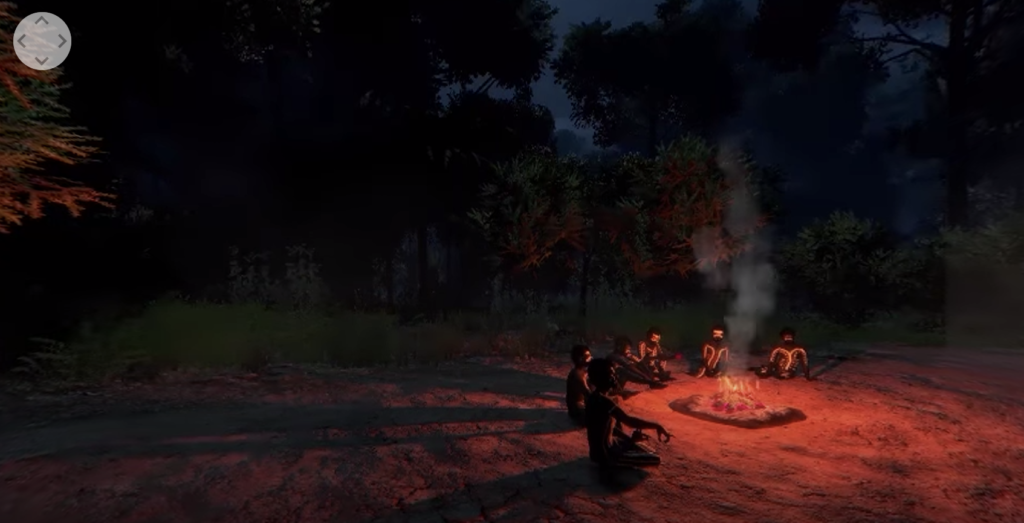 "We strive to reconstruct topographically accurate landscapes, then take the soil maps from places like Geoscience Australia to generate the biomes of a place," he said.
"We then add the cultural information where it exists, such as bush medicine and bush foods, hunting grounds, tracks and campsites. We seek to design the real world biomes that existed and sustained both traditional owners and wildlife since time immemorial."
Leavy's goal is to establish a sustainable social enterprise, and engage with construction and engineering firms who might support Virtual Songlines projects.
"If you're doing any construction, it would be wonderful to take the time to reflect upon the generations of people who were there before."
This would enable his team to keep busy making virtual heritage landscapes for communities and others, and assist in respecting lands where construction and mining happens.
Similar to environmental impact studies, engineers would explore and interrogate these immerse 3D cultural landscapes to both visualise Dreamtime stories and experience the world Indigenous ancestors lived in before European settlement.
"Those engineers would be able to follow the footsteps of our people that were and still are the original custodians of the land," Leavy said.
"If they're doing any construction, wouldn't it be wonderful to take the time to reflect upon the thousands of generations of people who were there before, and to honour the culture that is still asserting its rights and responsibilities to this land today."