A tracing system where employees are tested for COVID-19 at the beginning of each work day and find out the results within six hours sounds like a dream for businesses looking to get the economy moving again — and now one firm has a trial underway that could turn this into a reality.
With a desire to keep employees and local communities safe, Australia and New Zealand CEO of infrastructure firm ACCIONA, Bede Noonan, decided to take an innovative approach to conduct contact tracing on worksites.

"It came about via a desire to find an industry solution," he told create. 
"I was aware that mask swabbing was going on in other parts of the world and decided to look into it."
At four construction sites along the Frankston railway line, ACCIONA is trialling a system where, within the first two hours of the work day, construction workers remove their face masks and place them into sealed bags with QR codes.
Some 400 masks are then sorted into groups of five and tested as 80 job lots using the standard PCR test used for COVID-19 nasal swabs.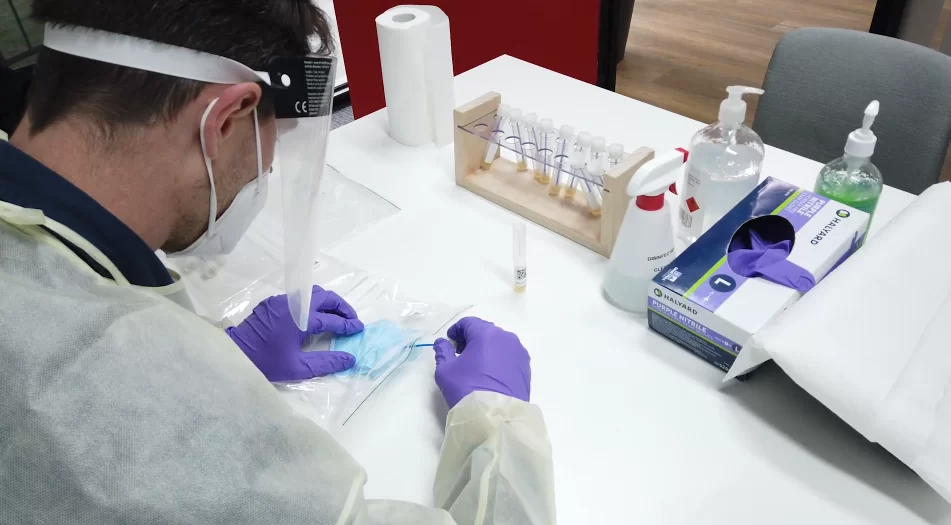 "You test five samples at once instead of one at a time, which helps to keep costs down, and within six hours the workers receive an automated SMS telling them the results," Noonan said.
If any of the job lots returns a positive result, the five workers in that group are sent home to isolate and be tested individually.
"One of the main benefits of mass screening is that it can pick up COVID cases in the most problematic phase: the 48 hours when a carrier is asymptomatic and highly infectious," Noonan added.
"This also brings testing to the work sites, rather than the downtime associated with workers getting tested off-site and then isolating until the results are available."
"One of the main benefits of mass screening is that it can pick up cases in the 48 hours when a carrier is asymptomatic and highly infectious."
To bring his idea to the front lines, Noonan called on his friend, Matt McCann, founder of travel start-up Tripfuser, who adopted Salesforce's data system for use in the Frankston railway line trial. 
The effectiveness of the short-term trial will be evaluated against a number of factors, including accuracy of the test results, logistics, transportation arrangements and workforce participation and feedback.
Noonan said he and McCann hope other businesses will consider introducing a similar mask tracing system for workplaces and travellers, which could be "massively scalable, to the tens and hundreds of thousands tests per day".
The COVID-19 pandemic has already hit the infrastructure sector hard, with Master Builders Australia forecasting that commercial building activity will be 15.7 per cent lower in the fiscal year to 30 June 2021.
Noonan said it was critical that the industry applied its creative thinking skills to find ways to keep job sites active and ensure projects were completed as planned.
"The construction engineering industry is very adept at finding solutions, particularly in areas such as data tracking and material traceability," he said.
"I'd love to see us looking at further trials of solutions for the pandemic, such as business communications systems linking in with contact tracing systems."