It has no crew and uses only the power available to it out on the open ocean. The Bluebottle is an Australian-designed craft with applications in everything from defence to the oil and gas industry.
Out on a lonely stretch of ocean near the edges of Australia's economic exclusion zone (EEZ), a mysterious vessel slips through the waves.
It could be carrying smuggled goods or making an illegal fishing catch. Perhaps it belongs to a foreign navy. Whatever it is up to, it is relying on the vastness and emptiness of the seas to evade detection.
Little does this illegal craft realise, however, that it is not alone.
Silent, self-powered and stealthy, an autonomous vessel called a Bluebottle has fixed on the intruding craft.
With a 300 kg modular payload of sensors collecting data, a five-knot hull speed, and the ability to stay at sea for months at a time, the Bluebottle is designed to monitor great stretches of water for situations exactly like this scenario.
"Anything that comes into our EEZ will get detected and potentially 'stung' by the Bluebottle," said Robert Dane, the CEO of Ocius Technology Ltd, the autonomous ocean vessel company that developed the Bluebottle.
"We can detect, we can listen to the sounds of propellers, we can watch with cameras, we can listen for electronic signatures, we can listen with radar."
The Bluebottle uses that data to determine if a craft has an automatic identification system (AIS) showing it to be a vessel with a legitimate purpose for being where it is.
"If the Bluebottles don't detect the AIS or the AIS is different from what we detect, then we report that back to a central control base and raise an alarm," Dane explained.
Bob, Bruce and Nemo
That's the plan, anyway. At the moment, there are just a handful of Bluebottles in existence — individual enough to have their own names, like Bob and Bruce and Nemo.
But the technology has caught the eye of defence companies — here in Australia as well as overseas.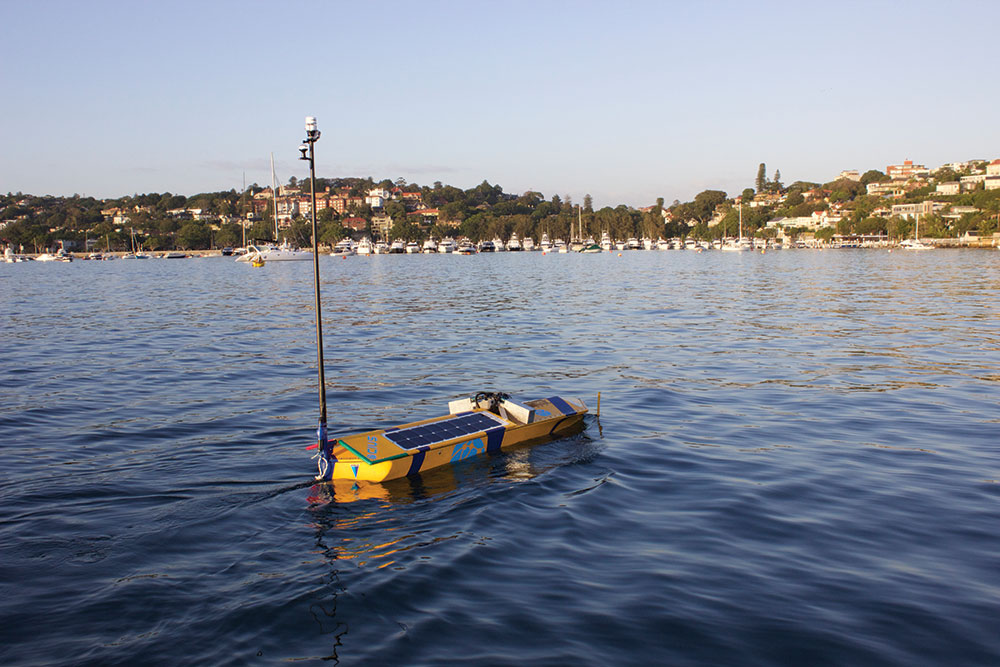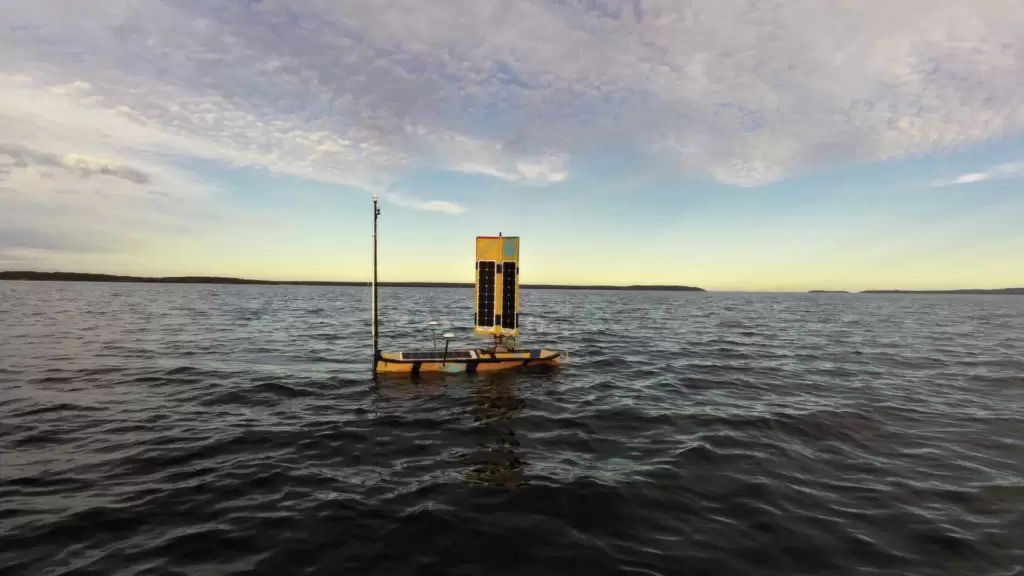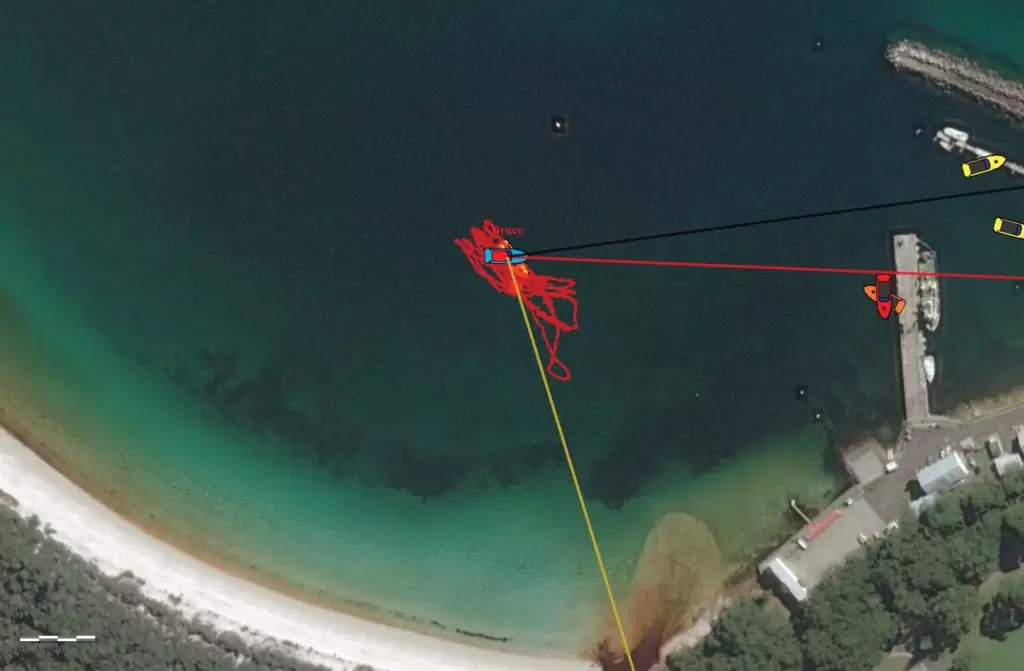 It all began with electric ferries.
"In the 2000s, we started building hybrid electric ferries — the Solar Sailor, a ferry you may have heard of, which was operated on Sydney Harbour by Captain Cook for 10 years," Dane said.
"In 1997 we won a solar boat race in Canberra with a wingsail that was also a solar panel. And then with that technology we thought the market was ready for a commercial ferry because it would be good to the environment and it would save fuel.
"Then the GFC hit and we got an inquiry from a US defence company about, could we use the technology to build a platform that can go to sea forever, and we asked them how much power they needed."
Dane was told 10 watts minimum for 10 days with no sun, and an average of 40 watts with eight hours of sun.
"We went back and did our sums," he recalled.
Their conclusion?
"Yeah, we can do better than that."
From there, the company built a prototype, which it demonstrated at the Pacific 2013 defence exhibition.
A 10-foot working model called Nemo — or "no one", in Latin — followed. Then in 2015 Ocius got a contract from what was called CTD — Capability & Technology Demonstrator Program, which became DST Group — to collaborate with Thales on an unmanned craft that could listen for signals under the water and handle gateway communications.
"Then in 2017, we got another contract to actually network multiple nodes — persistent unmanned nodes in the ocean," Dane said.
And so the Bluebottle was born — and named.
"We had Bob and Bruce out there working as a team, as sort of robots that can think for themselves and act — like players in a soccer team," Dane said.
"We're now working with the University of New South Wales [UNSW] computer science and electronics people, and we have a freestanding building where we are employing lots of researchers and lots of people to help us develop this content."
"Anything that comes into our EEZ will get detected and potentially stung by the Bluebottle."
Academic collaboration
One of those UNSW researchers is Professor Chun Wang, Head of the School of Mechanical and Manufacturing Engineering.
"Ocius was on the UNSW campus for about three years," he told create.
"They work closely with our own students and staff, so our staff are able to make a contribution to their product development."
Wang is working with Ocius to develop conformal radar antenna for the Bluebottles.
"That has applications for the Bluebottles — being able to integrate the antenna for communications," he explained.
"At the moment their sail is basically a photovoltaic panel; it has no communication device in it. So we are currently working on a new project to integrate a radar communication device into the solar sail. So the sail will be able to not only capture energy through the sun, it'll also be able to provide a much more powerful communication tool."
Since the solar sail has such a large surface area, it is an ideal place to integrate a radar antenna. That's what Wang is working on at the moment.
"We just got a new project. We start now to design and to manufacture and implement a radar device," he said.
"So we need to put the receiver device on to the sail; then it can plug into the existing equipment."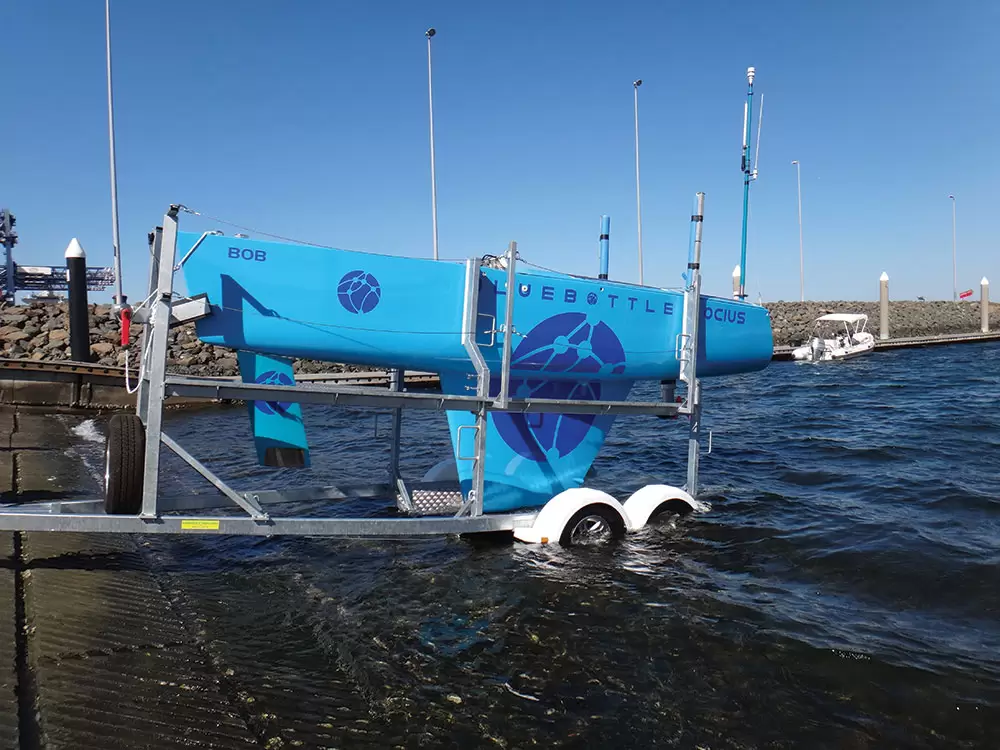 Chasing fish, scoping the ocean
While the technology has currently received the most interest from the defence sector, Dane said that it has a number of other applications, from resources to research.
"There is oceanography and science — collecting enormous amounts of data," he said.
"Then there's also fisheries protection. Our neighbours in the south-west Pacific have a billion-dollar tuna industry and there are pirate ships going in, and how do you police that?"
Bluebottles, he said, could be used to thwart these pirate craft chasing fish into a country's EEZ or a marine sanctuary.
"They don't stop — it's an imaginary line in the ocean," he said.
"So the idea of protecting marine sanctuaries or marine parks or marine borders from illegal fishing is a big application.
"And then there's a big application in oil and gas for doing what they already do, but doing it for a disruptively lower cost — for example, asset protection, environmental monitoring, mapping of various pipelines."
"The sail will be able to not only capture energy through the sun, it'll also be able to provide a more powerful communication tool."
Wang, for his part, sees the relationship between Ocius and UNSW as a productive one and hopes for more collaborations of that type in the future.
"This is one of the shining examples," he said.
"They do see a very strong alignment between what they're trying to do with the expertise within the school and the university. We have, obviously, electronics, mechanical engineering, we have manufacturing engineering, we have maritime architecture engineering as well."
Introducing the Bluebottle
The Bluebottle is an unmanned surface vessel, or USV. A renewable energy-powered vessel, it uses solar, wind and wave energy so that it can stay at sea indefinitely, limited only by biofouling.
Five knot hull speed
Can be launched from a boat ramp or ship
300 kg modular payload
50 W average payload power
Intelligent network
Team behaviours
Human on the loop, not in the loop