Young South Australian engineers will help develop a modern engineering culture and drive industry change as part of an aspirational group created by Engineers Australia.
Force Forty Engineers will provide an opportunity for those involved to advance their leadership credentials by connecting with key decision makers at six workshops this year. 
It will also support the creation of a peer network and encourage discussion around how engineering is crucial to a successful future in key areas, ranging from space and artificial intelligence to biotech and advanced manufacturing.
In all of these industries, the SA Government believes the state has the potential to be the centre for advanced technology in Australia.
"Force Forty Engineers will be incredibly valuable to grow our networks and see what avenues engineering can lead us into," said Kaitlin Matthews MIEAust, Operations Manager SA/NT at Sims Limited, a global leader in metal recycling and electronics recovery.
"As engineers, we can get stuck on one path and fail to see that there is a world of options and opportunities if we know where to look."
Matthews is chair of Engineers Australia's Women in Engineering SA community, and has a Bachelor of Engineering in Mechanical and Aerospace Engineering from the University of Queensland.  
Early in her career, she worked for a metallurgical coal company, before moving into recycling in 2015. 
Her current role is fuelled by a keen interest in reducing the footprint of our waste.
"I find it rewarding to be on the frontline witnessing advancing technologies that will, hopefully, achieve a world without waste," Matthews said. 
"We need to support the research and development that is required to create a circular economy and SA would be a great base to focus that advancement."
"As engineers, we can get stuck on one path and fail to see that there is a world of options and opportunities if we know where to look."
Breaking stereotypes and building automation
Manager of Project Engineering for BHP, Tasnim Al-Kufaishi MIEAust, said she hoped being involved in the group of 40 young leaders would give her the opportunity to promote engineers as professionals who do impactful work. 
"I feel that engineers are very much under-recognised and it is a great opportunity to break down stereotypes of what they do," said the young engineer, who transitioned into the mining and resources industry after 13 years in the electricity industry.
As Head of Network and Emergency Management for SA Power Networks, she led and managed emergency responses to some of the largest events and operational incidents in Australian history, including SA's state blackout event in 2016, bushfires and large-scale storms.
In her current role, Al-Kufaishi, who has a Bachelor of Engineering in Electrical and Mechatronic Engineering and a Masters of Business Administration from the University of South Australia, helps ensure efficient and sustainable multi-million dollar projects are delivered.
"While the electricity industry has been mature in applying automation and new technologies, mining presents a very exciting opportunity to implement new technologies and the use of robotics to drive efficiency," she said.
Being passionate about renewable energy, Al-Kufaishi also hopes to increase awareness of mineral mining and its importance to ensuring a sustainable future.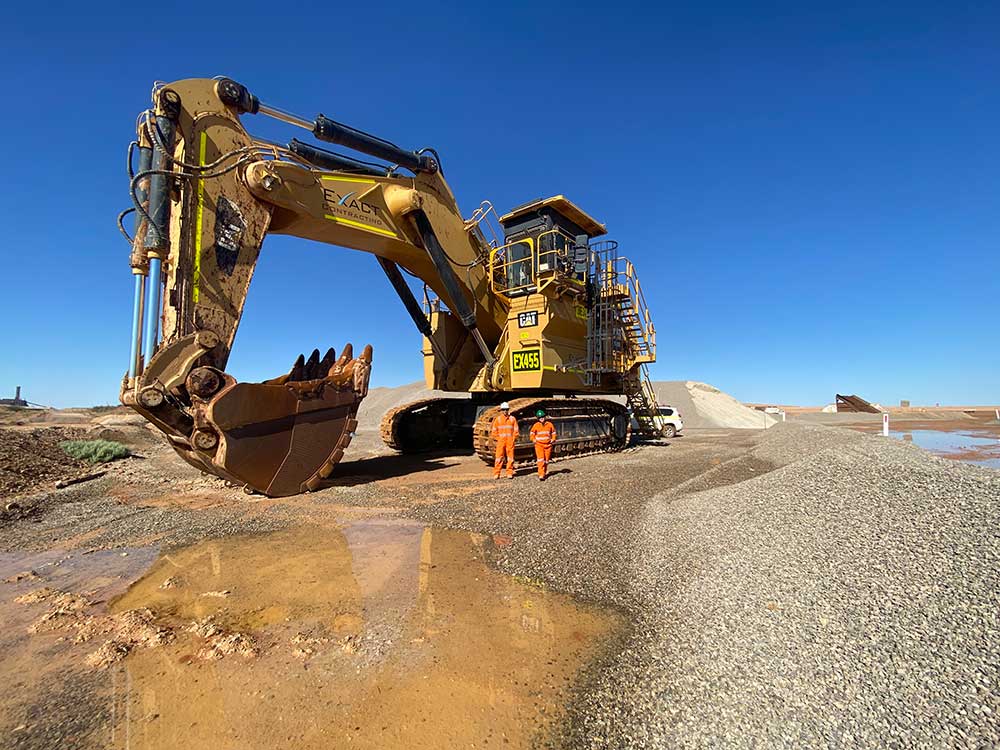 A new generation of problem solvers 
The belief that engineers will help transform multiple industries through automation is shared by Chartered engineer and Director of Engineering and Capital Projects for the Women's and Children's Health Network (WCHN), Steve Pavloudis MIEAust CPEng.
Pavloudis oversees the WCHN engineering department, including the $50 million sustainable upgrade project, and said engineers will increasingly use AI-powered technologies to create smarter, more functional buildings.
"It all comes down to problem solving," said Pavloudis, who has a Bachelor of Mechanical Engineering from the University of Adelaide and worked as a Field Engineer at energy technology company Baker Hughes, before gaining experience in the construction industry as a building services engineer at Lucid Consulting.
"Innovation, whether that's recognising who or how many people enter a building, or gathering data to understand daily patterns within buildings to optimise 'smart' air conditioning, is increasingly just one element of what engineers do," he said.
Pavloudis, whose brother is a petroleum engineer, has been interested in engineering since he was a student. In turn, he led the development of Lucid Consulting's graduate programs both for new starters and those in their first three years.
"With Force Forty we are helping build a community and ethos that will drive the next generation, who are the future of engineering," he said.
Going forward, Pavloudis believes engineers not only need to diversify their skillset and network, but also develop soft skills.
"Engineers need to be able to communicate complex ideas to those who are not experts in the field," he said.
"With Force Forty we are helping build a community and ethos that will drive the next generation, who are the future of engineering."
Growing careers and solutions 
For Al-Kufaishi, who is also a member of Engineers Without Borders, engineering was in the blood — her mother was an electrical and mechatronic engineer and her father an electrical and electronics engineer.
"I was curious at a young age about dismantling gadgets, reassembling and, sometimes, breaking them," she said.
To female engineers she says: "Stop telling yourself that you're not adding value, or don't deserve career progression. "
Matthews originally studied music, drama, dancing and singing at school but did well in physics after her mother suggested she take science.
She suggests young engineers stick with the profession, even though engineering involves a lot of hard work, long hours and dedication.
"Engineers play a big role in promoting research, science and development and the huge part it will play in our continued survival and ability to grow," she said.
Pavloudis agreed the engineering environment can be a high-pressure one, especially in the face of a constantly changing global landscape.
"Being malleable is key, and young engineers should never be too proud to obtain mentors and support from other engineers," he said. 
The Force Forty Engineers Group is an offshoot of the SA Government's Force Forty program, which will help to develop a strategy to attract young entrepreneurs to the state.