By taking over a repetitive yet integral task in the manufacture of Boeing's 787 Dreamliner aircraft, 'Wayne' has helped to streamline operations and reduce workplace injuries.
When Boeing Australia's Research and Technology unit was looking for a way to offload the "important but repetitive tasks" in its production facility, the group settled on an autonomous collaborative robot, known as a cobot.
It took years of iterative design to develop Wayne, the first autonomous mobile collaborative robot used on a Boeing site.
"Cobots need to be a lot more intelligent if they're working alongside people," says Dominic Wierzbicki, the engineering lead on the project.
"The original concept was somewhat different to what we ended up coming up with. But as we tweaked and tested in the production area, this is essentially what we derived." 
Based in Boeing Aerostructures Australia 787 factory in Port Melbourne, Wayne's job is to prepare the aircraft's flap tools, or mandrels, for manufacturing in the tool preparation area.
A key preparatory aspect includes sanding the mandrels – an important but repetitive task.
"[Employees] had to manually sand the mandrels for hours on end with a power sander and it's a part of the process they don't really enjoy," says Wierzbicki.
"Now that the sanding is offloaded to the cobot, we can focus on more valuable and meaningful tasks," adds Josip Mihalik, team lead in the 787 factory.
Not like the other robots
Wayne was not designed to be a fixed robot like those typically encountered in production facilities.
"Cobots are a class of lightweight robotic arms that differ from traditional industrial robots in that [they are] power and force-limited and designed to work alongside people," says Wierzbicki.
"Collaborative robots therefore challenge the restrictions typically imposed on robots on the factory floor, such as spatial boundaries between human operators and robots."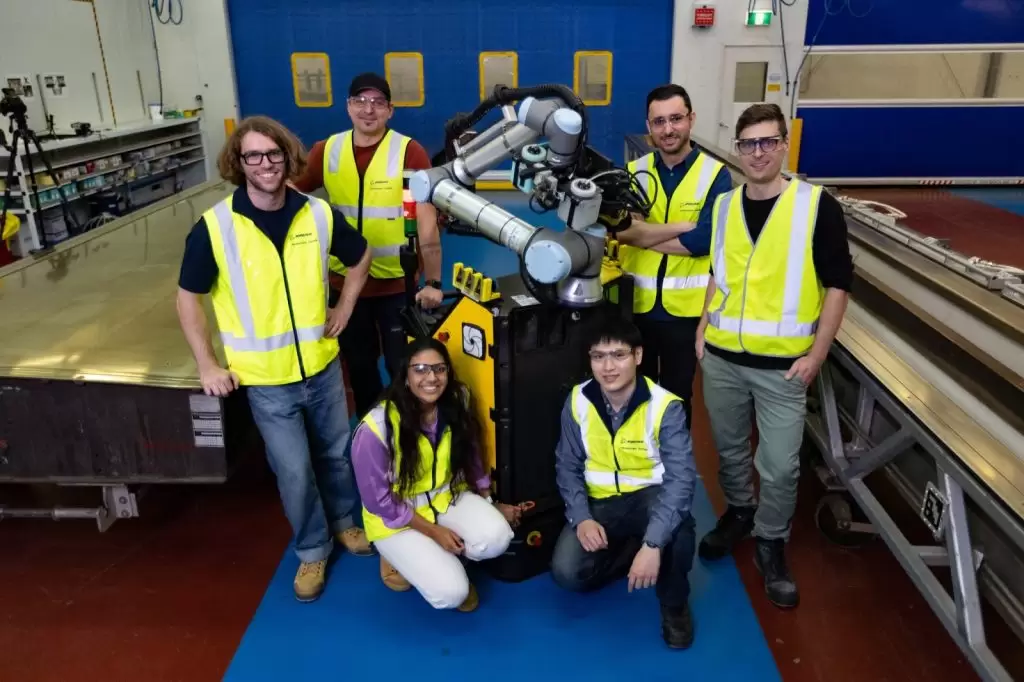 The purpose of a robot coworker is not to take over entire processes, but to fit in with people and tasks in the operating space.
"Traditional industrial robots essentially lock people out of the whole process," says Wierzbicki.
"There are steps in the process that people can do before, during and after the cobot sanding, while the cobot works." 
When Wayne's help is needed for a sanding task, an employee calls the cobot over. Wayne has multiple heads, depending on the sanding process required, which it attaches to its arm before driving out of the home bay.
The cobot self-navigates and moves around the factory, avoiding people and obstacles, with a rhythmic beeping sound announcing its entrance as it drives roughly to where it locates the mandrels.
The battery-operated cobot, which can operate for approximately 10 hours at a time, then uses its handy mechanical arm to carry out sanding and cleaning tasks.
"Once it's done it will drive back and get plugged into its charging station, or go and do another process," says Wierzbicki.
Design and safety features
The cutting-edge autonomous behaviours built into Wayne were designed to work within a complex factory environment such as an aircraft production line.
"The [cobot's] software that controls the navigation around the factory and the arm motion was written by our engineers in Melbourne," adds Wierzbicki.
"Collaborative robots therefore challenge the restrictions typically imposed on robots on the factory floor, such as spatial boundaries between human operators and robots."
The cobot uses laser scanners to work out where it is, along with 3D scanners to locate surrounding objects and people. 
When Wayne has roughly figured out its position, cameras on the front of the cobot scan barcodes attached to tools in the production facility. This gives Wayne an understanding of the position of the mandrel relative to itself. Once the mandrel is located, Wayne automatically plans an arm motion. 
"It knows the tool it needs to clean, but it doesn't actually know the arm motion to traverse the tool, because they are always in a different spot," says Wierzbicki. "So we wrote software that automatically plans that arm motion to clean the tool."
Traditionally, robots in production facilities have recorded motions, but Wayne required a more intuitive design.
"[Typically] you would determine an arm motion offline, save it and play it back each time," says Wierzbicki. "Whereas here, it needed to be automatically calculated."
Wayne is also equipped with several safety sensors, located on the mobile base below the arm, which ensure the cobot can carefully move around and carry out its tasks.
"When it has located obstacles or people, it drives slower and comes to a safe stop when it's near them," says Wierzbicki.
Wayne's arm also pauses if it gets too close to an object or person, with power and force monitoring stopping the arm safely in the event of any abnormal force, such as an accidental nudge.
Next on the horizon
Since Wayne was introduced in the 787 production facility two years ago, there has been a marked reduction in potential workplace injuries. The use of cobots lessens the risk of repetitive strain injury which may result from the monotonous sanding procedure.
"We did an ergonomic assessment before and after the process and [there was] a significant reduction in the ergonomic score," says Wierzbicki of the cobot's impact, which was named a finalist in the Safety Solution of the Year category at the recent 2022 Endeavour Awards.
At this stage, a second cobot is being trialled in the 737 production area for similar purposes. But Boeing's ultimate goal is to use cobots for various manufacturing tasks within its aerospace operations, along with replicating some of the technology at other Boeing sites in the United States.
We're looking at what other [manufacturing] processes can be done next," says Wierzbicki.
"The idea is you can use the cobot to sand one day and do something else, such as drilling or fastening applications, the next."