Plastic Collective, Tangaroa Blue and The Ocean Cleanup are each working to transform plastic pollution management and rethink approaches to ocean waste.
Plastic Collective founder and chief executive Louise Hardman was inspired to tackle ocean plastics after working with turtles.
The zoologist was leading a turtle research project more than 25 years ago when she discovered a dying green turtle that had eaten plastic hidden in seagrass.
Hardman went on to work in environmental education before founding her business in 2016.
"At the time, there was a lot of media around sperm whales eating plastic bags [and] turtles with straws in their nose," she told create. "I just felt really disempowered. I needed to work out a solution to empower myself to empower others."
Giving plastics value
Hardman started looking at communities in the Asia-Pacific, where much of the world's plastic waste enters the ocean.
"A lot of [countries] will be either burning, dumping or throwing the rubbish into the rivers or the environment, simply because of high transport costs, low incomes … and poor infrastructure," she said.
Hardman developed mobile recycling stations, usually housed in shipping containers, that could be sent to islands and other remote communities with limited waste infrastructure.
"I thought if every small community could have small mobile recycling equipment, then that would start to get the value of the materials," she said. "They could make products that they needed, like benches or fence posts or whatever's useful in the community."
A typical Plastic Collective set-up has equipment to break down plastics, such as shredders, granulators, small balers and digital scales.
Some communities choose to sell the shredded plastic, while others create new products with manufacturing equipment such as extruders, injection moulders and compression moulders.
"IF WE GIVE [PLASTIC] VALUE, WE [CAN] RECOVER THE VALUE AND WE DON'T THROW IT AWAY, WHICH MEANS IT DOESN'T BECOME POLLUTION."
The company's early designs for recycling machines were based on those from Dutch open hardware project Precious Plastic.
Hardman later worked with engineers to increase the capacity of the equipment and make it more reliable in remote, tropical locations.
"They needed to be pretty much bombproof [and] rustproof, because you're working in a salty environment," she said. "You've got insects, you've got humidity. All of those factors had to be taken into account when [designing] these containers."
Plastic Collective's recycling infrastructure is up and running in communities in Indonesia, Malaysia and Australia, with plans for more sites in Indigenous communities in northern Australia, Papua New Guinea and islands in the Pacific.
As well as equipment, the company provides training and links to buyers.
Hardman said recovered ocean plastic is highly sought after by manufacturers, and communities can command premium prices for plastic recovered from places such as coral reef restoration areas or turtle nesting grounds.
"That also provides … a negotiation point for the sale of materials," she said.
Ultimately, Hardman said plastic only becomes waste when it's not worth anything.
"Plastic is a material," she said. "If we give it value, we [can] recover the value and we don't throw it away, which means it doesn't become pollution."
Stop it at the source
In 2004, Heidi Tait was working as a diving instructor near Margaret River in Western Australia. She was amazed by the amount of plastics and other rubbish washing up on the region's otherwise pristine beaches.
Tait decided to hold a community clean-up to understand where it was coming from.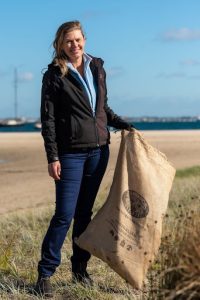 "I think we did 30 beaches between capes Naturaliste and Leeuwin over a weekend, and then we held a workshop a couple of weeks later to look at the data," she said. "The idea was to identify sources and see if we could do something about it."
The group recognised that the packing tape washing up onshore was from bait boxes used by the local rock lobster industry.
They looked for alternatives and found a self-locking cardboard box in South Australia, then decided to work with the industry and the state government on a solution.
"It took a while," Tait said. "But six years later, in 2011, they actually changed the legislation and it became illegal to have packing tape on commercial and recreational fishing vessels in the state of WA.
"For us, that was really proof-of-concept that you could take citizen science data, as long as you collected it in a robust manner, engaged the right stakeholders, came up with a solution and had a way to measure the impact."
"If all you do is clean up, that's all you'll ever do. We need to find ways of stopping the source, otherwise, we'll just be cleaning up forever."
Today, Tait is the founder and chief executive of the Tangaroa Blue Foundation, a not-for-profit dedicated to the removal and prevention of marine debris.
She also created the Australian Marine Debris Initiative, a network of volunteers and partners that collects and categorises rubbish.
The initiative boasts more than 30,000 clean-ups, with volunteers meticulously logging the rubbish they find and trying to stop it through "source reduction plans".
Projects range from reducing cigarette butts from rugby league patrons in Townsville to working with the plastics industry to stop the loss of resin pellets during manufacturing and transport.
With more than 23 million data points, the Australian Marine Debris Initiative is the biggest database of its kind in the southern hemisphere, and one of the largest in the world.
"It tells you really clearly that what's washing up on a beach in Cape York is completely different to what is washing up on a beach in Melbourne's Port Phillip Bay," Tait said.
"You can't just say we're going to do [something] and it'll fix the problem; you need to look at a very regional setting. And the data helps you to understand where to start."
Tait sees opportunities for engineers in retrofitting existing storm infrastructure to stop waste from washing into the ocean, and producing products that last or can be repaired.
"If all you do is clean up, that's all you'll ever do," she said. "We need to find ways of stopping the source, otherwise we'll just be cleaning up forever."
The Ocean Cleanup
One of the world's best known marine plastic organisations is The Ocean Cleanup, a Dutch not-for-profit developing and scaling technologies to remove vast quantities of plastic from the seas.
Founded in 2013 by 18-year-old entrepreneur Boyan Slat, The Ocean Cleanup now boasts more than 120 engineers, scientists, computer modellers and support staff working to rid the world's oceans of plastic.
The organisation has ambitious aims, including the removal of 90 per cent of floating ocean plastic by 2040.
The Ocean Cleanup has designed several systems to collect rubbish from the Great Pacific Garbage Patch, a concentration of floating debris in the Pacific Ocean.
The technology consists of a long U-shaped barrier — up to 2.5 km in length — that's slowly pulled through the water, guiding the plastic into a retention zone at its far end.
The Ocean Cleanup is also developing "Interceptor" solutions for rivers, which aim to stop new plastic entering the ocean.