For major sports stadiums, a patch of grass and a meat pie are no longer enough.
Having a top quality, state-of-the-art stadium is extremely important to sports teams, fans, politicians and, sometimes, to whole cities. 
But stadiums also cost a lot to build. When public money is involved, building a new one or carrying out extensive renovations can be politically divisive and socially unpopular, as the controversies over the rebuilding of the Sydney Olympic Stadium and renovation of the Sydney Football Stadium have shown. 
No one wants to spend hundreds of millions, or even billions, on a stadium that is fit for purpose now, but obsolete within a decade.  
The challenge for those who design, build and renovate today's stadiums is to produce something that immediately meets the needs of the sports that will take place in them, something that enables stadium owners to maximise revenues in the short term. 
But it is also to design a venue that can be adapted to meet changing needs, technologies and regulations as and when they arise.
"You should get 30 or 40 years out of a stadium, but it will likely need cosmetic changes every year and major changes on a five to 10-year cycle," said engineer Ian Ainsworth, Brisbane Buildings Leader at Arup, who was also Project Director for the Optus Stadium in Perth, which opened in January 2018.
Alastair Richardson, a director at Cox Architecture, the designers of the new Sydney Football Stadium, added: "At the design stage, you have to think about what works now and what will work in 20 years' time."
"You should get 30 or 40 years out of a stadium, but it will likely need cosmetic changes every year."
Flexible design
Glenn Scott, Principal with Hassell, also worked on the Optus Stadium. 
He explained that, historically, stadium structures tended to be inflexible: nothing much more than just the most efficient structure that would hold up a seating bowl and roof. 
"Today, stadiums need to be more like commercial buildings or industrial warehouses, which allow easier reconfiguration more frequently," he said.
This, Scott added, means building a superstructure that can, if necessary, take additional capacity and greater loads. 
"That way more seats can be installed in the future, either for a single major event, or, in general, if the club using it has become more popular," he said.
"Today, stadiums need to be more like commercial buildings or industrial warehouses, which allow easier reconfiguration more frequently."
Ainsworth explained that the Optus Stadium was built with a 60,000 capacity, which could be extended in the future to 70,000.
"The upper seating tier could be extended further upwards, with columns and foundations sized so that they can support the loads from future seats," he said.
"The steel structure allows future steel members for expansion to be connected to existing members with straightforward welding. You could provide the actual connections, but this would cost more money."
Arup used a similar approach when designing Townsville's North Queensland stadium, which is currently under construction.
"There is a structure on the northern grandstand to support an additional upper tier, which would increase from 25,000 to 30,000," Ainsworth said.
"Cast-in ferrules — threaded connectors — allow us to screw in the connections for a new grandstand in the future."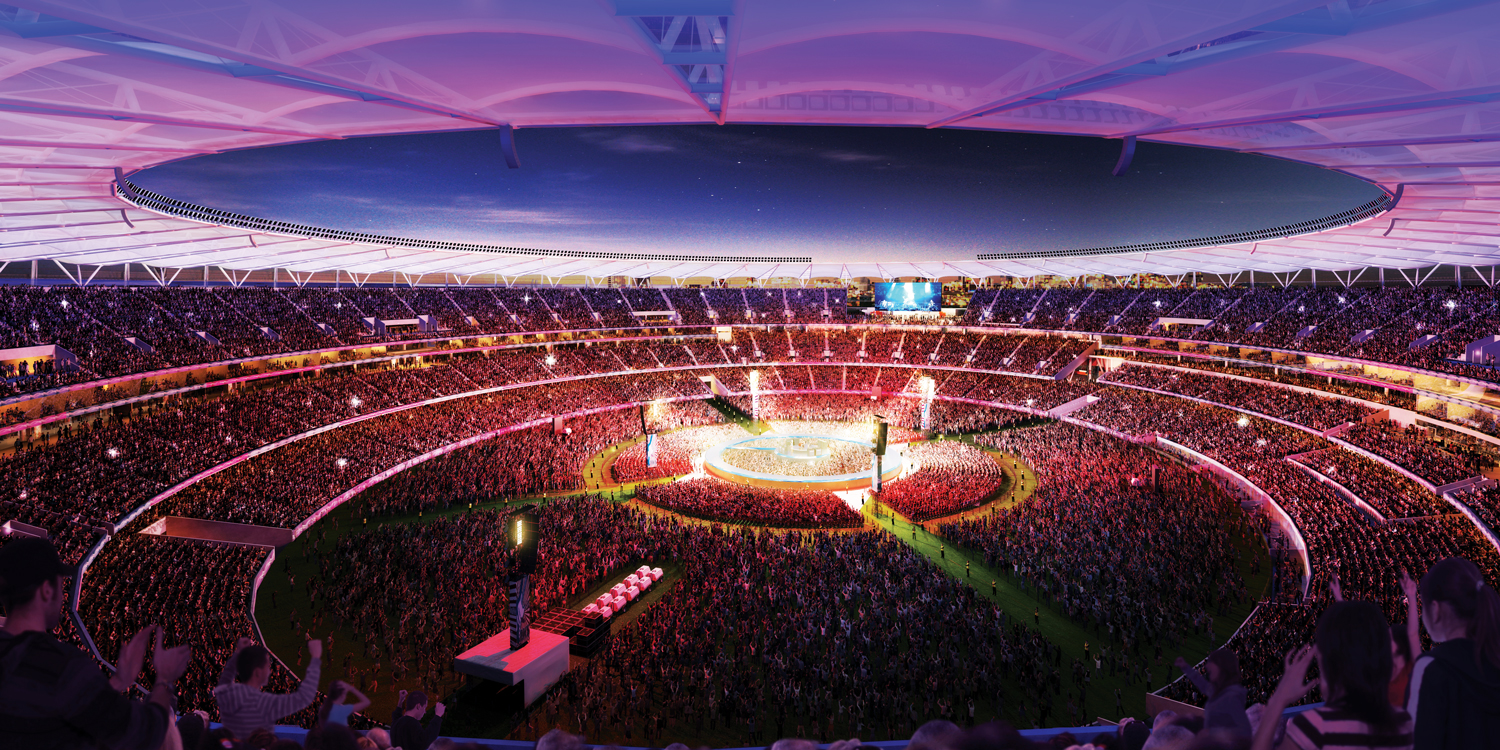 There are other factors to consider when future-proofing a stadium.
Stairs, evacuation routes and concourses must be wide enough to facilitate bigger crowd movements. The structure should enable a roof to be added if necessary and allow future works to be done on one part of the stadium without bringing the whole venue to a standstill.
Richardson said that the Sydney Football Stadium design includes a 360-degree ring road in the basement, which links to all the service areas in each stand independently.
Designs also need to be able to accommodate the potential change in loading that may arise if, say, an office, used by relatively few occupants, becomes part of a bar or a corporate area, which is frequented by larger numbers.
Open for business
At the new Bankwest Stadium in Parramatta, Western Sydney, designers doubled column spaces to 15.3 m in the west stand where corporate facilities are situated.
"It would then be possible to turn smaller function rooms into larger rooms or vice versa, depending on which areas proved the most popular," said engineer Joe Pirrello, Aurecon's Technical Director, Built Environment, who worked on the stadium.
Another Aurecon engineer, Professor Kourosh Kayvani, the company's Managing Director, Design, Innovation and Eminence, who also worked on the Bankwest Stadium, suggests that for set-downs in structural slopes, a flat slab should be put in and then built up with a non-structural screed.
"Then, if you wanted to move a kitchen around you can jack hammer out the screed and put in the configuration you want," he said.
"That way, you're not limited where you can put crowds of people and reconfigure walls."
The potential for future changes in use will also influence the materials used.
"Steel framing rather than concrete planks enables openings to be cut to add stairs without weakening the structure," Ainsworth said.
Pirrello added that steel frames are easier to deconstruct.
"If there came a time where the client wanted to renovate, dismantle or demolish, you can unbolt the frames, move everything and re-bolt it to another building," he said.
"You wouldn't have to oxy weld or cut anything to dismantle it."
Multi-use stadiums
Future-proofing is also about the short term: designing a venue that enables owners, operators and tenants to maximise the stadium's usage and returns over the first year or so.
In Australia, multi-use stadiums are increasingly the norm.
AFL, cricket and athletics take place at Optus Stadium, as do rugby league and rugby union. Bankwest hosts soccer and both rugby codes. The new Sydney Football Stadium will be home to Sydney FC, Sydney Roosters and the New South Wales Waratahs.
"Multi-sport stadiums require flexible structures that enable a stadium to be used at various levels of capacity," Richardson said.
"Different sports will draw different size crowds, and it is important that the venue still feels full when working at, say, 50 per cent capacity."
This could mean building in a way of reconfiguring the pitch from oval to rectangular and back. Or changing concourses and seating, as and when needed. Adding or taking away more amenity outlets depending on the size of the crowd.
"During the design phase you have to conduct detailed crowd modelling around current and future scenarios," Richardson said.
Then there are the large non-sporting commercial events that create a great deal of revenue — music concerts, civic celebrations, opening and closing ceremonies.
Sometimes this means finding a way to protect the playing surface or, in some cases, reinforcing it.
Always, it involves considering the effect of large numbers of people jumping around to music on the seating structures.
"The frequency of vibration of the structure needs to be high enough so that it won't resonate, causing the structure to bounce alarmingly," Ainsworth said.
The social space around the stadium also needs a design that enables flexibility.
The current trend is to design a large space around a stadium, which people can use for entertainment unrelated to the sport inside the stadium: shopping, eating and drinking, or play areas for kids and families.
Going for gold
Ainsworth recalls the initial design of the Gold Coast Metricon Stadium as a case for why stadiums need to be flexible about future use.
"It was built eight years ago, but, already, at that time, it was likely that the Gold Coast would bid for the 2018 Commonwealth Games," he says.
"We designed it so that an international-sized athletics track could be accommodated in the future, if the bid happened and was successful. The seats at the northern end of the stadium were designed to be removable so that conversion of the stadium to athletics mode was relatively straightforward."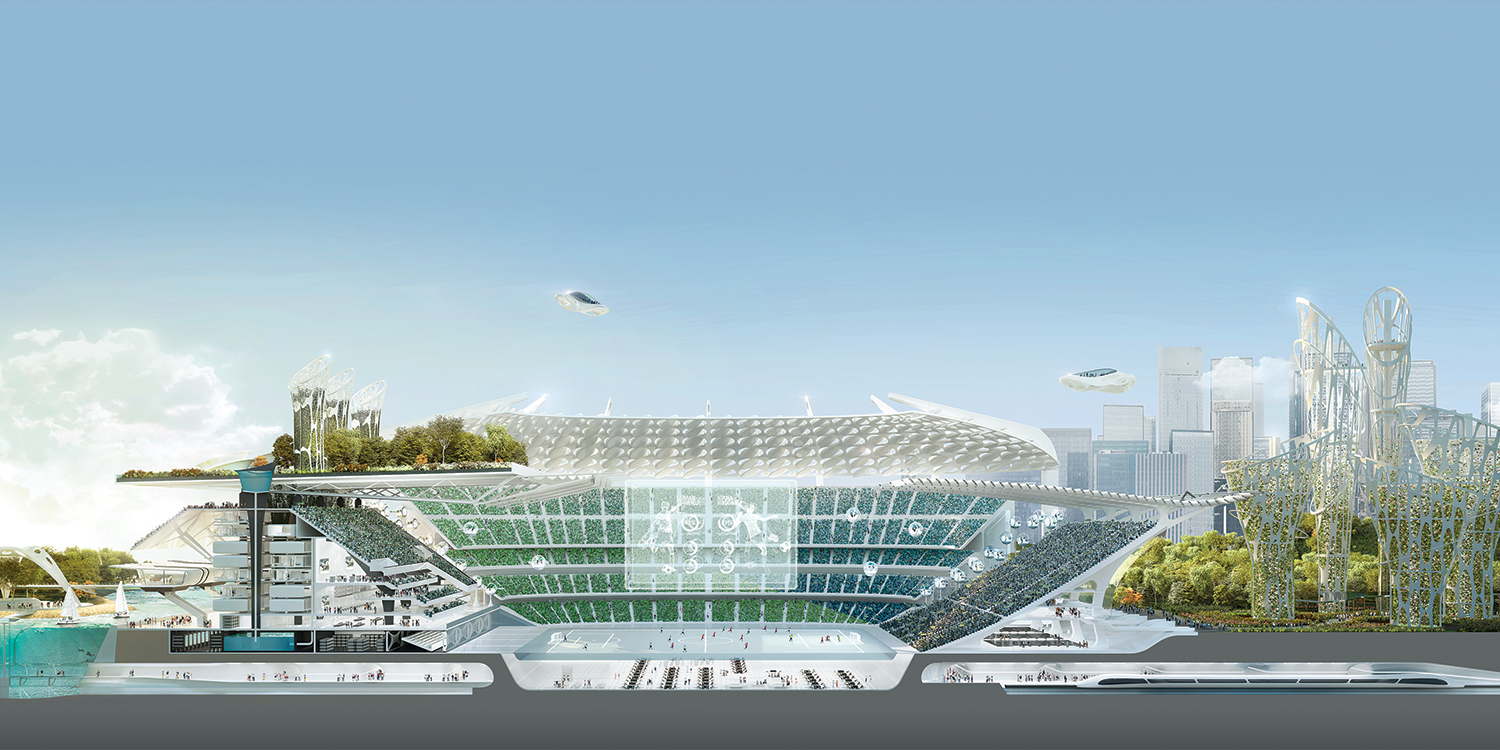 The Gold Coast did win the games, and the stadium was converted to athletics mode for the 2018 Commonwealth Games Ainsworth says that although initial intentions are often positive, the commercial reality of building massive and expensive stadiums means that some elements might be traded off.
"The one thing you really don't want, though, is for the stadium to reach the end of its life too quickly," Kayvani said.
Green entertainment
To be environmentally sustainable, stadiums need to facilitate current green priorities such as efficiency, reducing waste, lowering energy consumption and minimising the use of potable water.
But they also need to be able to accommodate new technologies as they emerge, such as the thin-cell photovoltaics that Cox Architecture's Alistair Richardson thinks will be viable in 10 to 15 years.
"The one thing you really don't want, though, is for the stadium to reach the end of its life too quickly."
Kayvani thinks that stadium designers also need to consider how the elements might change over the coming years. 
"Climate change means that stadiums currently in a zone where the weather is relatively stable could end up, in the future, facing more severe storms," he said. 
"This could affect design of long span structures like roofs."
Kayvani also thinks that stadium designers need to be more proactive in predicting these changes and working out how facilities can be upgraded. 
Richardson said that the challenge for stadium engineers is to realise that they are working in an unpredictable area. 
"We must have a view of what that future might be, though," Kayvani added.