Hempel's flagship paint system, Avantguard, has a well established reputation in offshore corrosion protection. But it can be equally useful on land.
When it comes to corrosion protection, the ideal paint system doesn't just provide longer protection, it also offers reduced maintenance requirements, lower paint consumption and lower cost. 
Avantguard maximises each of these factors with its patented technology, which outperforms its competitors for durability by one and a half times, as detailed in the company's whitepaper on the product. 
While already widely used for offshore or coastal applications, Avantguard's performance stacks up just as well on land even in a demanding sunburnt country, says Zechariah Lim, Senior Regional Product Manager for Avantguard with the Hempel Group. 
"One of the harshest aspects of many Australian environments is extreme exposure to the sun. The resin in Avantguard is very flexible, and can easily handle the expansion and contraction due to weather, providing high impact and crack resistance," he says.
"As a result, we see strong demand for it across projects featuring steel bridges, commercial buildings constructed with steel, industrial facilities and mining or renewable energy projects. Recently, Avantguard was the paint system of choice for the Story Bridge restoration in Brisbane, and on cranes at the Victoria International Container Terminal."
Following the acquisition of Wattyl earlier in 2021, the Hempel Group is exploring options to bring the production of Avantguard to Australia and New Zealand, adding its proprietary technology to production assets in the region. 
The secret to Avantguard's superior performance is that it is fundamentally different to other paint systems (read the whitepaper for a technical summary). It uses Hempel's patented activated zinc technology to combine elements used in conventional zinc epoxies with two new substances – hollow glass spheres and a proprietary activator. 
The combination of these key elements and the right choice of binders, pigments, fillers and additives ensures more zinc is activated throughout the coating. This results in significantly more efficient galvanic protection and enhanced inhibition and barrier effects.
During application, Avantguard provides for good coating stability, edge retention and film formation, even at higher temperatures. It's also quick to dry, with one of the shortest overcoating intervals available at just 45 minutes between coats.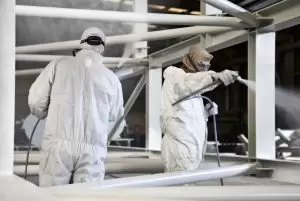 By reducing maintenance and the amount of material required, these benefits result in upfront and ongoing cost savings. They also make Avantguard a sustainable option, reducing volatile organic compounds (VOC) emissions by as much as 30 per cent.
There is a reasonable expectation that Avantguard will continue to be a good environmental choice far into the future. As explained in the Avantguard whitepaper, "The latest revision of ISO 12944 includes the possibility to reduce the amount of material required (the thicknesses of the coating system) if a new technology demonstrates that it can meet the standard's performance requirements, as is the case with Avantguard."
In select applications, this means a two-coat system could potentially be used instead of a three-coat, offering a considerable saving on material and costs, says Lim.
"We offer Australian engineers a flexible paint system that provides significant benefits across a range of project types. While the benefits for use in offshore or coastal applications are obvious, we urge engineers to consider how Avantguard might be a better choice for other projects as well."
For more details about Avantguard technology and its performance in actual recorded settings, you can download their latest Increasing protection and productivity in challenging environments whitepaper or watch this explainer video. To engage us about how Avantguard can help you, visit our website.