A coffee break inspired engineers in the US to try out a novel way of increasing the commercial viability of an emerging solar cell material.
While the solar cell market is currently dominated by silicon, researchers have been looking into perovskite as a material that could one day offer better efficiency and cost-effectiveness.
But a major obstacle has been perovskite's inability to weather the sun's heat for long periods.
"Solar cells need high thermal stability since they are constantly exposed to sunlight, which warms up the devices," said Professor Yang Yang from the University of California, Los Angeles (UCLA) School of Engineering.
A possible solution has come from an unlikely source: caffeine. According to Rui Wang, one of Yang's graduate students, he suggested to fellow student Jingjing Xue that perhaps the human pick-me-up could be used to boost the performance of their experimental solar cells.
From this light-hearted comment, Yang and his students realised that caffeine had properties that could be useful in their quest to make perovskite more stable and efficient.
"We needed some kind of molecule with lone electron pairs," Yang explained to Scientific American, adding that the isolated electron pairs at the edge of caffeine molecules could bind to materials such as perovskite.
Wang added that caffeine had a boiling point of 300 degrees Celsius, which was higher than the operating temperature of solar cells.
Caffeine is the glue
Perovskite in the context of solar energy refers to materials that have a thin-film crystalline structure consisting of cheap, inorganic elements such as lead and iodine.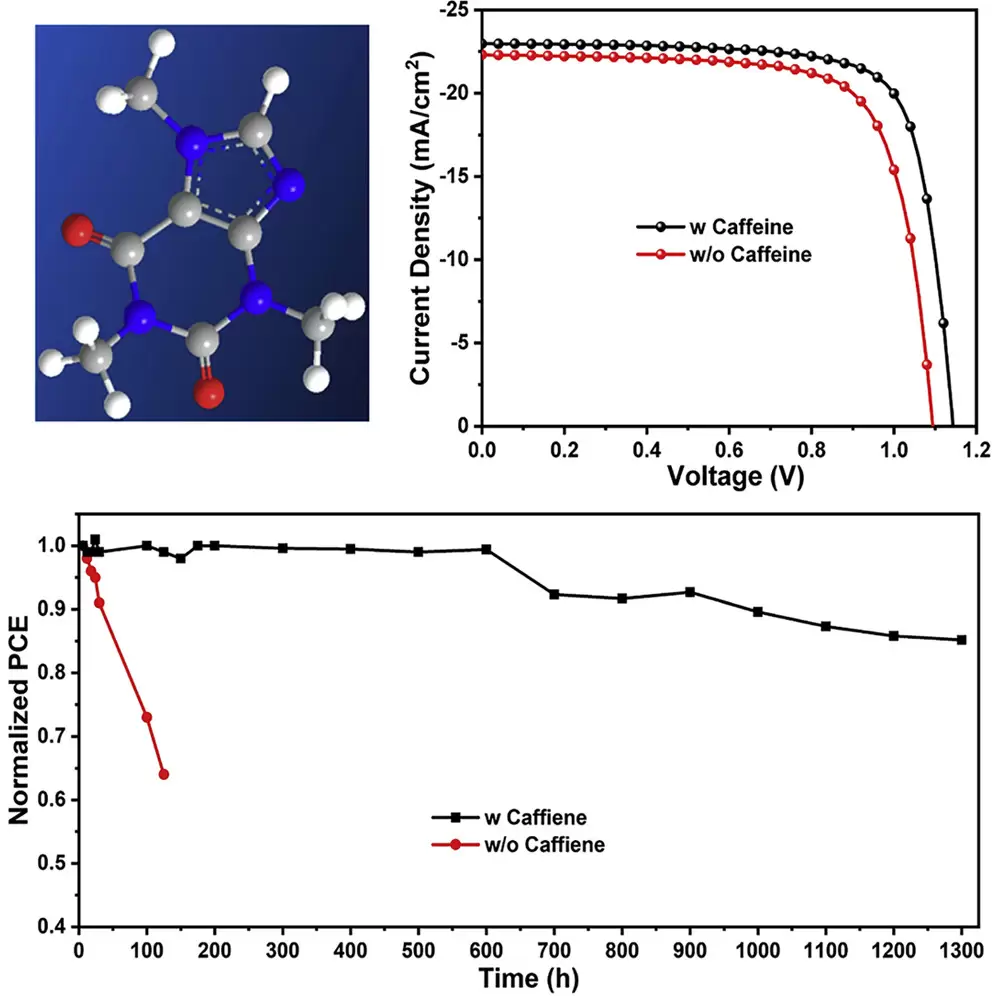 Despite what the name suggests, it does not actually contain the mineral perovskite, but mimics its crystalline structure. This structure gives the material the ability to convert light into electricity very effectively, but improved thermal stability is needed to take advantage of this property in the solar cell market.
Yang's team tested whether caffeine could make perovskite more heat-proof by combining it with a solution of lead iodide, dimethylformamide and methylammonium iodide. They poured the liquid onto indium tin oxide glass to create a layer of perovskite, which they used to construct a solar cell.
According to results recently published in Joule, the caffeinated solar device was able to withstand temperatures over 85ºC for more than 1300 hours (around 55 days). It also had a stabilised power conversion efficiency of 19.8 per cent – meaning it converted almost 20 per cent of sunlight into electricity. Yang said the caffeine was beneficial to the cells studied, raising the efficiency from 16 per cent.
And combining materials could lead to further improvements. 'Tandem' solar cells, which layer perovskite onto silicon cells, have achieved efficiencies over 25 per cent.
Yang's paper stated that the strong interaction between caffeine and lead ions served as a "molecular lock" that improved electronic properties, reduced ion migration and greatly enhanced thermal stability.
The research team now plans to test whether other chemicals can help to make perovskite a commercial material.
"Caffeine is the first compound we identified, but there may be others that can work even more efficiently," Yang said.