Many innovations have emerged from UTS's Centre for Autonomous Systems, which will relaunch as the Robotics Institute this year, including robots that are grit-blazing the Sydney Harbour Bridge
Did you know there are often robots hard at work inside the Sydney Harbour Bridge?
Enter Sandy and Rosie. These two fully autonomous robots, born out of a partnership between the Centre for Autonomous Systems at the University of Technology Sydney (UTS) and Roads and Maritime Services (RMS), are responsible for grit-blasting old paint and corrosion on the steel bridge.
The two 25kg robots resolve critical safety concerns associated with humans performing these tasks.
"This can be deadly, dangerous and dirty work. There's a lot of lead-based paint on the bridge that humans shouldn't be inhaling," says Professor Sarath Kodagoda, Director of the Robotics Institute at UTS.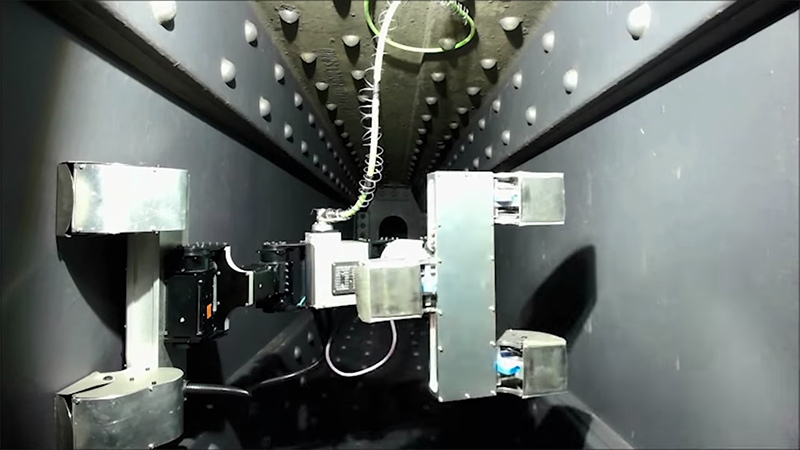 "Grit blasting guns are also really powerful and difficult to hold; when people use them for long periods of time, they often develop back pain. The challenges of using them are enormous."
With the ability to navigate unfamiliar environments, autonomous robots that are tasked with maintaining steel bridges are one of many innovations to emerge from UTS's Centre for Autonomous Systems.
"We've also worked heavily in the water sector, developing robots that can check the condition of underground pipes, and developed wheelchairs that not only enable the person to move around, but that actually understand the intention of the person and guide them through the world," says Kodagoda.
This year, the Centre is being relaunched as the Robotics Institute.
"There are a lot of interesting developments happening in the field of robotics at the moment – it's one of the government's key focus areas. The pandemic has created an opportunity for us to re-think, re-focus and reinvigorate our work to address problems that are important to humanity. That's why this is such an opportune time to relaunch with a fresh focus," says Kodagoda.
He and other leading robotics experts at UTS are committed to driving the best outcomes in robotics. But Kodagoda is the first to admit that you can't be the best across the board.
"There are other teams around the world and in Australia that are doing amazing things. The Centre has previously spanned a wide range of areas, but we now plan to focus the Institute on areas in which we are already making great contributions."
Robots on the farm
Furthering its strong track record, the Institute plans to focus on four key areas: infrastructure, agriculture, defence and healthcare.
Within the agriculture sector, AI and robotics are being used to secure a safe and reliable food source.
"Robotic harvesters are able to look at a tree and identify whether it's the prime time to pluck fruit. If it is, these robots can then pluck the fruit in a safe way that doesn't crush or damage the supply," says Kodagoda.
UTS is now investigating the possibility of using autonomous farming machines to determine how they can improve the yield.
"We want robots to be able to identify when it's the right time to fertilise by measuring crucial parameters such as nutrition and moisture content. Most of the time fertilisers are applied all over an area, but that's a very crude way of fertilising and you could even overfertilise some plants. If you have an understanding of the soil content, you can fertilise in a very targeted way."
Regardless of the sector, developing innovations in robotics is incredibly rewarding, says Kodagoda.
"When we work on an innovation and later see that one of our developments is being used out in the world, it's amazing to see the expected results from a robotic system come to fruition. It's one of the main things that keeps me going."
Keeping students' growth at heart
For almost all the innovations that Kodagoda and his team work on, they engage PhD students as well as undergraduate students.
"We'll often work with industry partners to offer student internships, which affords students experience in the industry projects, and gives the industry body access to resources at UTS.
"It develops the students' interest in robotics and other technologies. We've been very successful in creating pathways for students to do postgraduate studies with us, and to then pursue jobs in these fields. We're always thinking about the future journeys of our students."
For more information about UTS's Robotics Institute, visit https://www.uts.edu.au/research/robotics-institute