An international robotics competition has been held to demonstrate how robots can be used on radioactive sites to capture data, freeing up inspectors for more high-level work.
The Robotics Challenge was co-hosted by the International Atomic Energy Agency (IAEA) and CSIRO's Data61.
It aimed to demonstrate how robots can be used to undertake repetitive measurements of nuclear material as part of a system of safeguards carried out by the IAEA.
These repetitive safeguard tasks are currently carried out by inspectors, with the competition aiming to test the suitability of robotic designs to improve the efficiency of verification tasks. For example, dealing with spent fuel pools, which store spent fuel from nuclear reactors.
Dennis Frousheger, Senior Engineer – Sensing and Processing Architectures, Data61, says in order to confirm that the spent fuel assemblies actually have the spent material in them and they're not a dummy assembly or empty, inspectors measure their radiation.
"They have to go through and position a sensor directly above each fuel assembly, and basically gain entry that allows them to move over the cooling pond to do a measurement above each assembly," Frousheger says.
One of the tasks in the challenge was to have an unmanned surface vehicle that carried a simulated sensor and to as accurately as  possible move above simulated fuel assemblies to take the measurements of every fuel assembly in the pond.
In the challenge, the pool was divided into two sections due to the different types of fuel assemblies around the world.
Each section of the pond had a different type of fuel assembly – one was square and about 20 cm across and the other was hexagonal and about 12 cm in diameter.
"Then the third experiment was to simulate having to take a much longer measurement of the radiation, so the USV would have to hold its position above one single fuel assembly for a minute to show that it could hold position accurately," Frousheger says.
Meanwhile, the unmanned ground vehicle part of the competition related to the later stages of fuel assembly storage.
"During the challenge, we had 200 litre drums that were to simulate canisters and had RFID tags placed on them," explains Frousheger. "The robots were required to lift a simulated sensor up and place it against the tags on the drums."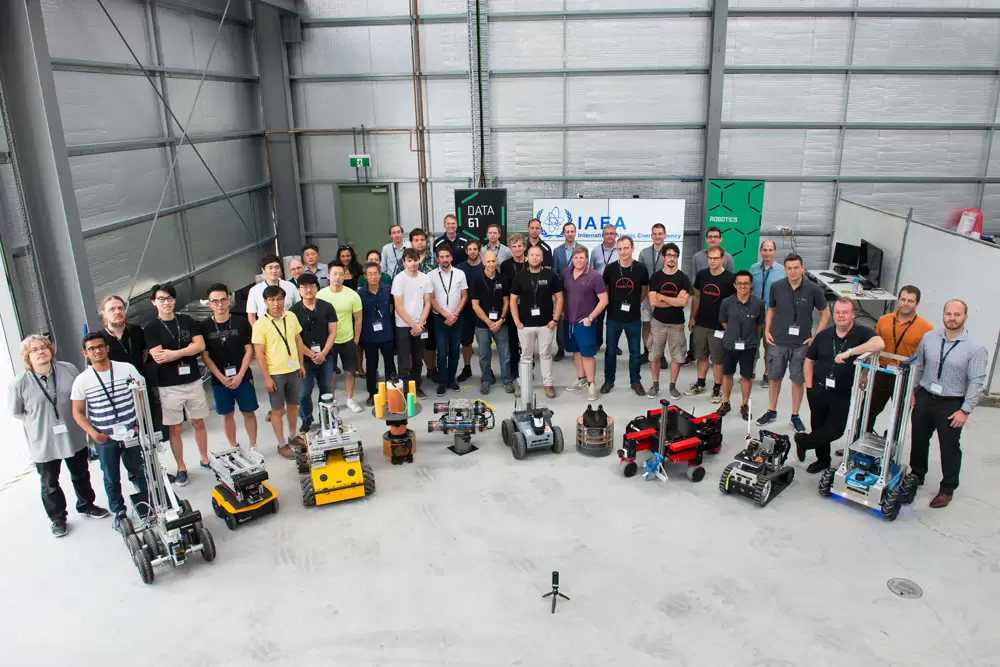 Frousheger said the challenge in these kinds of tasks is integrating different requirements into a seamless operation.
For example, the robot needed to first be able to map its environment and then also identify specific objects of interests in that environment and drive to them, which Frousheger said is often carried out as separate tasks.
"This is all without detailed operating intervention – it's supposed to be largely an autonomous task, so that in the real-world application, the inspector can focus more on high-level activities and less on doing just the mundane, repetitive measurements," he says.
The surface vehicles also needed precise control in a water environment while it gathered a laser map of the area to avoid obstacles and maintain an efficient inspection to gather data.
Each task also had a time limit, which meant there was a need to do it in an efficient manner.
Frousheger said teams used different approaches in the surface vehicle challenge. Some used an existing robot they had made additions to for the specific challenge, while others used custom-built ones.
In particular, one custom-built robot was built with decontamination in mind and was far easier to clean. The team achieved this through a relatively modular design. For example, the laser sensor was mounted on the top out of the water, so the main sensing part wouldn't need a significant decontamination.
They also minimised the number of external cables, which meant there was only one cable entry that needed cleaning, and used a PVC tube for the main body, which was smooth, easy to clean and could be taken apart into separate parts relatively easily.
This compared to carbon fibre robots, which had far stronger thrusters and were more able to control their position, but were much harder to decontaminate afterwards.
"In terms of other approaches, the main sensing modalities used were laser and vision. Some teams took a sort of laser-only approach, some teams took a vision-only approach, and some teams integrated the two," Frousheger said.
Processing and analysis of the data that was captured by the simulated sensors on the robots is still being carried out, with no single winner to be declared in the competition. Instead, the IAEA will assess the competing teams as either compliant with the requirements or not compliant, with compliant teams able to enter discussions to start a procurement process.