Socks fitted with sensors to capture information about subtle foot movements could help patients with leg and foot injuries avoid costly and painful trips to access physiotherapy care.
The idea for the fancy (yet practical) footwear was born during University of Melbourne PhD student Deepti Aggarwal's collaboration with the Royal Children's Hospital (RCH). She was investigating opportunities for combining wearable technology with video consultation.
The socks, dubbed SoPhy, are designed for physiotherapy patients with lower limb injuries who have difficulty travelling to their physiotherapy clinic due to pain and mobility issues.
Sensors track the wearer's weight distribution, range of movement and foot orientation. This information is passed on to physios via a web interface, which displays the sensor data on foot sketches.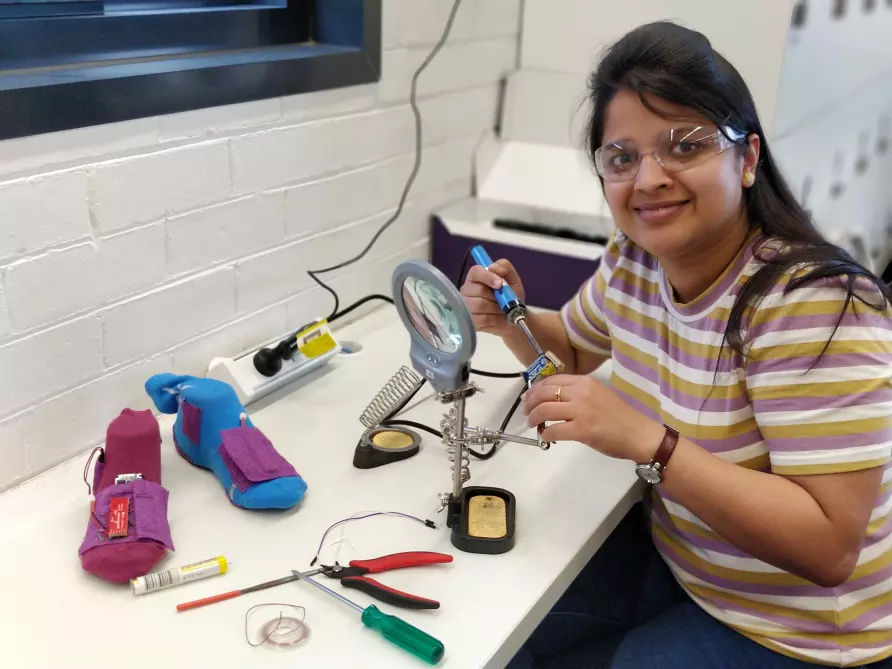 Aggarwal worked with clinicians including physiotherapists, accompanying them to sessions to understand the challenges they faced in assessing patients over video.
"There were many design opportunities, but [detecting] lower limb movements was difficult and there was not much research in that area," Aggarwal said.
According to Aggarwal, combining video consultations with sensor-equipped technology such as her smart socks has the potential to address the needs of medical professionals while making video consultations more readily available to patients.
"[Smart technology] has the potential to take video consultations in all clinical domains to the next level," she said.
The finer points count
Video consultations have been around for decades, and the can save patients time, money and potentially painful or difficult journeys to access medical care (especially patients in remote or regional areas).
One of the issues that is holding back the mainstream adoption of video consultations is that they only deliver audio and two-dimensional video to the treating clinician. This means that clinicians are unable to observe subtle details such as how patients shift weight from the heels to the balls of their feet, and the range of movement they have available.
For lower limb injuries, these observations are important to physios, said Aggarwal, because people in chronic pain might have forgotten how to transfer their weight while walking. So physios need to help their patients to relearn this skill.
During a trial of the smart socks on three patients at the RCH, physios were very happy with the socks' performance. When patients wore the socks, they provided information on weight distribution and range of movement to fill in details not clear from the video display, and allowed physios to more accurately assess and treat their patients.
Not just feet
Aggarwal, who has recently completed her PhD studies, said there are still many questions to answer before her smart socks are ready for widespread use in physiotherapy.
Although the details of her particular project need to be refined, Aggarwal envisions other applications for smart wearable technology that could make at-home consultations possible for other kinds of care, including prenatal checkups for pregnant women.
"I really want to extend this project to the next level and I'm looking for collaboration and funding opportunities. There are so many opportunities to extend [this research]," she said.