Engineering students put their skills to the test recently at the first ever Australian Rover Challenge, with the teams designing and building semi-autonomous rovers.
Australia's space sector was worth $4.8 billion in 2018-19, and accounted for almost 10,000 jobs. This is only likely to increase in coming years, with the government committing $13.3 million in the 2021-22 Federal Budget to increase the capacity of the Australian Space Agency.
The goal of the Australian Rover Challenge is to grow capability, increase networking opportunities and create an event where spectators can view space challenges up close, said John Culton, Director of the Andy Thomas Centre for Space Resources and Associate Professor at the University of Adelaide's School of Civil, Environmental and Mining Engineering.
The Australian event is a new addition to the University Rover Challenge series, which is already run in the United States, Canada, Europe and India. Students were required to attempt a number of challenges, including traversing obstacles to locate a supply cache, altering the 'lunar landscape' using construction bricks to support the establishment of a surface mining outpost and using smart navigation strategy, sensor fusion and image data processing to reach a series of checkpoints.
"The challenge was approached from a systems engineering viewpoint, with students required to turn in preliminary design reviews among other things," Culton said.
"The aim was to implement STEM initiatives and partner with industry to support the growth of a future workforce in the Australian space sector."
Creating the 'lunar' surface was a key part of the challenge, with multiple materials including clays and specialised sands used to make sure the terrain behaved as closely as possible to a moon landscape. 
"It was not enough to be a technically competent engineer. We had to pull together when a mission-critical incident arose."
Extraterrestrial challenges
First place went to the team from Monash University, which has also competed in the University Rover Challenge in the US.
Their rover was originally designed, fabricated and tested for Mars, said team lead Rebecca Muir, who is in her final year of a mechanical engineering and biomedical science degree.
"Getting the scientific payload and the arm functional, and then training people to operate them during a competition, was a completely different hurdle than just getting everything designed, built and tested," she told create.
"It was not enough to be a technically competent engineer. We had to pull together when a mission-critical incident, such as shattering a piece of the wrist in transport or blowing up the circuitry in the battery unit, arose."
The rover featured an aluminium chassis, lithium polymer batteries and rocker bogie suspension. Its 3D-printed wheels were made of thermoplastic polyurethane to assist suspension. 
"We tried to make as many things ourselves as we could, so students gained practical skills like soldering, PCB [printed circuit board] design, machining and 3D printing," Muir said.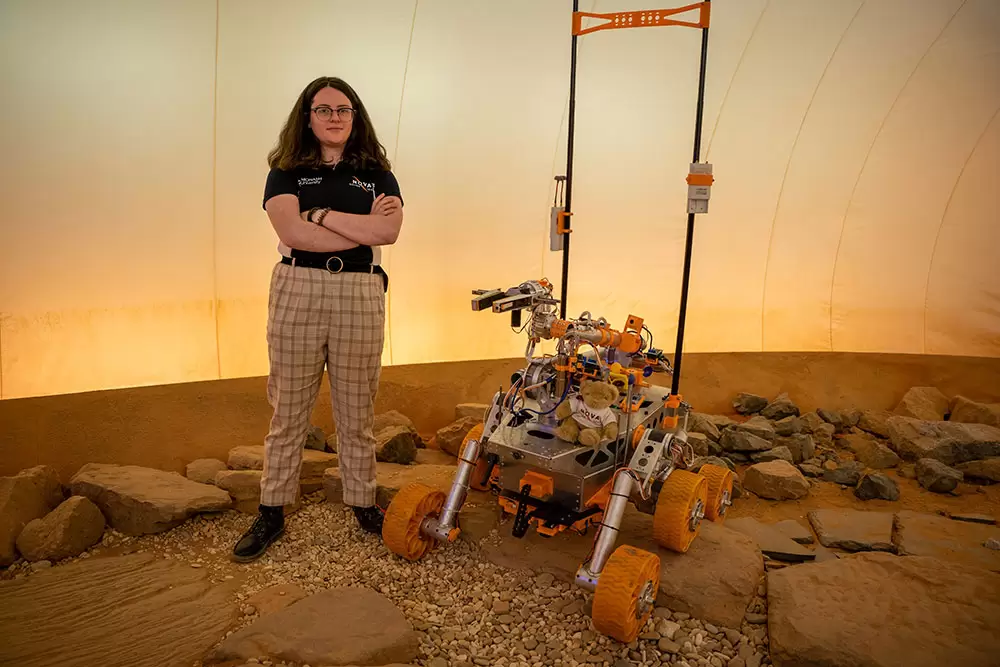 Meanwhile, students from the University of Adelaide, who came in third place behind RMIT, took their design inspiration from NASA's Perseverance Rover — namely the rocker-bogie suspension system, team lead Henry Mellor told create.
"The rover chassis was made of aluminium so that it was lightweight but sturdy enough to provide support, while three lithium polymer batteries were used to power the 3D-printed wheels, robotic arm and control system," said Mellor, who has a degree in mechatronic engineering and is currently studying for a PhD.
Mellor said NASA scientists and private companies are currently looking at space rovers that use autonomous, bio-inspired swarm robotics so they can perform automatically.
In 2020, he led the university in Phase 2 of the NASA Space Robotics Challenge, designed to advance robotic software and autonomous capabilities for space exploration missions on the surface of extraterrestrial objects.
"We are about to enter a time of commercial lunar payload services, when anyone can pay to have their widget dropped off on the moon."
Going forward into commercial space
While engineers have been developing successful space technologies for decades, Muir said much of the challenge now centres around ethical and legal elements.
"Engineers hold a privileged position thanks to their education and technical prowess, and play a crucial role in developing the necessary legislation and professional standards to ensure space technologies are developed for the benefit of society as a whole," she said.
"Maintaining the trend of discovery and exploration will be a challenge for many engineers as space becomes a more privatised industry."
Culton said students were coming along at exactly the right time, when the space industry was experiencing record-setting investment growth.
"We are about to enter a time of commercial lunar payload services, when anyone can pay to have their widget dropped off on the moon," he added.
The teams were supported and mentored by international industry and government partners, including the South Australian Space Industry Centre, the Australian Space Agency and the SmartSAT CRC, while the judging panel included mechanical engineering academics and NASA representatives.