An international team of engineering researchers has created a heart-cell-propelled soft robot that transforms when exposed to infrared light — allowing it to start and stop on demand.
While it is a lot smaller than Optimus Prime or Bumblebee, the researchers say their prototype could swim through the human bloodstream and carry out highly targeted drug delivery.
"We literally dropped bombs on cancer cells," said Zi Chen, an Assistant Professor of Engineering from Dartmouth College in the US.
Chen and his collaborators 3D printed their soft robot in the shape of a fixed wing aeroplane. To allow the robot to swim through the bloodstream, the researchers coated its tail fins in heart muscle cells. As the heart cells expand and contract, the tail moves in a whale-like undulating motion and pushes the robot forward.
Stop at the light
There have been other shape-changing robots, which transform in response to light or heat. But the researchers said that designing technology that will morph to start and stop on demand has been a challenge.
They overcame this hurdle by coating the side wings of the robot in light-sensitive hydrogels. In its usual configuration, the two wings are fully extended, and the robot moves through the bloodstream with the aid of the undulating tail-fin.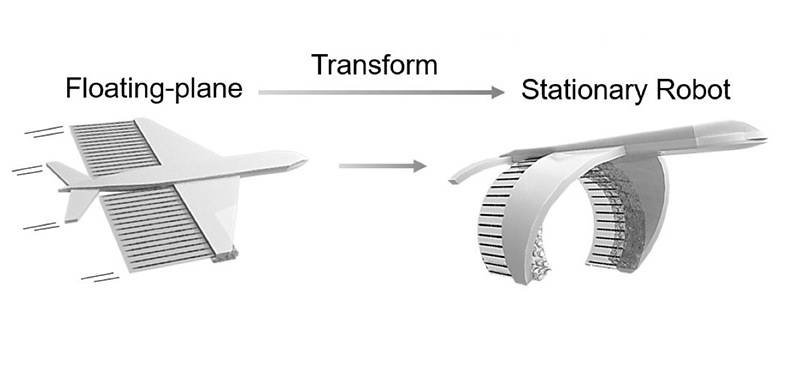 When the robot is exposed to light, the wings curl under the robot's body, which brings it to a standstill. The researchers chose to use near-infrared light, which can penetrate the body and allow the remote operator to transform the robot using an external control.
"The heart muscles keep churning, but they are unable to overcome the stopping power of the wings. It's like pushing the accelerator pedal with the emergency brake on," Chen explained.
Chen's study also involved researchers from City University of Hong Kong, National University of Singapore and Hubei University of Technology in China.
The research paper was published in the nano and micro-tech journal Small in March — and said that the robot had "unprecedented controllability and responsiveness" to remote operation.
According to Chen, this study could pave the way for a new generation of intelligent biohybrid robotic systems which could be used to navigate difficult environments. The next step will be to investigate ways to steer the robot by transforming the wings separately, rather than together, further improving manoeuvrability.