Western Australia's first Engineer in Chief, CY O'Connor faced numerous obstacles throughout his 43-year career, leaving a remarkable legacy in spite of his tragic end.
A transformational engineer, Charles Yelverton (CY) O'Connor was responsible for the development of Fremantle Harbour, much of Western Australia's early railway network and the Kalgoorlie water pipeline.
Born in Ireland on 11 January 1843, CY O'Connor was apprenticed to a railway engineer as a young man before continuing to learn his trade in water works. In 1865, he moved to New Zealand where he made his name as an engineer and was responsible for the construction of numerous roads and bridges.
After 18 years, in 1883 he took the position of Under Secretary for Public Works. By 1890, political and economic factors left O'Connor looking for a new challenge, and he came to the attention of Western Australia's newly elected Premier Sir John Forrest, who was seeking people to fill important positions in the independent colony. 
O'Connor arrived in Perth with a brief from Forrest to look after "railways, harbours, everything". It soon became clear that gold discoveries in the Yilgarn and Coolgardie regions east of Perth meant the state urgently needed a water supply pipeline and a railway network. 
His first priority, however, was constructing a harbour at Fremantle to replace Albany as Western Australia's chief port. Accepted wisdom at the time held that building such a port at the mouth of the Swan River was impossible due to a rock bar across the entrance to the river. However, O'Connor managed to persuade the government and more than one million cubic feet of rock was excavated and used in nearby breakwater construction.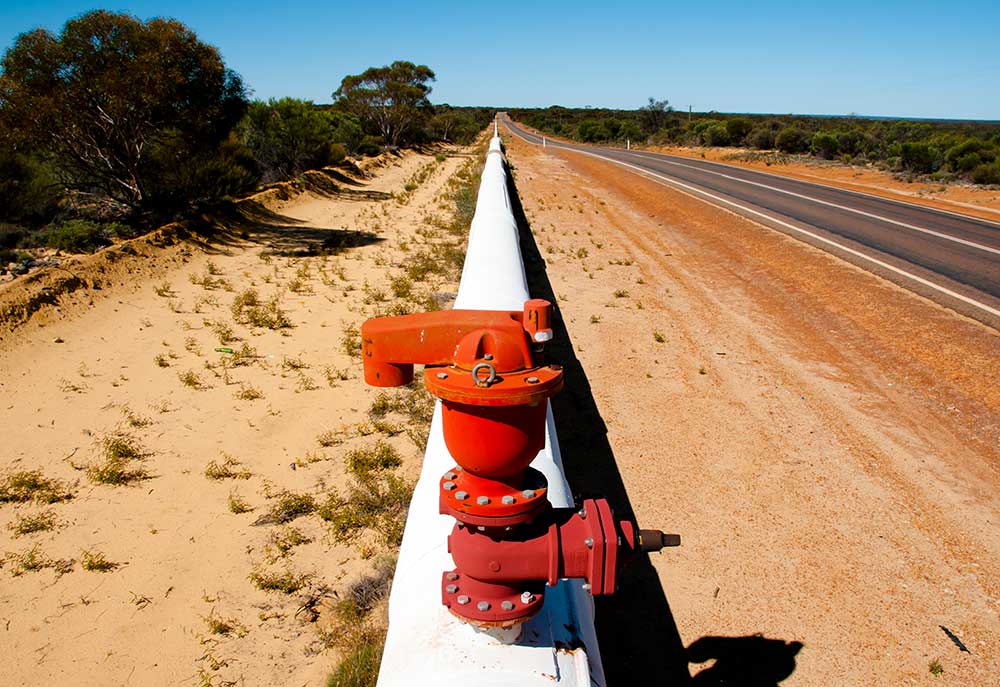 An ambitious proposal
O'Connor suggested a water pipeline to the goldfields in 1895, but opposition was so strong it took three years to obtain approval. 
His plans were bold: a 530-kilometre pipeline from Mundaring (a suburb on the eastern outskirts of Perth) to Coolgardie (558 kilometres east of the city, near Kalgoorlie). Starting at about 100 metres above sea level and ending about 426 metres above sea level, it was ambitious in terms of engineering challenges and cost.
This was not lost on many politicians and media personalities of the day, some of whom had already taken against this outsider, who had eschewed powerful local figures when it came to public works contracts and even employed trusted colleagues from New Zealand.
The Sunday Times embellished false claims of O'Connor's corruption, writing "this Shire Engineer from New Zealand has absolutely flourished on palm grease, this man has exhibited such gross blundering, or something worse in his management of great public works, that it is by no means exaggeration that he has robbed the taxpayers of this State out of millions".
Tragically, in the end, this criticism was too much to bear for the Engineer in Chief. One morning in 1902, O'Connor took his horse for a ride along a beach and shot himself, leaving behind his wife and seven surviving children.
In his last note he was still focused on his passion for engineering: 
"The Coolgardie scheme is all right and I could finish it if I got a chance and protection from misrepresentation but there's no hope for that now and it's better that it should be given to some entirely new man to do who will be untrammelled by prior responsibility.
10/3/02
Put the wing walls to Helena Weir at once"
The Kalgoorlie pipeline was completed a year after his death, with Sir John Forrest expressing his sadness that O'Connor had not seen perhaps his greatest achievement come to fruition.
"O'Connor was a visionary with an acute understanding of the problem needing to be solved." ​
A legacy that lives on
An annual CY O'Connor lecture is held by the National Trust of Western Australia each year, with high profile speakers including Engineers Australia Honorary Fellow Sue Murphy AO HonFIEAust, former CEO of Water Corporation WA, and Dr Ken Michael AC, former Governor of Western Australia. 
In her 2019 lecture, Murphy said that O'Connor's legend is part of the fabric of the state.
"We are a big state, and we build big projects, starting with O'Connor's iconic pipeline," she said.
"O'Connor was by all accounts a … detail-focused engineer with a prodigious work ethic and an ability to synthesise solutions using all the data to develop quite out of the box ideas, who was driven, obsessive, clever, probably incredibly annoying, and exactly the right man for the burgeoning community."
Engineers Australia General Manager for Western Australia Susan Kreemer Pickford FIEAust CPEng, agreed his legacy remains strong to this day.
"I think that speaks for itself in terms of the reverence we hold for him, and the fact we still want to listen to stories about CY O'Connor and draw from his achievements," she said.
"O'Connor was a visionary with an acute understanding of the problem needing to be solved. As many of the projects he embarked on hadn't been attempted before, he did a lot of research to support his engineering vision. 
"He understood the importance of looking after the people employed on the projects, standing up for them and improving working conditions." ​
"Not only that, he understood the importance of looking after the people employed on the projects, standing up for them and improving working conditions.
"He had the engineering technical know-how, thoroughly researched the science to support his solutions, and executed his vision through detailed implementation plans and costings, despite open criticism. 
"One of O'Connor's major achievements was constructing Fremantle Harbour to service heavy shipping, going against expert advice of the day and showing technical judgment ahead of his time. 
"Taking all of these aspects into consideration is why he's revered as an Engineer in Chief and his legacy lives on through his projects that continue to serve Western Australians today."