The theme of this year's National Volunteer Week is 'Changing Communities. Changing Lives'. create spoke to one engineer who is doing just that.  
Stephen Palmer FIEAust CPEng is a greater Newcastle-based electrical engineer and Managing Director of Safearth, which specialises in all aspects of earthing, both in Australia and around the world. 
Since starting his career as a cadet engineer at BHP's Newcastle Steelworks, over the last 10 years Palmer has grown the Safearth team from five employees to more than 40 people spanning six Australian and two North American offices. 
By day, he works on major projects, which recently has included designing a ventilator to help fight COVID-19. In his spare time, he undertakes volunteer activities that allow him to give back to his community.
"My involvement with volunteering started with the encouragement of a senior engineer who I've known for a long time," Palmer told create. 
"He kept saying to me, 'Steve, you've got ideas, you should be going and trying to help people,' and encouraging me to get involved with organisations such as Engineers Australia."
Palmer said that despite being busy growing Safearth, two years ago he inquired about serving on EA's Newcastle College of Leadership and Management committee. 
"I wanted to be part of something bigger."
"[Joining the committee], I saw things that we could have a positive impact on, and I saw things that were bigger and harder to solve," he said.
"I wanted to represent my engineers, my colleagues and my ideas to be a part of something bigger."
Last year, Palmer was elected to the Newcastle Division Committee and joined the subcommittee on engineering awareness, where he enjoys wrestling with issues and improving awareness of what engineers do in society.
"There is no doubt in my mind that engineers contribute far more to our community's standard of living than is commonly recognised in Australia. I travel and work internationally, and in both America and in Europe I find a very different response to engineers compared to in Australia," he said. 
"I think that our engineers' contribution has been incredibly undervalued in the past, and right now, with the COVID-19 crisis that we are facing, our engineering leaders are ones who can be looked to."
600 ventilators in 28 days
Along with fellow Hunter-based firm Ampcontrol, Safearth has been contracted to assist with the Anemoi project – an initiative of the New South Wales Government to design and manufacture ventilators locally.
"The request from the government was to design and build 600 ventilators in 28 days, and that was quite a phenomenal task. It began at incredible pace with a very capable group, with the understanding that normally projects run into obstacles you can't predict," Palmer said.
"We expected the best way to work was to have multiple parallel streams, so that if one ran into a barrier, you could continue working on the others."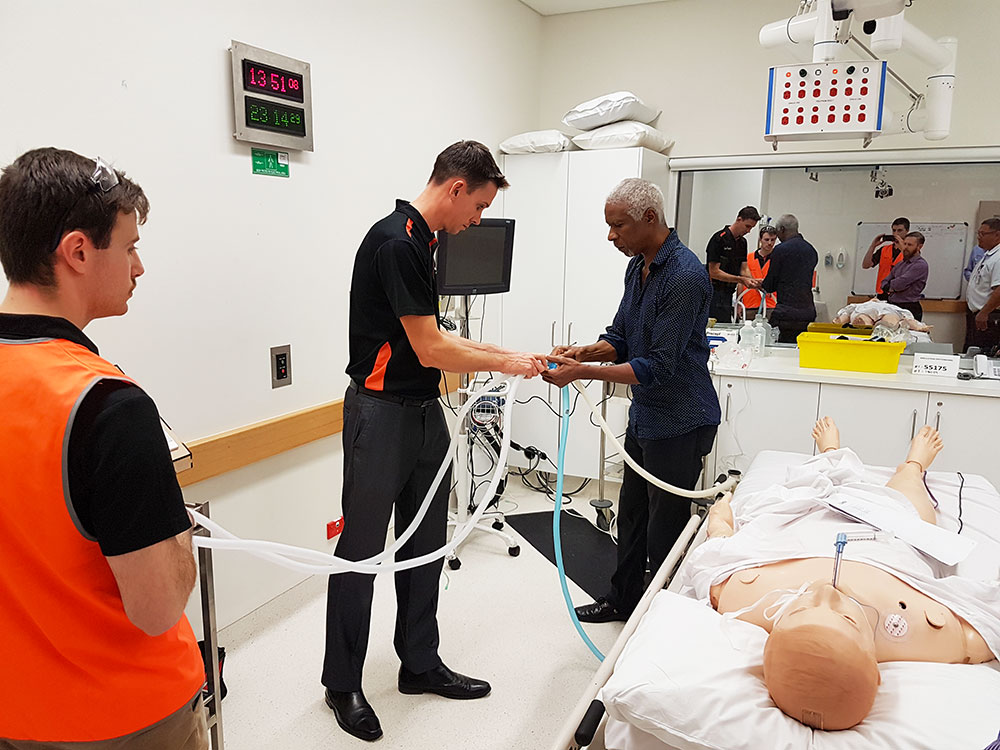 Palmer said that for the first few weeks, he clocked 100 hours per week on the project, with many others probably in the same boat. From that hard work, the project was able to deliver a usable prototype to John Hunter Hospital within 18 days.
"There was more contingency planning than I've ever seen on a project before," he said.
"Thankfully, the curve flattened, and  the availability of parts didn't become as difficult as we knew it could have. None of us had ever made a ventilator before; all past designs relied on proprietary parts for which there was no reliable supplier." 
"It's through volunteering that we get a better sense of how fortunate we are, and of problems that are worth solving."
Palmer said the evolution in design for the project came from understanding the very real but evolving needs of the intensive care units fighting COVID-19.
"Our thinking switched from simply blowing air in and out, to supporting life in people who are sick and ultimately to helping them get better," he said 
"It is not a good result if you keep them alive for a few days longer without getting them through."
Working on such critical community projects has affirmed Palmer's belief that more engineers should get involved in working on and volunteering their time for things they care about.
"Engineers on the whole are problem solvers, but we tend to stay back from problems unless we think we can solve them," he said. 
"Volunteering is a really powerful way to be a more active participant in the rest of the world. It's through volunteering that we get a better sense of how fortunate we are now, but it's also a way to get a better understanding of other people and other problems worth solving.
"In terms of finding better engineering solutions, volunteering is both a means in and of itself, and a means to an end."