Engineers are often called upon to solve problems big and small. But the disaster facing Gondwana, a small planet in an out-of-the-way part of the Milky Way, was one that could have destroyed its entire world.
An imminent meteor shower was threatening to rupture a toxic waste storage site, releasing poisonous material that would create an environmental catastrophe.
All that stood between Gondwana and oblivion were the minds of engineering students from Australia and the Asia-Pacific region who answered their call for help.
Gondwana is fictional, but the students are real; 17 teams from Australia, New Zealand, Malaysia and Singapore competed in the final of the 32nd annual Warman Design and Build Competition, held in Sydney this past weekend.
Open since 1988 to second-year mechanical engineering students, the competition has called upon entrants to solve an engineering problem facing the trouble-prone Gondwanans by using their creative thinking, practical engineering design and hands-on construction talents.
This year, teams were tasked with designing and building an autonomous system that could transfer 20 spherical storage vessels (plastic balls 6.5 cm in diameter) from a rectangular storage 'ocean compound' to a separate and safer 'inland compound'.
The transfer had to take place within 60 seconds — the quicker the better — and the entire system had to weigh fewer than 6 kg.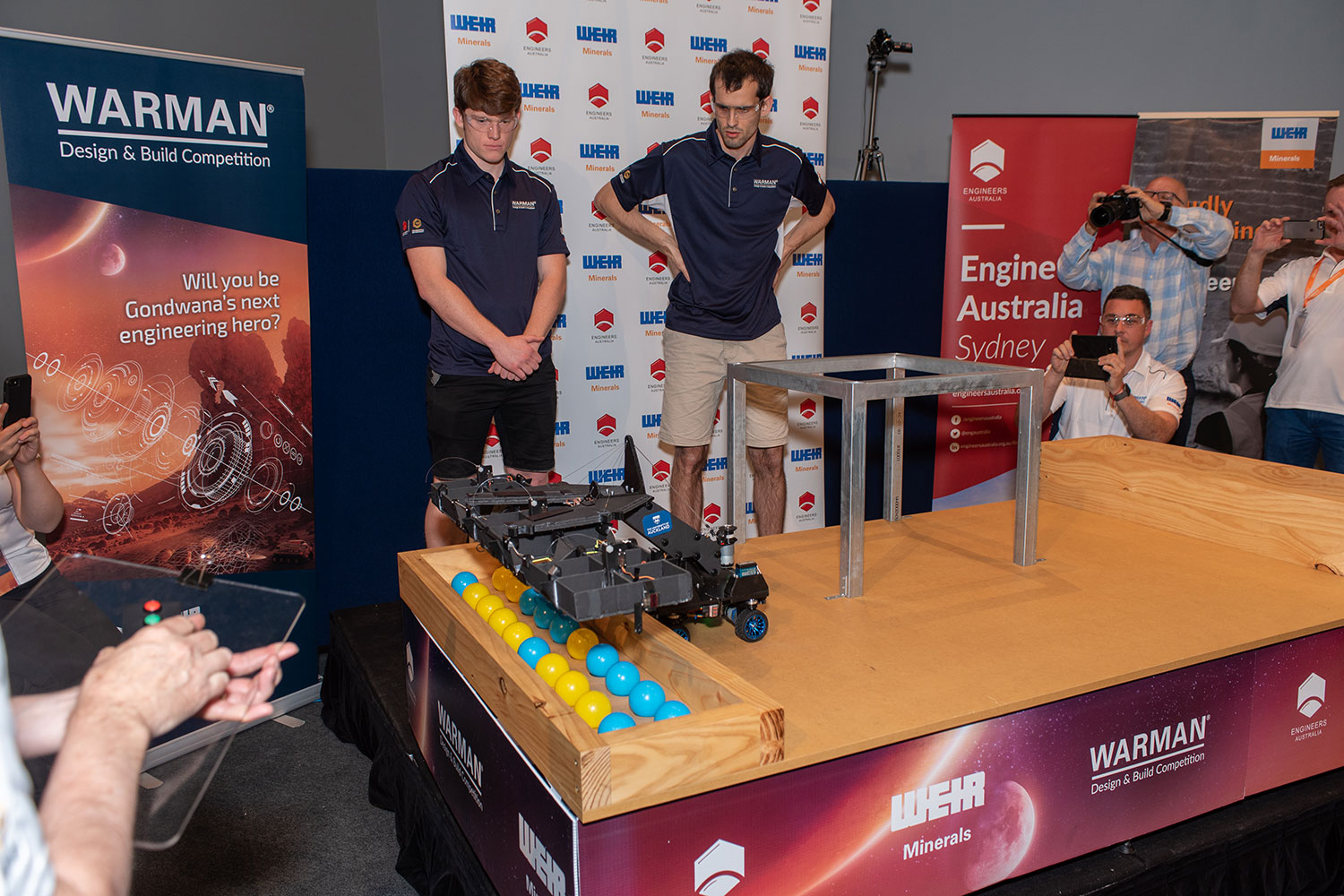 Speed and reliability
The competition culminated on Sunday 20 October with the announcement that a team from the University of Auckland was 2019's winners.
The two-person team, consisting of Juan Robertson and Kynan Wright, claimed the top spot with a four wheel-drive device that has a turntable-mounted ball-collection container. It got the job done within seven seconds.
Wright told create he and Robertson focused on reliability in their design.
"We wanted to build something that would work almost every time, which is not only good engineering practice for the scenario, but also gave us a good shot at the competition," he said.
"The day of competition went surprisingly well; we'd done a lot of testing the previous day, so we felt confident in the reliability of our robot."
Wright said one of the biggest challenges was determining how many balls to pick up at once — picking all of them up at once affected the design's size and manoeuvrability, while picking up fewer introduced storage problems.
"We opted for a 20-ball pick-up system, using a foam tray with tensioned elastic bands across each hole that were released into place as soon as the tray sensed that it was on the ground," he said.
Wright also praised a robot designed by a Deakin University team.
"They solved this issue with an elegant cylindrical concept and picked up the NCED 'Best Design' award for it," he said.
Wright and Robertson made some minor changes to their device's programming the night before competition, but a few test runs reassured them that the system would still work.
"Then we didn't touch it until it was time to compete," Wright said.
"We thought at that point, we were more likely to break something by testing it too much and we just needed to trust the work we'd already done."
"Having a go"
Second place went to Monash University, Malaysia, whom Wright said presented stiff competition.
"We got a bit of a scare from the Monash University team from Malaysia, who were tied with us on points after the first run [of two], but we decided that if we tried to speed anything up at the last minute, we were far more likely to fail completely," Wright said.
"We just crossed our fingers and did the exact same thing for the second run, and it worked out pretty well."
This year's win puts the University of Auckland in tied position for the greatest number of Warman victories in the competition's history — they and the University of Western Australia have five victories each.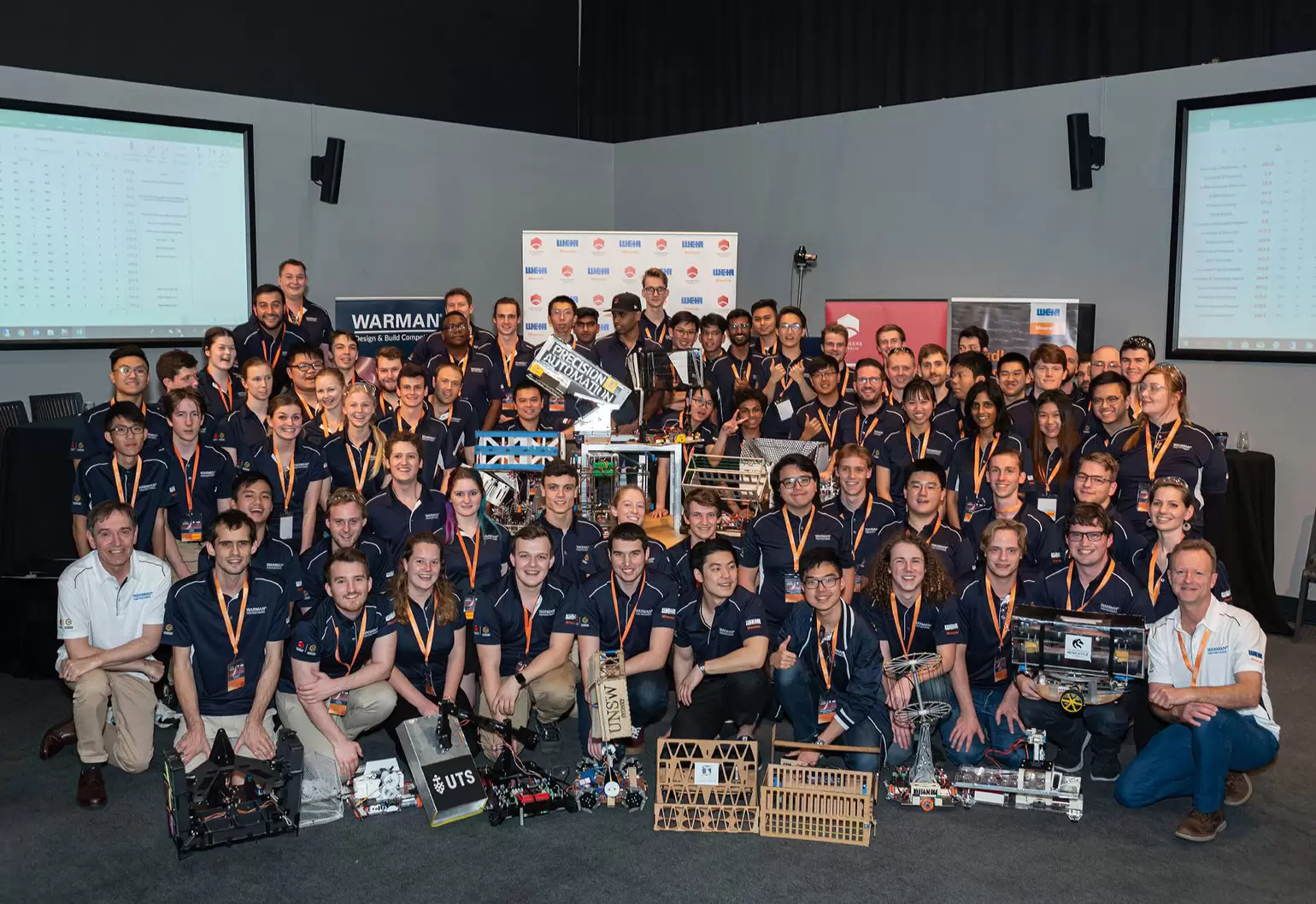 Wright said the University of Auckland's innovation and entrepreneurship hub Unleash Space is an example of the ways in which the university is building the basis for such success.
"It's an area where resources are available to support students' personal projects, and I think that actually having a go at putting engineering theory into practice is the best way to solidify concepts in your own mind, as well as sparking interest and passion in the subject," he said.
"Encouraging that sort of approach and mindset is probably why the University of Auckland does so well in these competitions, and hopefully will continue to do so."