International control engineering 'legend' Professor Brian Anderson AC was announced as the winner of Australia's most distinguished engineering award at Engineers Australia's National Congress and National Awards Dinner last night.
Anderson's skills and experience have seen him provide advice to government, serve on the board of Cochlear Limited, lead the International Federation of Automatic Control and spearhead the National ICT Australia (now Data61 at CSIRO). 
The Peter Nicol Russell Memorial Medal is Engineers Australia's most prestigious award. It is presented annually to an Honorary Fellow of Engineers Australia who represents the highest technical, professional and community service standards of the profession.
In its annual report, Engineers Australia cited Anderson's "remarkable intellect coupled with his lively spirit" as reasons for his success.
"Professor Brian Anderson AC is globally recognised as a legend of control engineering and has strongly influenced the practice of engineering in a broad range of industries, inspiring generations of engineers and addressing an array of applied problems," the report said.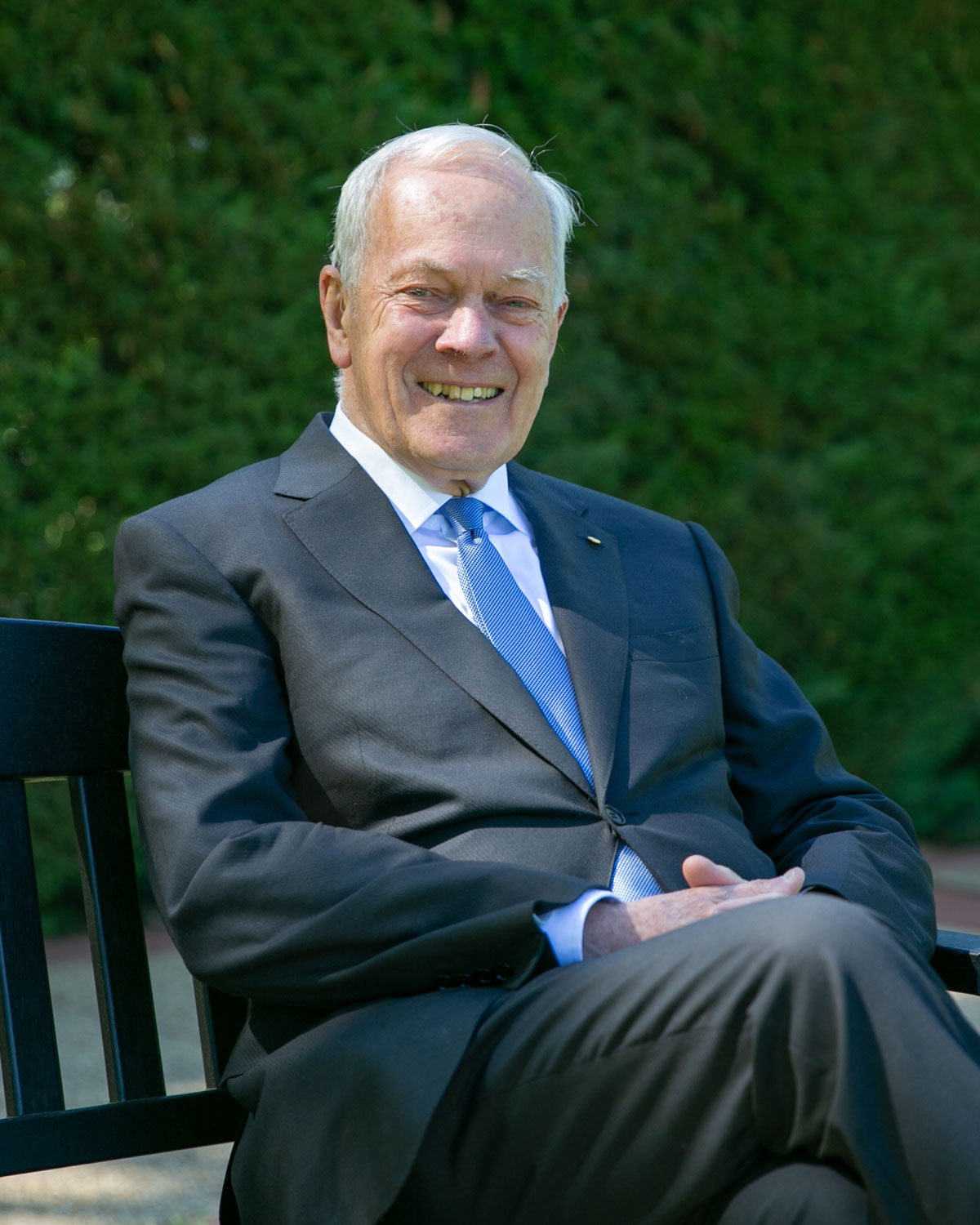 Anderson earned his degree in electrical engineering at the University of Sydney before going on to earn his PhD at Stanford University. His career has spanned positions in industry, academia and government advisory roles.   
"Engineering is always directed to the service of people, and undoubtedly will be addressing some of the big challenge problems of our time," he said during his acceptance address.
Anderson singled out energy production and health as two areas "where engineers will be central", and called on the profession to rise to the challenges presented by an uncertain future.
"One can predict some of the future, but will never be able to predict it all … I have no doubt that the engineers of tomorrow will find their professional world just as challenging, if not more so, than mine," he continued.
"When in years to come they look back on their career as I do now, I hope they feel, as I do, they have been extremely fortunate to have lived such an exciting professional life."
Energy, community engagement and innovation 
Among the other engineers recognised at the annual awards evening were Professional Engineer of the Year Helen Cartledge and Young Professional Engineer of the Year Scott Snedden.
Cartledge has put her interest in "using science to save the world" to good use, currently serving as the Director of Maritime Autonomous & Remote Underwater Systems, within Capability Acquisition and Sustainment Group in the Department of Defence.
Cartledge has developed technology to transform man-made general waste products into building materials, which has been taken to developing countries. With a team of academia, she trained locals and provided solutions to combat pollution.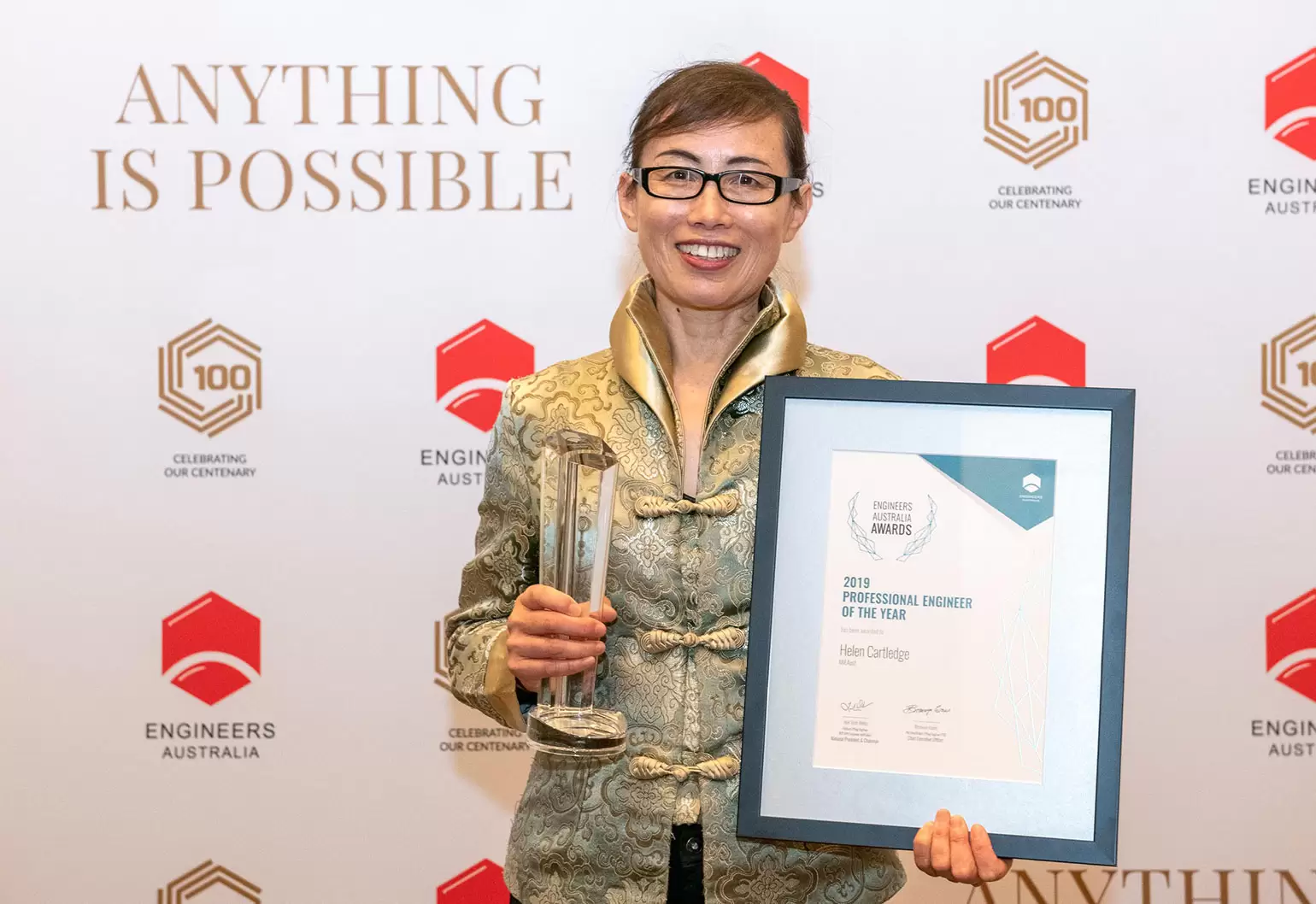 She is also passionate about promoting STEM in schools and encourages the next generation of engineers through outreach programs and her own "Dr Helen's Science Show" during National Science Week and on ABC Radio.   
Snedden is a Chartered civil and structural engineer based in Adelaide. Some of his accomplishments include working as the lead engineer for regulator structures on the $2 billion Northern Victoria Irrigation Renewal Program, for which he is credited with going above and beyond to drive improvements like automating design techniques through to providing mentoring opportunities for contractors. 
The 2019 Engineering Associate of the Year Award went to Adam Gifford, a Senior Technical Officer working within Aurecon's energy team to deliver renewable energy projects. Gifford has carried out a number of community-focused projects as well, and has had an active role in promoting young and emerging professionals within Aurecon. 
Glen Anderson, a testing and commissioning engineer with Zinfra, was named the 2019 Young Engineering Associate of the Year for his ability to engage local communities and upskill local staff, especially during his work in the Marshall Islands. Anderson has also worked as part of the SolarTuk project, which seeks to make clean energy and low emissions transport accessible.
Rounding out the individual awards, Christopher Kelsey was awarded the Engineering Technologist of the Year for taking the idea of jigging with high g-forces from concept to commercialisation, resulting in his namesake device: the Kelsey Centrifugal Jig (KCJ). 
As well as these awards, Engineers Australia also recognised conspicuous service to the engineering profession and community through The President's Prize, which is given at the discretion of National President Trish White on an annual basis.
This year, The President's Prize was awarded to the Australian Rainfall and Runoff (ARR) guidelines, which provide guidance on flood estimation. It was first produced by Engineers Australia in 1958, with updates in 1977, 1987 and 1998. 
A much needed revision was initiated in 2008 to reflect 30 years' worth of advances in technology, modelling and scientific understanding of rainfall, runoff and flood producing processes. 
Since 1987, the ARR has expanded from a single book and set of maps to a series of nine books, with extensive online components.