An ultra-lightweight mobile X-ray machine from South Australian company Micro-X has been approved for use in Australian hospitals. 
Called the Rover, the machine allows patients to be X-rayed without having to leave their bed. 
Rover weighs 95 kg, substantially lighter than traditional X-rays, which can weigh upwards of 500 kg.
Rather than using a traditional hot filament to produce electrons in an X-ray tube, the Rover uses carbon nanotube emitter technology to generate the stream of electrons. 
This not only allowed engineers to shrink the X-ray machine, but it is also more durable and longer lasting, electronics engineer Peter Rowland, Managing Director of Micro-X, told create. 
"You could compare it to LED replacing the old fashioned incandescent light bulb," he said.
"We use an electronic source which isn't heated. It's electronically controlled, which lets us do some very clever things inside the X-ray tube."
The Rover can be manoeuvred around a hospital right to a patient's bedside and is safe enough to be used with other patients in the room. 
And Rover has also become popular among four-legged patients. 
At Adelaide's Gawler Animal Hospital, the team has found that being able to move the Rover around is particularly helpful when your patient doesn't speak. 
"You can't just tell a dog, 'hold your left paw out against the plate'," vet Dr Steve Crouch said. 
"But the Rover X-ray machine is easy to position around the patient."
Rover is so versatile it's even being taken door to door to X-ray patients in their homes. 
"They bring the X-ray around in a van, wheel it out of the van into your house and do the X-ray in your front room," Rowland said.
"For patients with mobility issues this is a lot more accessible."
Micro-X intends to go further with the development of other miniaturised and, importantly, mobile scanning devices. 
The team is currently working with the Australian Stroke Alliance and Monash University to develop a CT scanner that can be installed in ambulances and patient transport aircraft. This will allow paramedics to scan stroke victims to determine the nature of their stroke, which is crucial to get patients quick treatment. 
"When an ambulance picks up a suspected stroke patient, we can image them there and then [send] the image back to the hospital," Rowland said.
"The radiologist and brain surgeon can look at it and determine what kind of stroke it is."
"It's an absolutely brilliant product because it minimises the need to put on a bomb suit and go downrange."
Self-serve security 
Medical devices are only part of Micro-X's offerings. The company's backscatter technology has been picked up by the Australian Defence Force (ADF) for use by bomb squads.
"In normal X-ray, you need the X-ray source on one side and the detector on the other to capture the image," Rowland said.
"The problem is, in that counterterrorism situation, often you can't get the imaging plate behind the bag or potential bomb without moving it, which can be very dangerous."
Engineers at Micro-X developed an X-ray camera, about the size of a box of cornflakes, that doesn't require a back plate. 
This can be carried by robots, which point the X-ray at the suspicious device, with the image sent back to the bomb squad waiting a safe distance away. 
Rowland and his team tested the device with members of the ADF who brought in decoy bombs and some real (defused) bombs. 
"It's an absolutely brilliant product because it minimises the need to put on a bomb suit and go downrange," Rowland said.
This technology has also caught the eye of international stakeholders.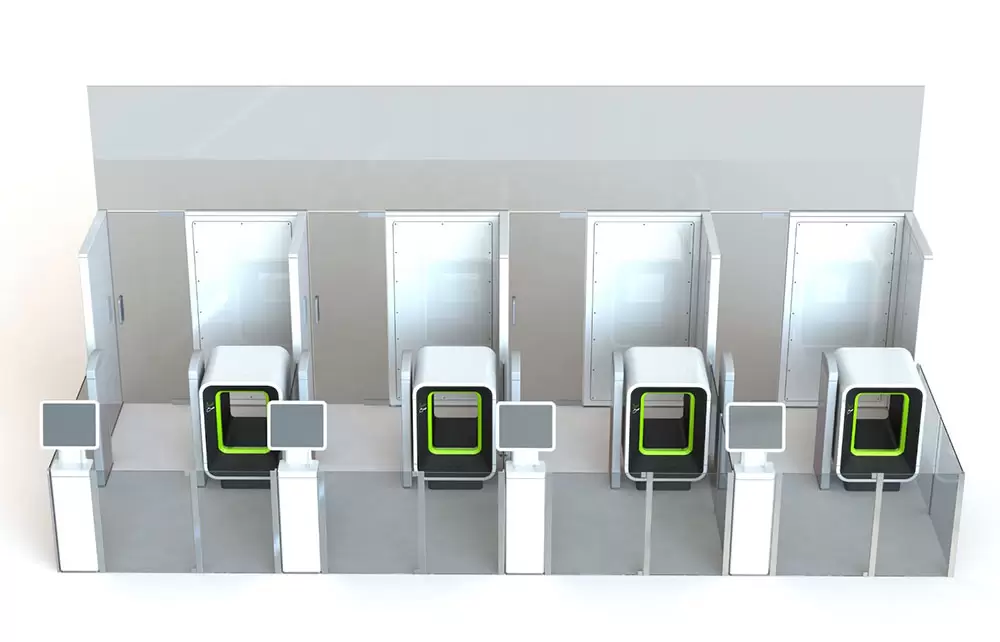 Most recently, Micro-X received two contracts from the United States Department of Homeland Security (DHS) to develop a self-serve baggage scanner. 
"We were ask to present our technology in Washington DC, where they said their vision is to make airports completely self-service from check-in all the way to the boarding gate," Rowland said.
"So we won a tender to design a miniaturised baggage scanner, but also the overall self-service portal that passengers would use."
This self-serve system would combine other airport security requirements, such as passport and body scanners, dramatically speeding up the airport check-in process.
"We wanted to bring that culture of ultra quality, ultra efficiency and ultra reliability into medical devices."
Like the Rover, self-service baggage scanning will use carbon nanotube emitter technology, which is much smaller than usual baggage X-rays. 
The Monash University Design team and the Transportation Security Administration in the US will support and guide the development. 
Showcasing South Australian manufacturing
With the DHS contacts, Micro-X is taking South Australian manufacturing to the world and showcasing the engineering talent that exists in the state.
Most of Micro-X's manufacturing employees are former Holden workers. Adelaide's General Motors Holden plant closed in 2017 and Micro-X quickly snapped up the talent. 
"We wanted to bring that culture of ultra-quality, ultra-efficiency and ultra-reliability into medical devices," Rowland said.
"That's really helped to get the company started with a mindset of having really high-quality production.
"We've been the beneficiary of years and years of honing lean manufacturing procedures and processes. It's been a fantastic experience and I couldn't be more proud of the team."