Stroke patients in rural and remote communities currently have to travel hours to receive time-critical care. A multidisciplinary team of engineers, stroke experts and doctors aims to change that.
The Australian Stroke Alliance, including Professor Cees Bil and Associate Professor Kate Fox from RMIT's School of Engineering, was recently awarded $40 million to revolutionise stroke care for remote patients, through the Federal Government's Medical Research Future Fund (MRFF) Frontiers initiative. 
Their spin-off project, funded through the Melbourne Brain Centre, aims to shrink the usually cumbersome CT scanners vital for stroke diagnosis into light, affordable and portable versions to be installed into planes and helicopters.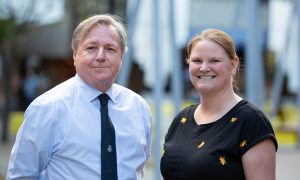 Melbourne already has Australia's first and only mobile stroke ambulance, which has been servicing the city for three years. It is loaded with a compact though heavy CT scanner, and Bil told create he's keen to expand the service to those living in remote areas.
"[In the city] if a call comes in and it's a suspected stroke, then that road ambulance will go, do the diagnosis and, depending on the diagnosis, treatment starts immediately," he said.
"We can't do that with remote patients. They're too far away. And so the idea came to see if we could instal a CT scanner on a fixed wing aircraft or a helicopter."
Treatment for a stroke patient can't begin until the medical team know if it's been caused by a clot or bleed. But, according to the Australian Stroke Alliance, patients in remote and rural communities often need to travel more than 200 km to access care.
Patients that receive the correct care within the "golden hour" after onset have the best chance to survive a stroke.
From the basement to the sky
The project faces a few hurdles before, literally, getting off the ground.
"CT scanners and medical diagnostic equipment haven't traditionally been designed or built to go into the air," Fox said. 
"Our team at RMIT will use additive manufacturing, materials science and some clever design engineering to build a CT scanning unit capable of substantial weight reduction."
CT scanners typically weigh 3 t, which is why they're usually found in the basement of hospitals. The two prototypes produced by the RMIT team and its Australian Stroke Alliance partners should weigh between 30 to 100 kg. 
"Medical equipment is generally very sensitive to external circumstances, too," Bil said.
"They usually rely on a constant power supply and steady temperature. We can't necessarily provide that in a helicopter that is bouncing around." 
"CT scanners and medical diagnostic equipment haven't traditionally been designed or built to go into the air."
To give the machine wings, Fox explained the engineers are attempting to essentially redesign the CT scanner with the aircraft in mind.
"We're looking at a traditional scanner with all its nuts and bolts and lead protectors, and stripping it back," she said.
"[We're] taking away the components that are just there due to ease of manufacture or traditional manufacturing techniques."
While some medical engineers are attempting to create diagnostic alternatives to CT scanners that are lighter and more portable, Fox and Bil believe it's hard to go past the reliability of traditional CT scanners, particularly when someone's life may be on the line.
"We can't guarantee those other technologies will eventually deliver what we need to detect or diagnosis a stroke," Bil said.
"So Kate's contribution to the project is still sticking with, let's say, the 'old' technology, and slimming it down and bringing down the weight. Just in case those two technologies don't really deliver in the end, then we have to fall back on traditional scanner technology."
While weight is one problem, the other issue the project has to contend with is radiation from the machine.
Ideally only the radiographer and the patient should be around the scanner while it's on. But the aircraft's power is needed to run the machine, which means the pilot needs to stay on board.
"The good news is that the radiation is minimal, but we definitely need to look at how we protect the pilot without adding too much weight," Bil said.
Fox added that the team is looking at new ways to produce the machine's components, for example through 3D printing, which might make the device lighter. However, there are certain weight considerations, such as the lead shielding, that can't change.
"Of course there's the patient's weight too. And at the moment [the scanner] needs to be run by the plane power, and that's fine, but if the plane has to stop we need backup batteries," Fox said.
"So these are all things that we'd love to cut out, but realistically, they've got to stay."
Saving lives is a team effort
The project is still in its early stages, but the team has taken a unique approach by bringing in end users early on in the development.
For example, virtual reality technology allows radiographers to trial the portable machine and see if it can deliver results.
"We have been working with not only computer-aided design technology but also virtual reality technology where you can actually walk through a virtual helicopter," Bil said.
"Opposed to actually building the whole thing, which is expensive, it's a low-cost technique to actually design it and to play around with."
Bil and Fox acknowledged that the project is very much a team effort. Not only is a multidisciplinary team of engineers working together, but they have also collaborated with the Australian Stroke Alliance, led by neurologists Professor Geoffrey Donnan and Professor Stephen Davis from the Melbourne Brain Centre, and the Royal Flying Doctors Service (RFD).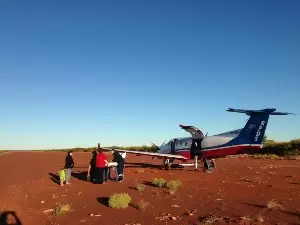 "It has been a bit of an eye opener for me as an aerospace engineer to see what sort of requirements come out of the medical world," Bil said.
With research showing an increase in the number of younger Australians experiencing stroke, and with the tyranny of distance a huge barrier to stroke care, Donnan said the project could have enormous implications for the nation.
"It's all about time and the need to administer thrombolysis within 4.5 hours of stroke onset — but ideally within stroke's 'golden hour'," he said.
"If you have a stroke in rural or remote parts of Australia, you are twice as likely as city stroke survivors to be left with a serious, lifelong disability."
Fox echoed his comments.
"This is a very revolutionary project that Australia is about to embark on, in terms of bringing together specialists from all over Australia to change the way stroke is treated," she said.
"If we get this working, I think the rest of the world will look at us, because it's probably the first time something like that has been developed."