Early struggles and a passion for engineering have inspired Kiarna Broomhead to show other students the possibilities of STEM.
Of the 950 students enrolled in an undergraduate engineering program at Griffith University's Gold Coast Campus, 115 are female.
Second year electrical and electronics engineering student Kiarna Broomhead is the only Indigenous woman.  
When she's not studying, she volunteers with the School of Engineering and Built Environment and the STEM (science, technology, engineering and mathematics) Ambassador Program, but mainly with the Women in Engineering Society, where she helps run outreach activities at schools to teach young girls about engineering.
"The outreach volunteering is what I most enjoy about university and my engineering degree, because I'm able to fulfil my want to show young people about these things they can do with their lives," she told create.
"I find going out into the community and showing what engineering is about is the best way to gain interest in the area. I talk to kids at engineering displays or STEM events to tell them what engineering is and help run outreach programs at schools where we do activities like building a circuit with the students.
"If you spark interest in just one person to look further into technology or science-related degrees, it could change their life and make the future better."
A passion for learning
Broomhead's love of science and technology and her own struggles at school underpin her motivation to share the benefits of education and a career in STEM.
The Brinja-Yuin woman grew up on the south coast of New South Wales in small, beachside towns, moving around a lot as a child. The frequent moves were mainly due to her father's contract work for builders.
Moving often and constantly having to make new friends made schooling hard, and Broomhead was keenly aware that she missed out on the opportunity to form bonds with teachers who could be role models.
"Moving around a lot, I struggled with learning at a young age and was often behind in classes. I was always the new kid, always," she said.
"Not being able to stick around somewhere and form bonds with teachers, I didn't have a female role model, especially someone in science. There was no one there for me, so I want to be that for people. In future, I want people to see the work I do and say 'Wow, that is something I want to do with my life'."
Broomhead said the lessons she absorbed from her grandmother and father helped her turn her life around.
Her grandmother, who was of Aboriginal and European descent, went through a time when she was shunned by the wider community and had to bring up her children with no money.
She did this by living off the land, working hard and making sure her children had as many opportunities as possible.
"My grandma definitely instilled a lot of hard-working values in me in particular," Broomhead said.
"She grew up very poor and was a very humble lady. She had a really big influence on all our family with the values of knowing where you come from and working really hard to get what you have."
Broomhead credits her father, who is an environmental scientist, with opening her eyes to the value of education and kindling her interest in science and technology.
He did not have a good education, she said, and worked hard to make up for that. He went to university later in life.
"My dad had a really strong influence on my want to get education, because he didn't get it growing up," she said.
"He helped me understand what education can do for you. Now I want to pursue my dreams."
Those dreams centre on using technology to improve lives.
"Hearing my father talk about interesting things that he'd read throughout the day really drove my interest in science," she said.
"I found I was researching and reading articles related to technology and science because I grew up hearing about all this information, and I wanted to know more."
Her love of problem-solving drew her to engineering and she was inspired to study electrical engineering and electronics, because she believes that it inspires innovation and offers opportunities to develop new technologies that can have a positive impact on peoples' lives.
"I think technology will make Australia what it will be in the future," she said.
"I don't want to be working for now; I want to be working for 20 years from now. I want to be creating for people of the future."
Bright future
Broomhead, who followed her two older sisters to Griffith University, said she enjoys the connections with teachers and the practical nature of the electrical engineering course, which involves building circuitry and coding.
"One of the things I've really enjoyed about studying at Griffith is being able to have those connections with lecturers that I didn't have with teachers when I was a kid," she said.
"They have a pretty big influence on the work I do. I am in smaller classes and I get to talk to my lecturers a lot more."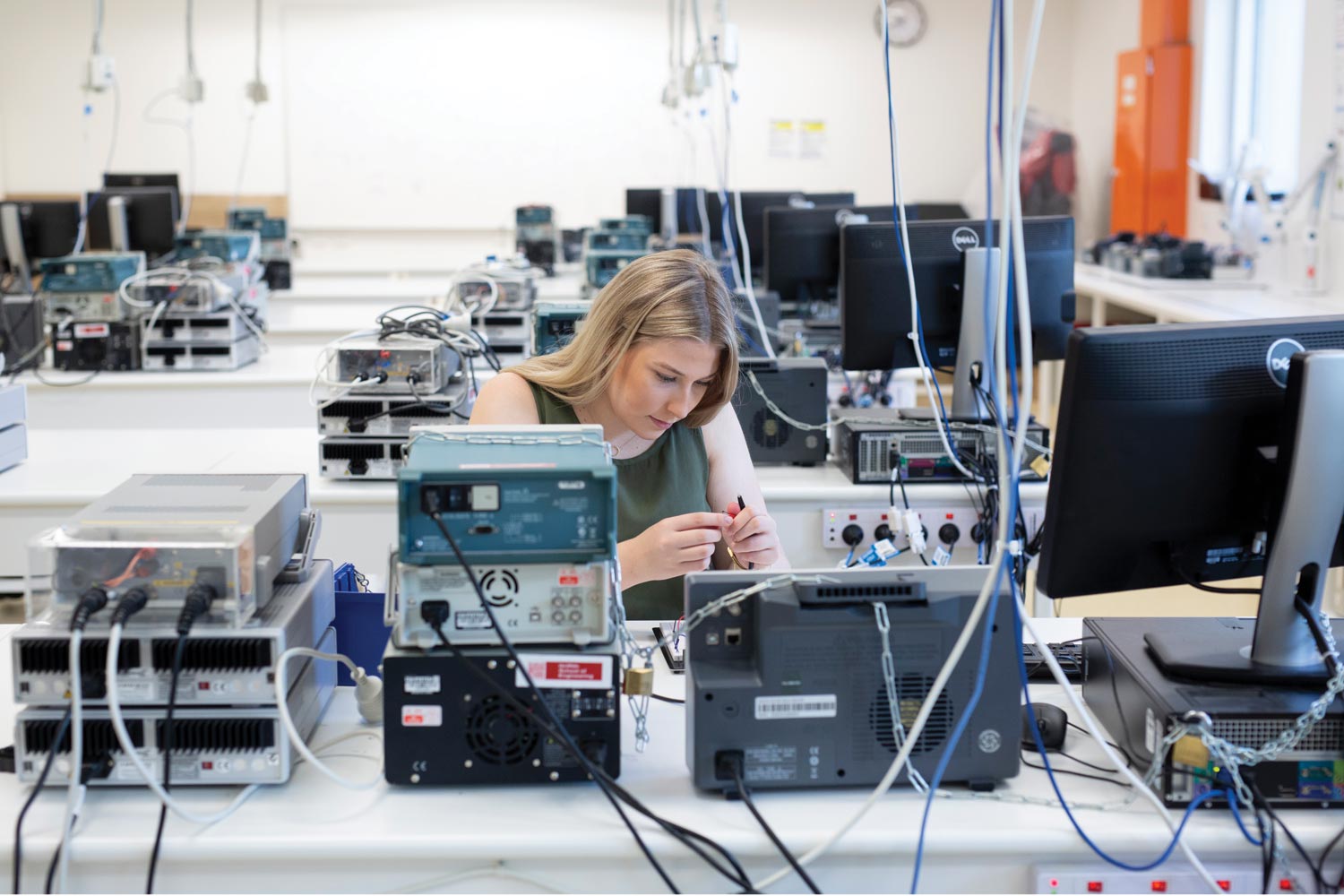 Since starting her degree, Broomhead has received a $5000 scholarship from building group Grocon and completed a four-month internship with rail freight company Aurizon.
At Aurizon, she worked in the asset management team focusing on the upkeep, maintenance and retirement of locomotives.
She is currently undertaking an internship with Boeing Defence Australia as a systems engineer.
However, Broomhead believes her contribution to the community is her greatest achievement.
"The thing I am most proud of is the amount of time I have been able to put into volunteering," she said.
Broomhead has not settled on what area she wants to work in when she graduates, but she has some clear goals to guide her.
"Ten years from now, I want to be working in the research and development industry," she said.
"I don't want to be doing everyday work because it's work. I want to be passionate about what I am doing because I find I give my best when I'm working for something that I enjoy, and I want to be able to bring that to people and inspire them."
She also hopes her work can take her abroad.
"I hope by the time I'm 30, I've worked overseas, as being immersed in a different culture helps you see things from a different light," she said.
"I hope I've found what my passion is and I'm actively pursuing that, and still playing an active role in inspiring young girls to be involved in engineering."
What would be her message to young engineers?
"Give something back to the community. You might not think that what you are learning now is valuable and can be used, but the smallest thing you have learnt can help one young kid change their life."  
Ready for take-off
Broomhead said her work placements have provided valuable opportunities to gain practical experience and learn from industry professionals.
As part of her internship with Boeing, she helps support upgrades to the Royal Australian Air Force's fleet of six E-7A Wedgetails.
The Wedgetail aircraft is an airborne early warning and control platform that can gather information from a wide variety of sources, analyse it, and distribute it to other assets.
Under the AIR 5077 Phase 5A contract, Boeing Defence Australia is leading the first major upgrade program for the aircraft to ensure the fleet complies with evolving military and civilian standards.
"The people I am meeting and the stories you hear from them show the value in what you are doing," Broomhead said.
"It gives you drive and really inspires you to work harder."
This article originally appeared as "Making connections" in the May 2019 issue of create magazine.