BAE Systems recently sent two young Australian engineers over to Glasgow to develop their skills and experiences in working with the world's leading combat ships.
As the Royal Australian Navy's Anzac-class frigates sail toward retirement, fierce competition is mounting to design and build the nine anti-submarine warships that will replace them within the next decade. British defence giant BAE Systems is one of three companies shortlisted as part of the Federal Government's $35 billion SEA 5000 (Future Frigates) program and Australian engineer Edward Cox was seconded to Glasgow last year to work on the BAE campaign.
Cox, along with naval architect and fellow Australian secondee Joe Cook, form a vital link between Glasgow and the wider BAE Systems team back home. Immersed with the UK design team of BAE's Type 26 Global Combat Ship, the company's most advanced sea vessel upon which the Australian design is based, the knowledge and connections he collects along the way will enhance local BAE expertise when he returns to Sydney in April next year.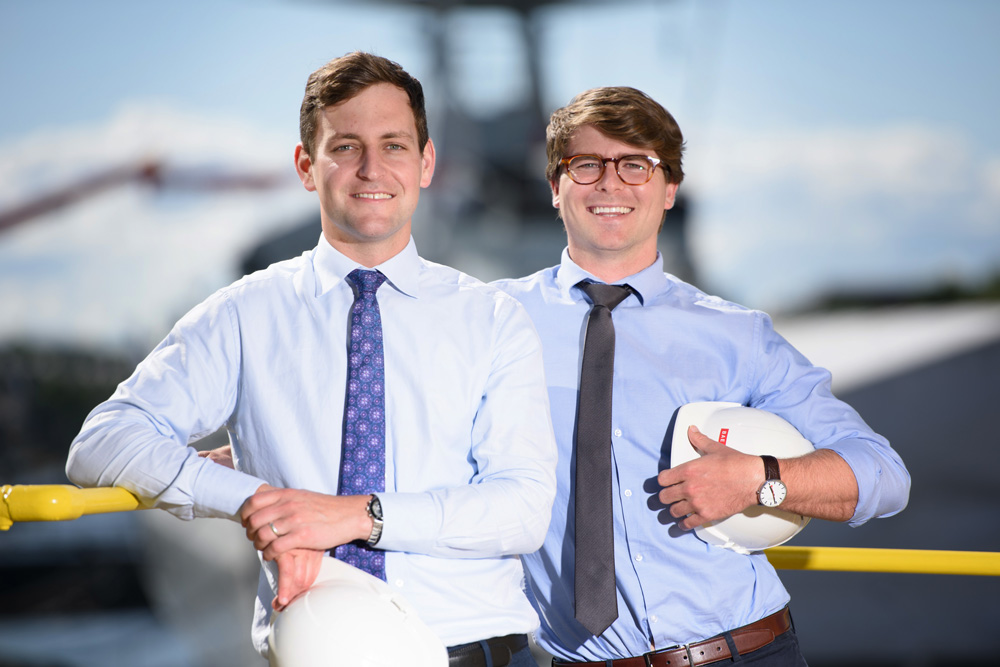 "We have a team in Australia that provides some input into the project but the real design authority is all in Glasgow," Cox said.
"Part of the reason Joe and I are here is to get indoctrinated in the UK way so that when we come back to Australia we can essentially set up another business within BAE."
Global opportunities
It's a big responsibility for a 26-year-old. Cox joined BAE in 2013 after graduating with a degree in mechanical engineering from UTS. He took on a part-time job with the company writing technical maintenance documents during his student years and gained a full-time role after graduation with BAE's engineering team on the Guided Missile Frigate Class.
"I was working on the same class of ships, but instead of writing maintenance documents I was doing designs for modifications and investigating why things were breaking," Cox said.
As a child, Cox spent his school holidays pulling apart his bicycle in his grandfather's mechanics workshop and said engineering was a clear career choice. A role with BAE was a dream job but within 18 months of joining the company, he said he developed itchy feet.
"I wanted to get some international experience and I spoke to my manager about wanting to go overseas," he said.
"When the secondment role came up and I was successful, I was basically told to pack up my life and go to Glasgow."
Cox's manager in Glasgow, Chris Muskett, BAE Systems Maritime – Naval Ships, Global Combat Ship Australia Chief Engineer, said he was an obvious candidate for the secondment.
"Ed is a high performer and had the right skillset for the role," Muskett said.
"His mobility means he can seamlessly bring the expertise and intellectual property he gains in the UK back into Australia. He's also provided us with insight into Australian industry, politics and the Australian customer at a level and depth that we might otherwise struggle to obtain."
Learning on the job
BAE's secondment program was launched in 2016 to support the company's SEA 5000 campaign and Cox is one of three engineers to have participated.
"The program is part of our commitment to begin transferring knowledge from day one of the SEA 5000 program by immersing Australian engineers in the UK processes and digital toolset, and familiarising them with Type 26 Global Combat Ship, which is the reference design ship of the Global Combat Ship – Australia," Muskett said.
The Type 26 Global Combat Ship is a multi-mission warship of about 7000 t and is capable of speeds of more than 26 knots. It is designed to support anti-submarine warfare, air defence and general-purpose operations and steel was cut for the first ship in BAE's Govan shipyard in Glasgow in July this year.
BAE explained that the warship's versatility is enabled by its integrated mission bay and hanger, which can support multiple helicopters, boats and unmanned underwater vehicles.
As Principal Mechanical Engineer, Cox is working with a team to 'Australianise' the Global Combat Ship so it's ready should BAE win the tender over its rivals – Spanish company Navantia and Italian shipbuilder Fincantieri.
"It involves everything from changing the power outlets from the UK plug to the Australian plug, all the way up to all the support services for the different helicopter the Royal Australian Navy uses," said Cox.
"We've got some slightly different weapon systems, a completely different radar and there's a whole new mast, which is one of the biggest changes."
Absolute experts
Cox said he's been surprised by the depth of knowledge in BAE's UK team.
"In Australia, the company has a breadth of capability and can do a bit of almost anything, but the team of people here includes thousands of engineers who have worked on this project throughout its lifetime," he said.
"Some of them have designed aspects of it from the ground up and have become real experts in that one specific area.
"It's been handy to get to know where the knowledge is held in the company and I've been able to gain some of that knowledge, too," Cox said.
"There's a guy here who's an absolute expert in hydrodynamics and I don't think anyone in Australia has his level of expertise. He has walked us through how they've designed the Type 26 hull form and the influence the hull appendages and propellers have on the amount of noise the ship makes. It was fascinating to see the analysis that they'd done and to know that it could be done in-house."
The winner of the SEA 5000 contract is due to be announced in April next year and construction of the first frigate is expected to begin in Adelaide in 2020. Whether or not BAE's bid is successful, Cox has gained knowledge that will surely prove invaluable for the team in Australia.
"Designing and building a ship is a complex endeavour," he said.
"They take care of every element over here and have complete control. I don't think that's been done in Australia before."