As the incidence and severity of bushfires increases, new technologies are being devised to better defend people and communities.
As Australia has seen vividly illustrated this summer, global warming does not only mean hotter temperatures; it also means more intense weather patterns that stoke more destructive disasters.
The country has always experienced bushfires, but as the climate changes, bushfires are changing too: they are getting more dangerous and more devastating.
But the way we fight fires is changing too, and new technologies are being devised to better defend people and communities from this danger. 
Some of these ideas are having immediate effect, while others are more fanciful, but they all demonstrate how innovation is helping humanity better respond to impending disaster.
1. Virtual reality and haptic technology that can help train firefighters
One problem with training firefighters to respond to disaster is that the chemicals used to attack fires are not the most environmentally friendly substances to be spraying around. Fire suppressant foam, for instance, is good at putting out fires, but it also leaves behind toxic PFOS (perfluorooctane sulfonate).
One Australian entrepreneur, however, is devising a system that uses virtual reality and haptics to help firefighters gain experience with their equipment without leaving unpleasant chemicals behind.
Engineer and Country Fire Association volunteer James Mulins started Flaim technologies to produce a training product that incorporates a head-mounted display virtual reality unit, a nano-fibre bio-feedback vest, heating pads, breathing and protective gear, and haptics that can emulate the kick from operating a firehose.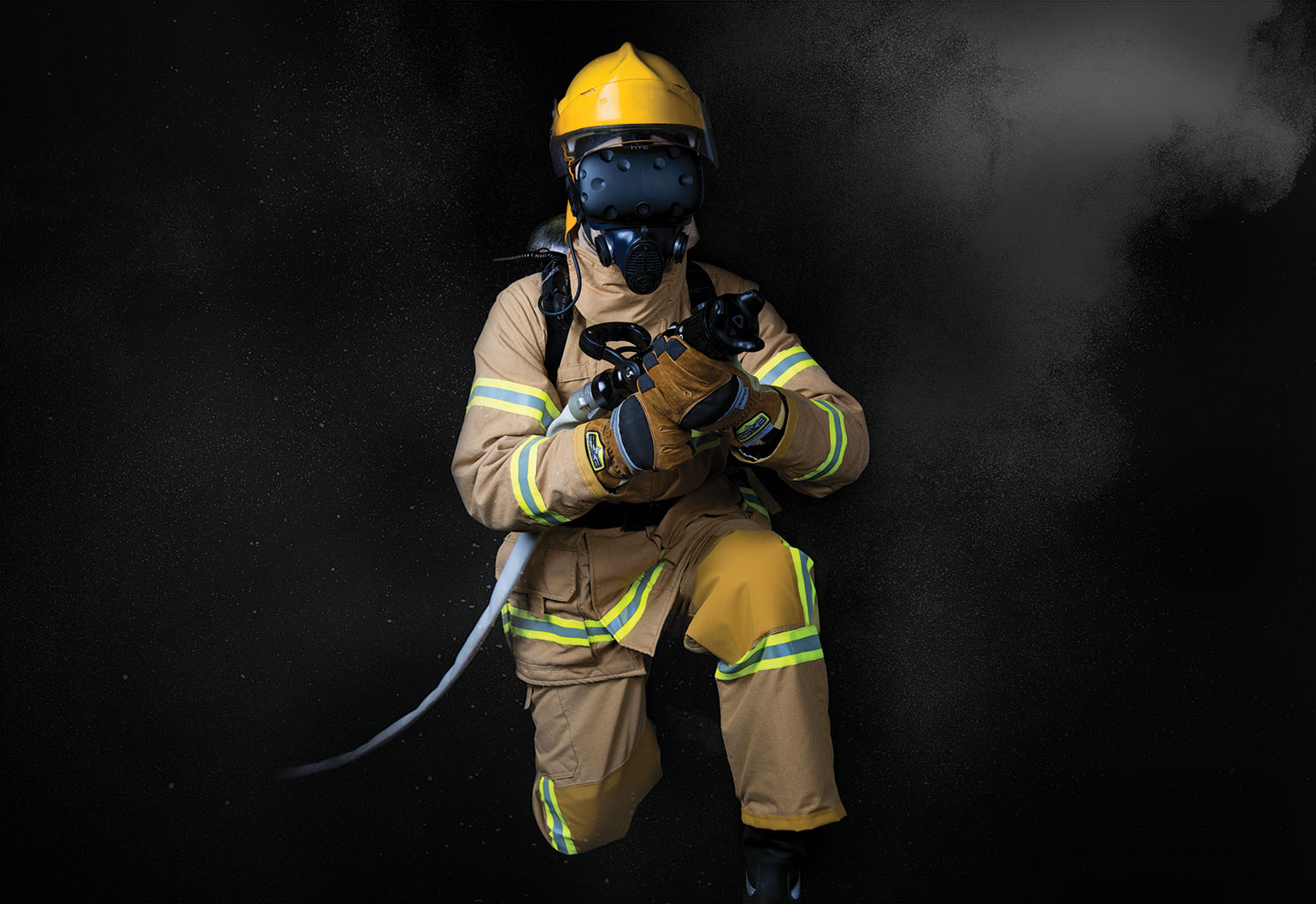 The technology is based on data from real fires.
"We put our software developers in the burn houses up in Queensland," Mullins told create. 
"We immerse our dev team into what fire is so that they can try and replicate those conditions as close as possible."
2. Keeping firefighters safe from truck burnovers
It's not just in training that technology is helping firefighters stay safer – it's also when they're on the frontlines of the fires themselves.
One of the more terrifying dangers from bushfires is the risk of the flames overwhelming a fire truck while its crew is trapped inside. Following some lethal incidents of these "burnovers" in the 1990s, the CSIRO set about finding a solution, testing water sprays and shields to determine how best to reduce exposure to radiation, temperature and toxic gases.
Here's how the CSIRO describes the outcome of its experiments:
Since 2006, fire trucks now have key features to support safety and survival:
A ring of spray nozzles that deliver a 'water curtain' over the vehicle's cabin.
Radiant heat shields or curtains for windows to block radiation from reaching the people in the cabin. These inclusions also provide an extra layer of protection if the windows break.
Water sprays to stop wheels and pumps catching alight.
Fire resistant covers for electrical, pumps, air intakes and air hoses.
3. Drones on the job
Another direction in which firefighters have been looking in recent years, both in Australia and around the world, is integrating drones into their efforts.
In 2014, New South Wales's Rural Fire Service experimented with using drones to monitor fires, giving responders thermal and visual data in advance. 
By 2017, the Los Angeles Fire Department had adopted drones to help locate property damage and hotspots as part of its response to wildfires in California.
One advantage drones have over helicopters and other aircraft is that they can fly without a pilot. The smoky conditions over a bushfire and the low-altitude flight required of aircraft monitoring it puts the safety of pilots at risk — or when they're starting them, such as when setting controlled burns. 
Over recent years, drones have also been used to drop small spheres of potassium permanganate —self-igniting 'dragon eggs' that burst into flame when they hit the ground and create firebreaks.
4. Putting satellites and space cameras to use
A collaboration between the German Aerospace Center and the LaTrobe University engineering department has resulted in a hyperspectral camera that has been installed on the International Space Station. 
The technology, called DESIS, or DLR Earth Sensing Imaging Spectrometer, can be used to monitor bushfires from orbit, providing firefighters with mapping information that researchers have compared to the Bureau of Meteorology's rainfall data in its level of detail. 
And satellite data can have other uses in firefighting, from Internet of Things-enabled 'mesh networks' that integrate data from a wide variety of sources to virtual reality and holograms that can help observers see conditions on the ground.
5. Using sound waves to extinguish blazes
One thing that could revolutionise firefighting is if it could be done without water or chemicals. In 2015, undergraduate engineering students Seth Robertson and Viet Tran at George Mason University in the US have devised one way of doing this thanks to a fire extinguisher equipped with sound waves.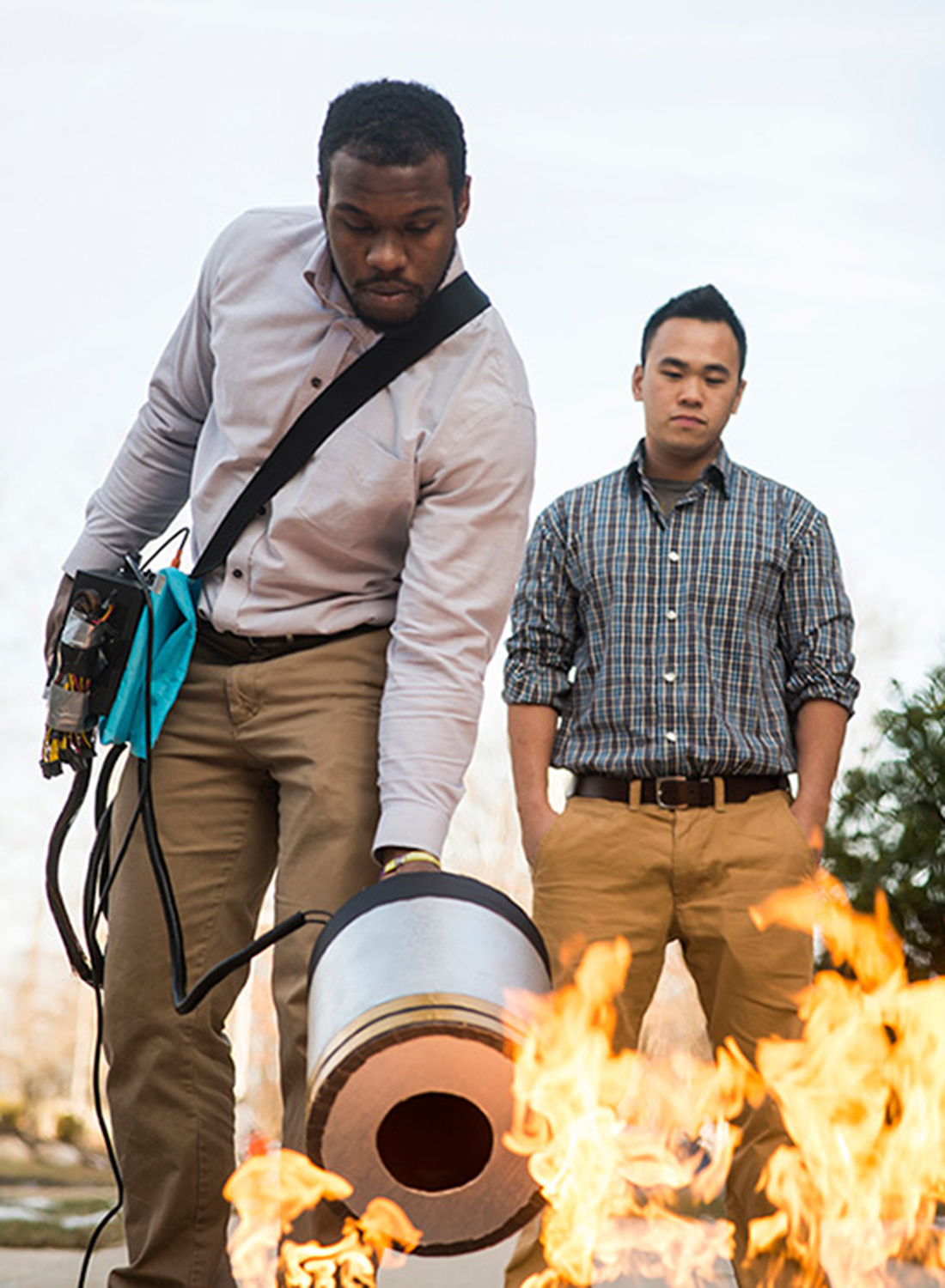 Their prototype extinguisher uses low-frequency soundwaves between 20 and 120 Hz, weighs around 9 kg and uses mains power.
"The principle behind the extinguisher is simple: as they are mechanical pressure waves that cause vibrations in the medium in which they travel, sound waves have the potential to manipulate both burning material and the oxygen that surrounds it. If the sound could be used to separate the two, the fire would be starved of oxygen and, accordingly, would be snuffed out."
The duo has since founded a company, Force SV, to commercialise the idea, and they have licensed the technology to see it further developed and implemented. 
There is, however, a difference between putting out small household fires and the bushfires that eat up hectares of forest and destroy entire towns. One problem with scaling the technology is that it doesn't cool the flames, so there's a risk that the fire could catch again when the sound is switched off. 
That doesn't mean the technology couldn't be used via drone or swarm robotics to assist with traditional firefighting, but it does mean there's little chance that the future of firefighting will involve teams of DJs dropping a sick bass beat.