A new test for COVID-19 could return results within 10 minutes — and will work without painful nasal swabs and on asymptomatic patients.
With lockdowns and a slow vaccination rollout continuing to disrupt the lives of Australians, a homegrown rapid COVID-19 test is about to head into clinical trials.
Research led by University of Technology Sydney (UTS) Distinguished Professor Dayong Jin on nanophotonics is behind the antigen-detecting invention. The technology has a range of potential uses, but the team switched its focus to COVID-19 research last year when the pandemic started reshaping the world.
The new test is being commercialised as a hand-held analyser under the name "Virulizer" by the testing company Alcolizer, which is based in Balcatta, Western Australia. The technology is based on "upconversion nanoparticles", which have biosensing, diagnostic and other medical applications.
According to Alcolizer Senior Scientist Dr Olga Shimoni, who left UTS to join the company in April, these fluorescent nanoparticles are unique in that, because they produce a high signal to noise, they don't have background fluorescence. She said that the nanoparticles are used in conjunction with lateral flow tests, which have a long history in home pregnancy tests.
"They are already a well-established technology that can be synthesised and produced at UTS, and now at Alcolizer as well," she said.
Jin said that the "Super Dot" technology — the term describes "a family of nanophotonic  probes" — behind the rapid COVID-19 test "emits intense light in unexpected ways, known as upconversion, that provides ultra-sensitivity by converting infrared into visible light". 
"It emits intense light in unexpected ways, known as upconversion, that provides ultra-sensitivity by converting infrared into visible light."
Fragment detection
An Alcolizer test can detect SARS-CoV-2 viral fragments as small as a trillionth of a gram in a saliva sample. It detects both spike protein fragments (using erbium-doped nanoparticles) and nuclear protein fragments (using thulium-doped nanoparticles) and gives a result within 10 minutes.
A patient contributes a saliva sample, collected in a saliva collector the company currently uses for its drug tests. The oral test strip panel, called an iStrip, is currently being commercialised by Alcolizer under license.
This panel is placed in a tube with a "lysis buffer" — a collection of chemicals that deactivates the virus and releases proteins. The resulting solution is then placed in a cartridge.
"The iStrip is placed in that, and the cartridge is measured with a device to detect that fluorescence," Shimoni said. 
"In the case it's positive, you would detect a positive signal. And if it's negative, then it's a low level of detection."
The 10-minute wait time for a result compares well against the widely used polymerase chain reaction (PCR) test — which is currently imported and sometimes takes more than a day to return a result. Alcolizer's test also does not require a nasopharyngeal swab for sample collection and is effective for asymptomatic patients.
The "game changer"
Shimoni joined UTS as a Chancellor's Postdoctoral Research Fellow in 2014, following a University of Melbourne PhD in chemical and biomolecular engineering.
She worked with nanotechnology for biomedical applications, and started collaborating with Jin in 2015, helping him build a team as a part of UTS's Institute for Biomedical Materials and Devices.
"Our fields were closely aligned together, and we worked together quite closely," she said. 
"We worked on the development of different types of nanoparticles and their application in diagnostics."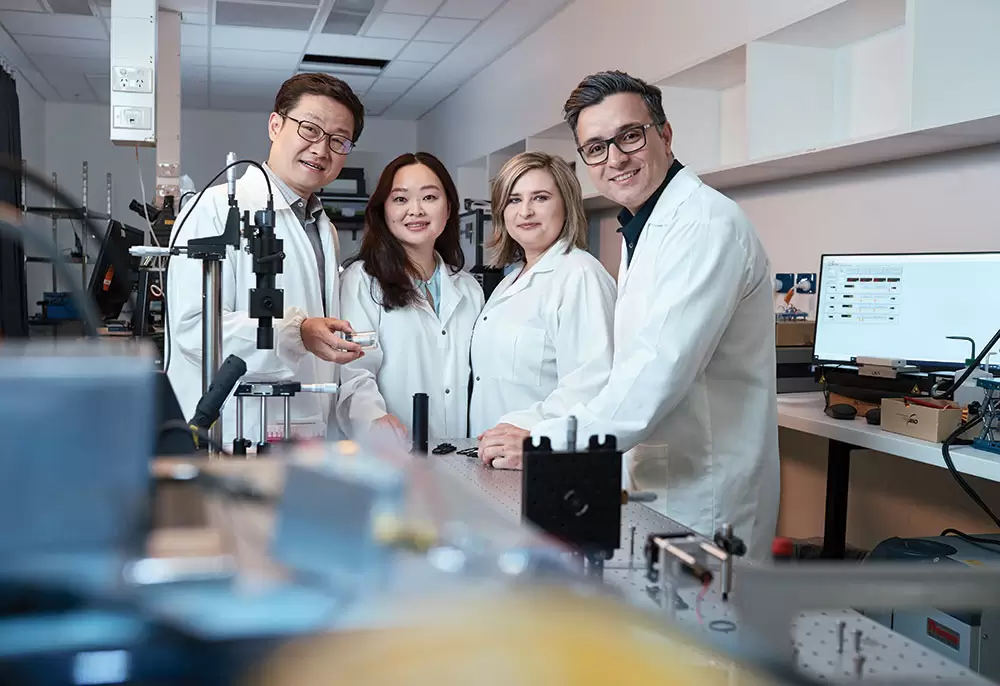 For the past four years, Shimoni has been Chief Investigator at the ARC Research Hub for IDEAL — Integrated Device for End-user Analysis at Low-levels — where Jin is Scientific Director and of which Alcolizer is an industry partner. 
Jin said the upconversion photonics technology behind iStrip is a potential "game-changer" in biomedical diagnostics and could "transform Australian industry's focus from point-of-care testing into point-of-risk testing, from qualitative assays to single-molecule assays and from structural imaging to functional imaging.
For Shimoni, her work commercialising such innovations has increased over time. She describes her move out of academia and into industry as both logical and organic.
"When we needed to bring [iStrip] out … I was the right person to get the transfer of technology out of the university," she explained.
"It is a technology that was born in Australia, was patented in Australia, and now will be manufactured in Australia."
Ready to grow
Alcolizer's work is still in the development stage but has attracted federal grants through the Innovative Manufacturing Cooperative Research Centre's Activate program and the Advanced Manufacturing Growth Centre's Commercialisation Fund.
Currently only small quantities of iStrips are being made, and Alcolizer is awaiting approval for testing in public environments. The portable meter is also at the prototype stage.
The company estimates that after clinical trials begin, it will gain expedited regulatory approval for broader field tests — hopefully by year's end. 
Shimoni believes rapid "point of risk" detection — at sites such as hospitals, airports and shopping centres — will be highly useful in a country returning to a normal level of movement and activity, and in avoiding lockdowns. 
Better still, it was developed and will be made here. 
"It's a fully Australian technology," she added.
"It is a technology that was born in Australia, was patented in Australia, and now will be manufactured in Australia."