Engineers from RMIT have produced a prototype of a biosensor that can detect COVID-19 and its variants.
Created in conjunction with biomedical start-up Soterius, the Soterius Scout can be placed in a room or worn as a personal tag. The device detects spike protein fragments, meaning it can tell if someone has COVID-19 regardless of whether they have symptoms.
"The sensor has conductometric biosensors, so when we're targeting a biomolecule and they land on the surface of the sensor it changes the electronic properties," RMIT project leader, and one of Engineers Australia's Most Innovative Engineers for 2016, Professor Sharath Sriram told create. 
Sriram compared it to a light switch with a dimmer. 
"The conductometric sensor will tell you if the target is present or not. But it's also like a dimmer switch, the intensity of the signal changes based on concentration," he said.
This means the device can not only tell if someone is positive or not, but it can also detect their viral load.
Importantly, the COVID-19 sensor can tell which SARS-CoV-2 variant a user has.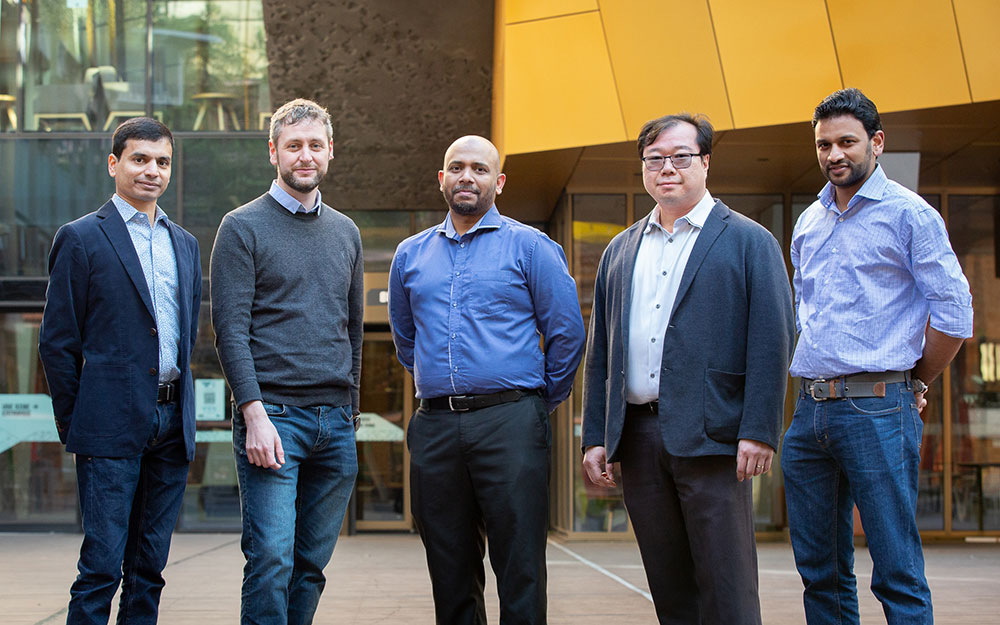 "If you think of it like a jigsaw puzzle, we have one piece on the surface [of the COVID-19 sensor] and the target virus has the other piece. Only that very specific piece can bind with the surface," Sriram said.
"That can be designed to pick up the generic spike protein of COVID-19 or it can be a particular structure of a variant."
Building a virus sensor in a pandemic
Soterius approached Sriram and his team before the pandemic began, wanting to create a device to detect influenza. 
"Influenza is not really seen as a pandemic, but it is a serious virus, especially in Southeast Asia" Sriram said. "The original idea was to create a sensor that targets the flu virus strain of that particular year."
Of course, when the COVID-19 pandemic emerged, the team realised it was possible to do much more. 
"With the Melbourne lockdowns we couldn't work on it for six months but consequently we had everything in place, all we did was change the target to a COVID-19 spike protein."
"If you think of it like a jigsaw puzzle, we have one piece on the surface of the COVID-19 sensor and the target virus has the other piece."
The COVID-19 sensor has three components. The first is a nanotechnology chip, which has the binding sensors. This chip is made with synthetic nano polymers.
Biological agents will breakdown if kept at room temperature, so the team had to find a synthetic alternative. The polymers in the Soterius Scout COVID-19 sensor are made by UK-based company MIP Diagnostics. Not only can they last at room temperature, but you could heat them up and they still wouldn't be damaged, Sriram said.
The binding sensors send a signal to a wireless module, which is made up of flexible electronics about the size of a thumbnail. This module sends the data it collects to a reader.
This is where the COVID-19 sensor gets really clever. The reader could be a wall-mounted device, like the one pictured below, but the team have also created an app to turn any smartphone into a reader. The wall-mounted reader can also wirelessly charge the sensor chips.
Beyond COVID-19
Sriram is quick to acknowledge that his team at RMIT's Micro Nano Research Facility aren't biologists, so they were sure to work closely with experts from medical research centre the Burnet Institute in developing the COVID-19 sensor. 
"The expert team at the Burnet Institute actually gave us all the input in terms of what we need to look at this binding site. [Including] what sort of proteins the SARS-COVID virus carries and which ones do we need to track," Sriram said.
"Professor Heidi Drummer helped guide us in that area," he added.
Thanks to Drummer's guidance, a different version of the Soterius Scout can be developed to detect different viruses, as long as they have a co-molecule binding system. 
But the team is looking well beyond that. 
"We have a partnership with the Peter MacCallum [Cancer] Institute around using it to find mutant DNA in plasma. So it would become a mechanism for early cancer screening," Sriram said.
"Cancer cells release what are called circulating tumour DNA and we think this technology could be used to detect them."
Sriram said Soterius hopes to release the Soterius Scout commercially next year, for use in hospitals and other medical facilities. In the future, other applications might include aged care, quarantine hotels, airports and schools. The team intends to manufacture the technology in Australia. 
"COVID-19 has highlighted the need for sovereign manufacturing ability," he said "We'd like to keep the high value intellectual property manufacturing in Australia so we can protect the ideas better, and we can licence it to different partners."