Dr Samintha Perera, a lecturer in geotechnical engineering at the University of Melbourne, has spent more than a decade researching complications that can arise from carbon sequestration. 
It's a hot topic among geotechnical and reservoir engineers, particularly since Australia committed at last year's COP26 summit to achieve net-zero emissions by 2050.
Carbon sequestration involves capturing greenhouse gas emissions from fossil fuel power stations, energy-intensive industries and gas fields, and injecting them back into the ground. That could be in depleted oil and gas reservoirs, saline aquifers or — in the case of Perera's research — deep coal seams.
"We can store carbon dioxide for hundreds to thousands of years – a very long time period – safely."
Perera says deep coal seam gas reservoirs can absorb more than 80 per cent of the carbon dioxide injected into them.
"Carbon dioxide exists in there as a very stable material," she says. "We can store carbon dioxide for hundreds to thousands of years – a very long time period – safely."
But there are also challenges. Coal mines are complicated structures with varied features. And when the coal absorbs carbon dioxide, there is a strain between the carbon dioxide molecules and the coal surface. 
Researchers call it "coal matrix swelling".
Carbon dioxide is typically injected more than a kilometre below the surface, where pressures are above 7.3 MPa and temperatures over 31°C. 
Under these conditions, carbon dioxide transforms into a 'supercritical' state, with properties between a gas and a liquid. 
"It has a liquid-like density, gas-like viscosity," Perera says. 
Perera discovered a unique interaction between supercritical carbon dioxide and the coal mass, resulting in significant coal matrix swelling. 
"There are significant changes that happen to the physical structure," she says. "The swelling is much, much greater compared to the gas or liquid carbon dioxide."
Perera says the swelling causes a significant reduction in strength and can create cracks on the coal mound. 
" CO2 might leak through these cracks," she says.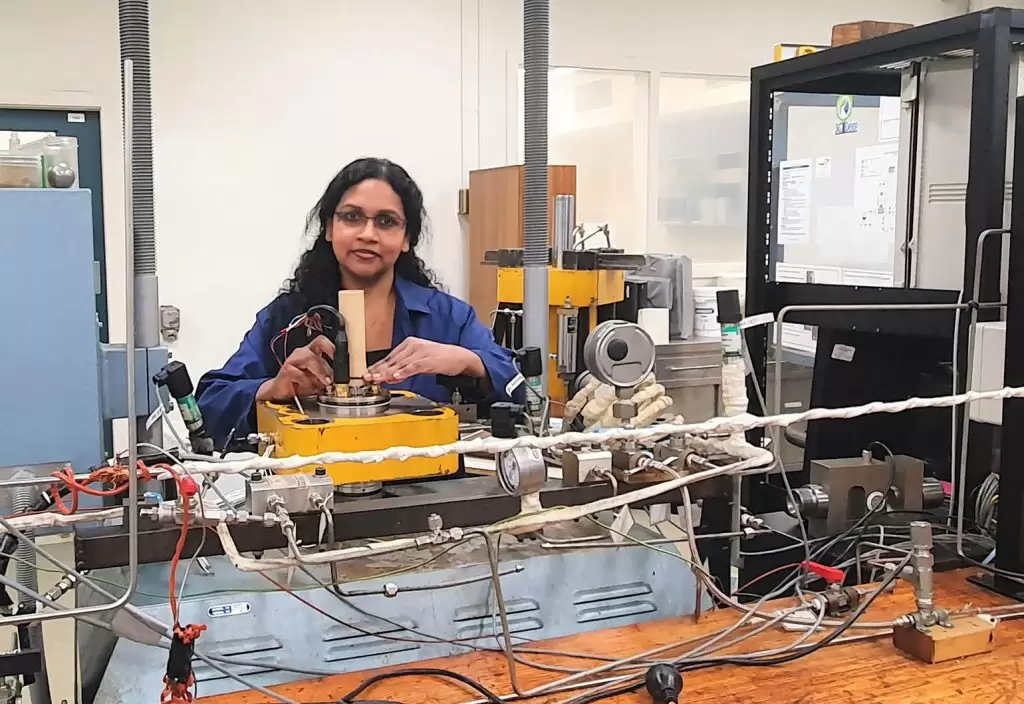 Capture controversy
Carbon capture and storage has been criticised by groups including sustainability non-profit the Climate Council. It argues the technology hasn't been tested at the scale required to tackle the climate crisis and is an expensive attempt to prolong the role of fossil fuels.
But Perera, who Stanford University named among the top two per cent of energy scientists in the world and won the Australian Academy of Sciences 2022 Dorothy Hill Medal for early career researchers, doesn't think we should shy away from it. 
She sees carbon sequestration as an option to limit carbon emissions as economies shift to renewable energy. 
"I think we shouldn't avoid [carbon sequestration], but it's not a straightforward process. We have to carefully implement this."
"During this transition period we have to use a low-emission fossil fuel like natural gas," Perera says. "So, we are still releasing a significant amount of carbon dioxide. I think we need to get the support of carbon sequestration."
Perera believes we need more research to develop techniques that can reduce harmful effects, followed by pilot studies on the path to large-scale projects. 
She warns overseas experiences can't simply be replicated in Australia. 
"I think we shouldn't avoid [carbon sequestration], but it's not a straightforward process. We have to carefully implement this," Perera says.
Perera says her research suggests that injecting an inert gas, like nitrogen, after the carbon dioxide can lessen the impacts. 
"We can reduce about 20 to 30 per cent of the swelling, so it reduces the risks," she says.
Hydrogen application
Perera's work exploring carbon sequestration has parallels to underground hydrogen storage. 
It's a way to store electricity from renewable sources like solar and wind that might peak at certain times of the day or year.
Perera says there is a lot of work happening to find suitable places to store hydrogen, such as depleted gas reservoirs. Her own research could be a valuable asset. 
"We already have a lot of research on geology and flow behaviour and everything in the reservoir, so we can use that knowledge [for] hydrogen storage," Perera says. 
"But we have to be careful about the unit physical characteristics of hydrogen compared to carbon dioxide. It's a very light material and the interaction is different."
Climate Smart Engineering 2022
This year's Climate Smart Engineering conference will shine a light on projects that have industry leading sustainability credentials and can highlight the ways in which the engineering profession can better manage the complex challenges of achieving net zero emissions as soon as is practicable.