The HILT Cooperative Research Centre has the ambitious goal of transforming Australia's heavy industrial sector for a low-carbon future.
Innovative engineering solutions firm Calix has reinvented the kiln, a manufacturing tool that had remained largely unchanged for thousands of years. 
The new approach is in the name of carbon footprint reduction in heavy industry.
The solution, the company's website explains, involves grinding minerals "to between one hundredth and one thousandth of a millimetre in size, and then flash heating them in an externally heated reactor, in a very short time, at up to 950°C".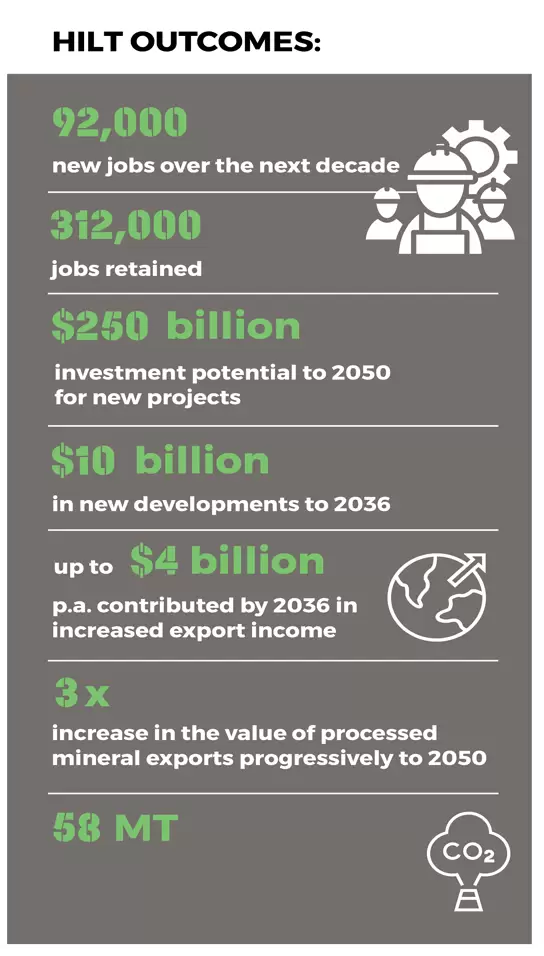 This drives a reaction that releases CO2 from the particles without also mixing them with combustion gases, achieving direct CO2 capture. 
For cement and lime production, which had been considered extremely difficult to transition to low carbon, the new technology could be an essential ingredient in the recipe for environmental success.
"We've built a plant in Belgium and are building a commercial demonstration facility in Germany," said Dr Phil Hodgson, CEO and Managing Director of Calix Ltd. 
"So we're already progressing, and there are several other technologies being progressed at a similar pace, such as the production of the first zero-carbon steel in Sweden.
"But this is a critical industry for Australia. We have some great science, some great engineers and some great ideas in this space. The new HILT CRC is our way to help develop solutions locally, solutions that will allow us to compete internationally."
Introducing the HILT Cooperative Research Centre
The Heavy Industry Low-carbon Transition Cooperative Research Centre, or HILT CRC, is a collaboration between more than 50 organisations from industry, government and academia. 
An industry-led platform, it has received $175 million in funding over ten years from its partners, plus $39 million from the Australian Government.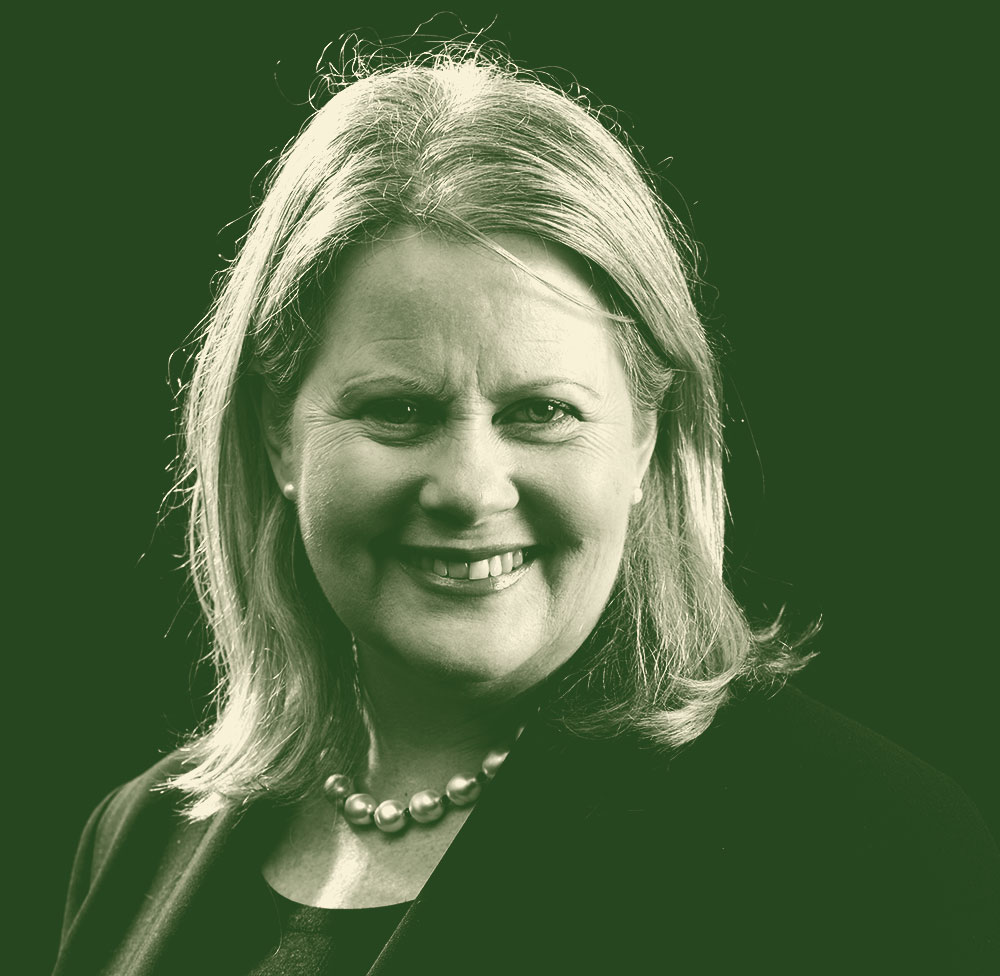 "The collaboration includes partners such as Calix, FMG, Adbri, Alcoa, Grange Resources, ANU, CSIRO, The University of Adelaide and many more," said Engineers Australia Honorary Fellow and former National President Trish White AM HonFIEAust who, until December, was HILT CRC's interim CEO. 
"We've also got international partners such as DLR, which is a prestigious German research institution, and the Arizona State University, which is renowned for its solar thermal and renewable energy work."
White, who is also a director of Flinders Ports and the Office of the National Rail Safety Regulator, Chair of Building Communities Victoria, and a former cabinet minister in the South Australian government, said HILT CRC is looking at three industry sectors: iron and steel, alumina and aluminium, and cement and lime.
"We've got partners right across the value chain, from the producers and manufacturers to the technology developers and the end users," she said. "We're looking at how you decarbonise not just Scope 1 and Scope 2 emissions, but also Scope 3."
Why spend so much on such a challenging program? 
"The world is setting net-zero emissions targets," White said. "These three sectors are currently worth $210 billion to the Australian economy. If Australia doesn't act, and if we lose competitiveness because our production cannot decarbonise at the rate that's required, the potential loss to the Australian economy is around $44 billion — and that's a conservative measure."
"If we lose competitiveness because our production cannot decarbonise at the rate that's required, the potential loss to the Australian economy is around $44 billion."
However, White said, if these industries can transition to a low-carbon future in a timeframe that meets the world's demand for greener products and services, the potential gain to the Australian economy is $60 billion.
"That is a lot of jobs," she said. 
"The advantage we have in this country is that the locations of minerals are nicely coincident with great sources of renewable energy.
"The HILT CRC is taking not only a sector-wide approach and looking nationally and internationally at this task, but it's also looking regionally. These manufacturing plants are in corridors, and we're looking at those corridors and taking a holistic approach to what is the best pathway to decarbonise."
Acting for the future
One of the most exciting outcomes from the HILT CRC, said its new CEO, Felicity Lloyd, formerly Adbri's National Business Improvement and Sustainability Manager, will be leveraging research across industries and sectors.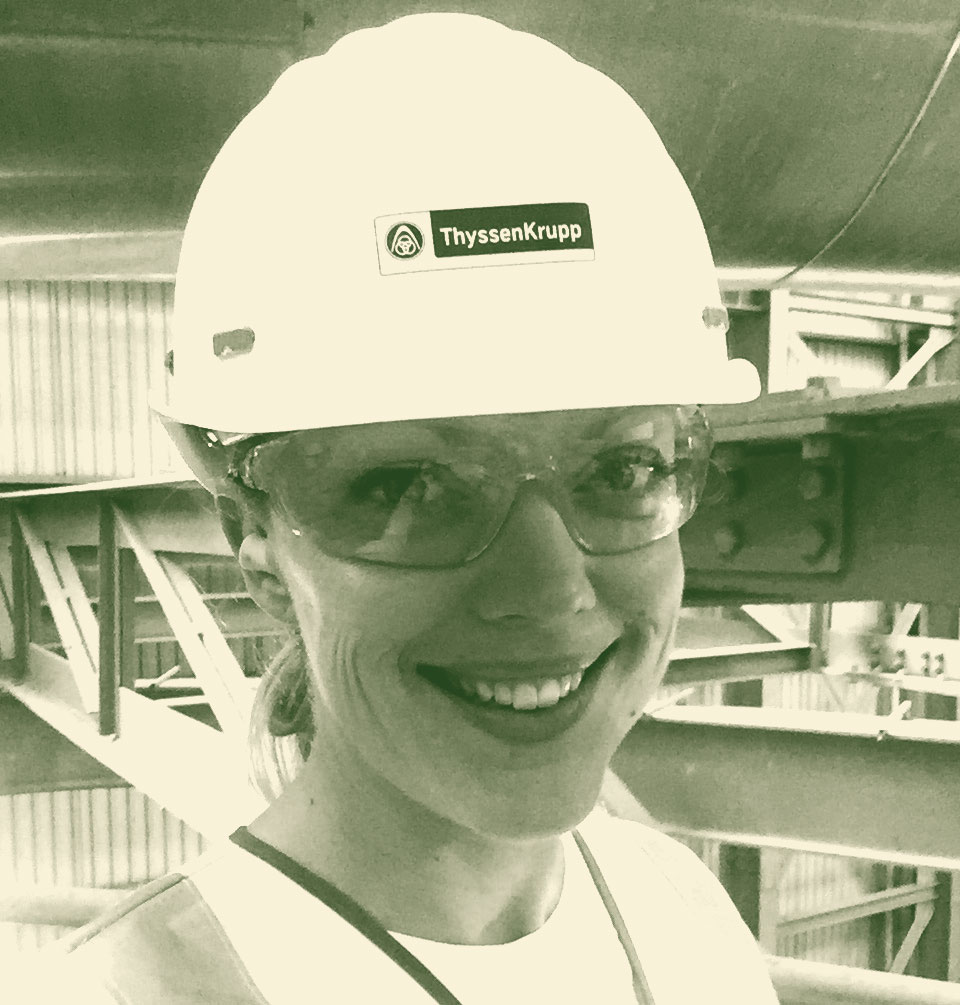 One example of cross-cutting technologies is using hydrogen to decarbonise heat in heavy industry processes.
"We will be leveraging industrial hubs, where more than one industry exists, as is the case in many areas of Australia. Building on regional plans, these cross-cutting technologies and new opportunities in the circular economy will help drive down the cost of decarbonisation and potentially turn it into an economic advantage," Lloyd said. 
"It will be the same with other technologies, such as carbon capture and storage. That, to me, is the exciting part of what HILT is doing."
There are numerous heavy industry regions in Australia where the focus industries of the HILT CRC intersect, often within each other's supply chains. 
"Within these hubs, the HILT CRC will look to the development of technologies that can be used commonly across the sectors to drive down costs of implementation," Lloyd said.
In creating certainty around the effectiveness of various technologies, then driving down their costs of implementation, the HILT CRC will de-risk the decarbonisation process for organisations in heavy industry.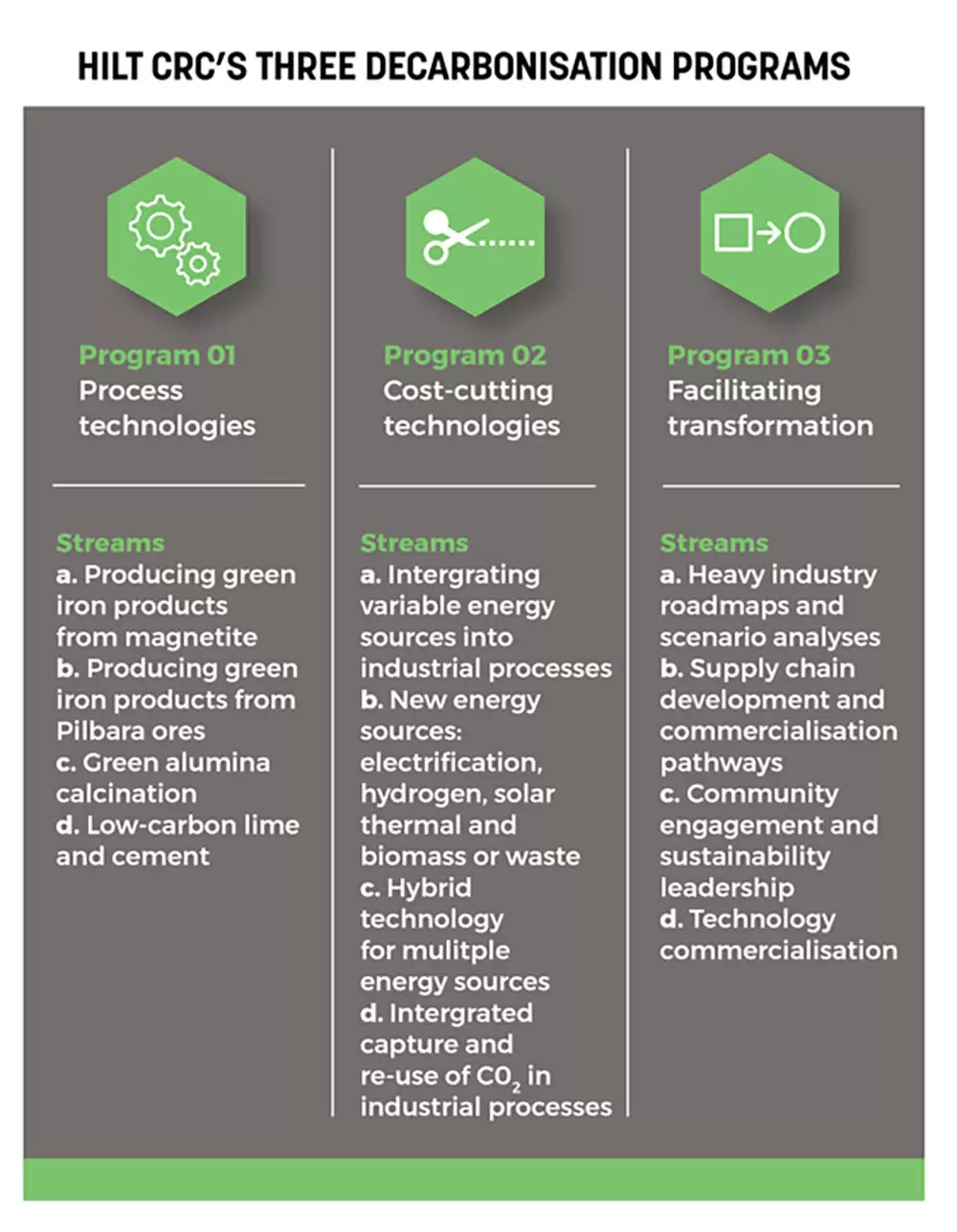 This de-risking is HILT CRC's main function, said Gus Nathan, a Professor in Mechanical Engineering at the University of Adelaide and Research Director of HILT CRC. 
"Within iron and steel, cement and lime, and alumina and aluminium, there are many potential technology pathway options," Nathan said. "The preferred one is always going to be context specific.
"Some are closest to market, while others that are a little bit further away may offer greater efficiency or be better suited to specific locations and contexts. So what we're aiming to do is evaluate different options of relevance to our industry partners to inform them about which technologies and processes offer the greatest potential for their transition plans."
Industry has committed to decarbonisation, Nathan said, but currently it is not economically feasible with available technology. 
The benefit of a body such as HILT comes from the first C in CRC — cooperative.
"The entire market, including end users and investors, is saying this has to happen. But the fundamental risk is simply too great for any one company to take on alone," he said. 
"By collaborating, they can share the cost in testing and evaluating a number of these options. This makes the cost of an informed decision much cheaper."
"By collaborating, they can share the cost in testing and evaluating a number of these options. This makes the cost of an informed decision much cheaper."
The education angle
The many exciting outcomes from the work being conducted by the HILT CRC include a healthy pipeline of fascinating technology and infrastructure projects. 
One important outcome, Lloyd says, involves education.
"These are emerging technologies and if we want to utilise them in industry, we are going to need a trained workforce," she said.
"We're not just about research. HILT CRC will be upskilling the heavy industry workforce. The education program will be broad, including secondary education, short courses and both undergraduate and postgraduate studies at universities as part of the complete education program."
The CRC's work also affects engineers' potential choice of employer, Hodgson said.
"One thing the HILT CRC has done is help us to hire great engineers here in Australia," he said. "Two years ago, we had six engineers at Calix, and three of those were overseas. Now I have 10 engineers in Australia and I'm hiring another each month, and I've hired five more overseas.
"These initiatives help keep homegrown talent in Australia, and we currently get the cream of the crop because the best engineers are attracted to this sort of innovation and purpose. We're creating the clean industries of tomorrow."