Metro Trains Melbourne (MTM) is the largest participant in an 18-month industry-wide cadetship for refugee and asylum seeker engineers working on major transport infrastructure projects.
There are currently 30 cadets taking part in the Engineering Pathways Industry Cadetship (EPIC), enabling them to gain paid employment in entry-level engineering jobs. 
EPIC is an initiative of the Victorian Government's Training for the Future rail industry skills program, which was created to alleviate skill shortages while providing pathways to employment for disadvantaged people.
As part of the program, the cadets are paired with a mentor who works in road, rail, civil construction, and government or the private sector. The program runs over 18 months (the full length of the cadetship) to support the cadets as they work and study.
In addition to the mentoring program, EPIC also provides additional English language support on a weekly basis with online resources for students. Cadets are prepared for transport infrastructure project work through workshops on workplace safety concepts, OHS law and an understanding of organisational safety requirements.
Here are the stories of three cadets and how they came to be engineers in Australia.
Ihab's journey from Iraq to Melbourne
Ihab Qassab is a site engineer for the Metropolitan Roads Program Alliance working on the Level Crossing Removal Project.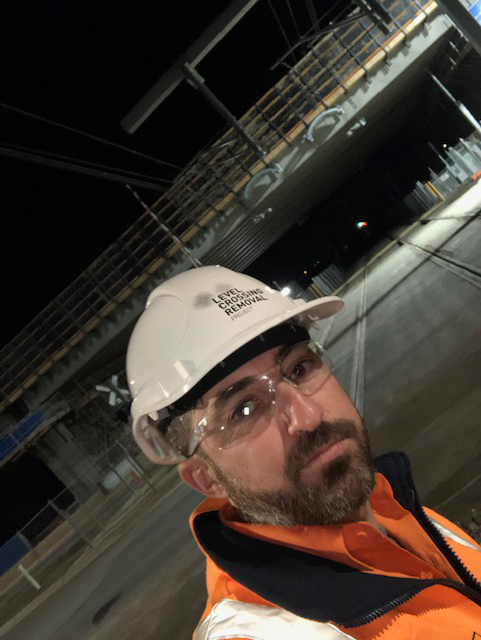 After ISIS occupied his hometown of Baghdeda in 2014, Qassab and his family fled to Australia.
"When ISIS invaded, it was chaos. There was no electricity, no water and sounds of explosions were everywhere," he said.
Qassab arrived in Australia with a degree in electrical engineering from the University of Mosul and eight years of experience as an engineer. His number one goal was to find a job that allowed him to use his skills and education. 
He joined the EPIC program with MTM, eventually gaining a permanent position as a site engineer in the signalling field.
"As a kid, my dad always said to me, 'you have to be an engineer'," Qassab told create. "As an engineer you can be creative and present your own ideas, so I loved it."
He said learning new things is what keeps his passion for engineering alive, even in the tough moments.
"I was also driven to become an engineer again after leaving my country, my job and all of what I achieved back in Iraq," he said. "It's not easy losing 20 years of study and over eight years of experience."
Qassab recently completed a graduate degree in infrastructure engineering management.
Ghada goes to Melbourne
Born and raised in the Assyrian city of Qaraqosh in northern Iraq, Ghada Sheto (pictured above) spent years on the run with her family after ISIS occupied her hometown.
"In 2014, I hoped to seek asylum in Australia, and after four years of waiting, I finally arrived with my husband, my mother and my children," Sheto said.
With a degree in communications engineering from the University of Mosul, Sheto began a new life in Victoria in 2019. She started as a cadet with MTM this year, assisting the Rail Systems Alliance to manage requests for information and overlapping design agreements.
"Engineering is a creative project, it requires imagination and intense effort to achieve great results that benefit the world."
She said it was an interest in mathematics and a desire to develop solutions that inspired her career choice. 
"Engineering is a creative project, it requires imagination and intense effort to achieve great results that benefit the world, and the world is a place of opportunities and achievements," she said.
"Metro is a place for engineers like me to flourish and a place of opportunities, and I wish to continue in Metro after my cadetship."
How candlelight lit Hayat's path to EPIC
Hayat Mnayrji studied telecommunications engineering at Damascus University in Syria, frequently moving as the Syrian civil war began to flare up in 2011.
"I studied by candlelight under artillery shells, not knowing if I would ever have the chance to use the knowledge that I was acquiring," Mnayrji remarked.
In 2019, Mnayrji fled Syria with her partner Bassam and joined the South Eastern Program Alliance on the Level Crossing Removal Project in Melbourne.
Mnayrji believes that being an engineer provides her with a deeper understanding and experience of how society benefits from innovative ideas.
"For me, being an engineer is important because it helps to make people's lives better, so the project I'm working on now will help people to travel more safely, with less traffic," she said.
"Since I was a little kid, I liked to question, explore, discover, create and solve problems … Engineering education teaches you how to think through a problem in order to solve it."
The Projects Division at MTM has so far employed 12 refugee and asylum seeker cadets through EPIC, seven of which are from the 2021 intake.
Cadets are employed in a variety of entry-level engineering positions, including as a civil site engineer, project engineer or junior engineer.