The GC32 racing tour in Southern Europe allows pro and amateur sailors to participate in the fastest type of sailing, achieving speeds of more than 30 knots.
It's refreshing to come across a sport where the outcome is still determined by the human contest, rather than which participant has the most money and therefore the best technology. Or where rules have been changed to produce what executives think will be better television entertainment or corporate product.
The GC32 Racing Tour, an annual series of catamaran races around coastal southern Europe, has achieved this by stipulating that all participating teams use the same, centrally produced, hydro-foiling catamaran. That's a boat that can travel with either the hull touching the water, or out of the water on foils.
"You're allowed to fine tune your boat, move a few fittings around, but it's basically a crew's technical ability to balance the boat that counts during races," said Australian sailor and entrepreneur Simon Delzoppo, skipper of GC32 Racing tour's newest team  .film racing.
Brett Ellis, director of Sydney-based Ellis Engineered, who helped engineer the boats, added: "These are boats where you can show off your talent. If you're good enough, you'll succeed against others."
Ellis holds a mechanical engineering degree from Newcastle University and currently specialises in the design and engineering of advanced composite structures.
Dramatic speed increase
Originally, the GC32 catamaran had S foils to reduce displacement (weight of the volume of water displaced by the moving boat) and an L-profile rudder, but the foils were not designed to lift the boats out of the water.
Then, in 2013, foiling boats replaced displacement boats at the America's Cup, producing drastic increases in speed. Soon afterwards, Laurent Lenne, founder of the Great Cup BV, the Dutch company that makes the GC32 catamarans, introduced J foils to his boats.
"These provide extra stability when the boat is lifted out of the water," he said.
The GC32 Racing Tour began the following year, and now includes teams from Europe, the US, Japan and Australia. The fourth season, won by Realteam from Switzerland, finished last year. For the past two years, GC32 catamarans have also been used during the Extreme Sailing series, an annual, global, short course racing circuit, now in its eleventh year.
Lenne's catamarans are 12 m long, smaller than the America's Cup boats, but with bigger foils.
These foils are fixed under each of the catamaran's two hulls. As the boat increases speed, the foils lift either one, or both of the hulls up and out of the water, reducing the wet area, decreasing drag and increasing speed. GC32s have been known to reach 40 knots, but more usually they travel at around 30 knots.
Sebastian Rogues, from Team Engie, a participating team, backed by the French multinational electric energy company of the same name, explains that the GC32's foil functions just like an aircraft wing.
But whereas a plane needs to keep rising to reach an altitude at which it can fly safely, the catamaran's foils pull the boat back down, automatically, if the boat is about to lose contact with the water.
"It has an asymmetrical profile generating lift," Rogues said.
"When sailing, the foil rake (its incidence) is adjusted so that the foil has the right ratio between drag and suspension."
When designing the catamaran, the biggest challenge for Laurent Lenne and his engineers was to make sure the boat was light enough to go fast, but also robust enough to protect the crew in case of any high-speed collision.
Brett Ellis explains that to get the weight resilience ratio right, the foils were made of carbon fibre using an autoclave process common in the aerospace industry.
"This material is lighter, more flexible and resilient than metal or fibreglass," he said.
There's another major difference between GC32s and the America's Cup catamarans. The latter have semi-automated systems that use hydraulics to raise and lower the foils. The GC32 foil is raised and lowered manually with a rope lifting system.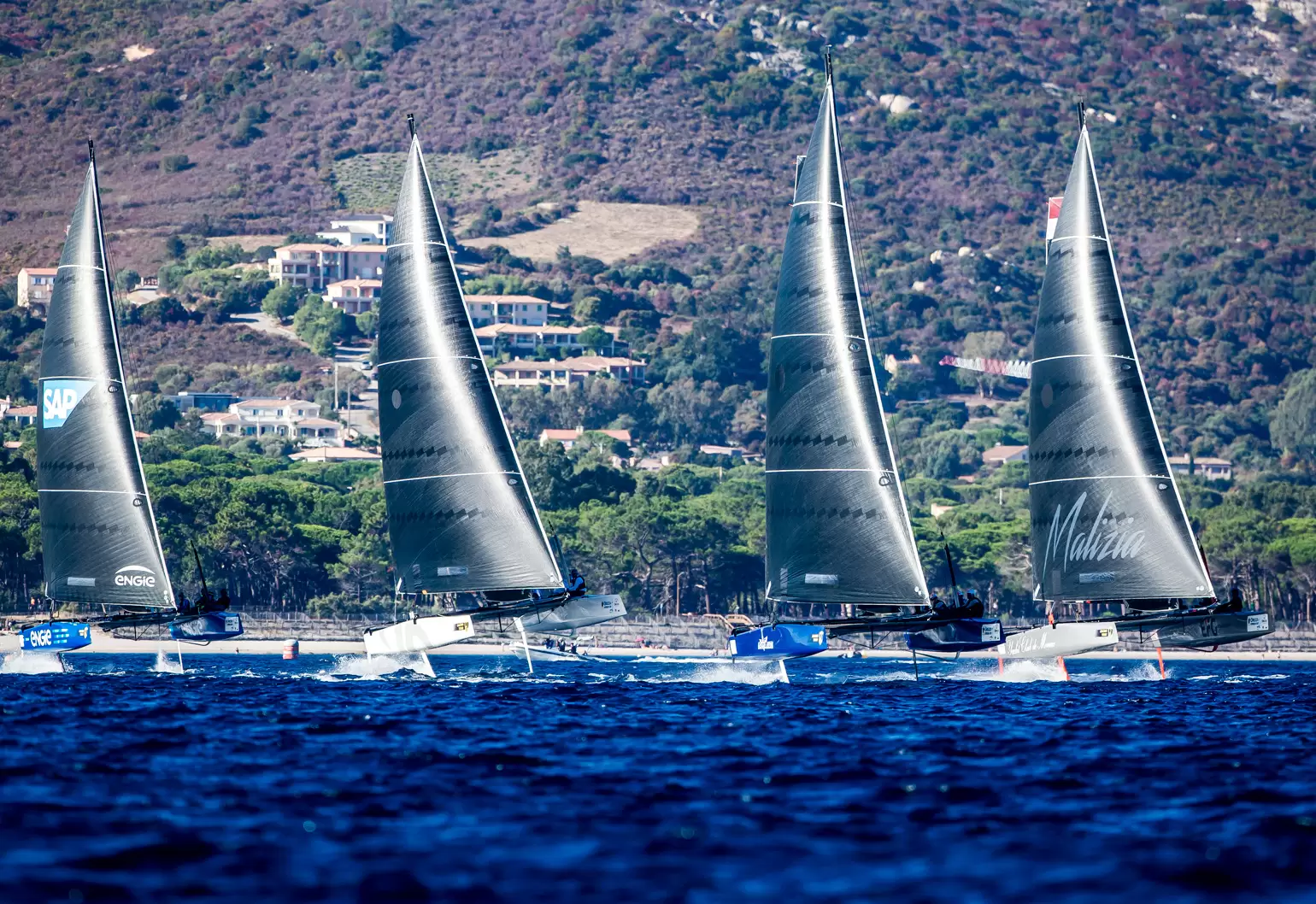 Crew members do this using a rake control. A continuous line that operates a worm drive, which moves the top of the foil's case, fore (front) and aft (back) of the boat. This, Lenne said, makes his boats easier to sail, for amateurs and semi-professional sailors, not just the elites.
"It's not a difficult boat to sail, but it is difficult to win races on," Simon Delzoppo said.
"As a crew, you've got to get everything one hundred per cent right. If you don't do everything right, you'll lose ground (to opponents) quickly."
Sebastien Rogues adds: "The boat must be perfect in technical terms, nothing can break. If this is the case then we are the last to finish races."
The lure of the sea
Simon Delzoppo, the Melbourne-based IT consultant who sold his domain name company, Bombora Technologies, to Neustar for $118.5 million in 2015, took part in the last two races of this year's GC32 Racing Tour with his team .film racing. "I've been involved in catamaran sailing since I was young," he said.
Delzoppo was co-owner of 2004 Sydney to Hobart winning maxi yacht Nicorette.
"I won a US NACRA title in 1989," he said.
"I've been away from the sport for a few years, so I decided to crank it up a notch with the GC32. Can't get much better than that."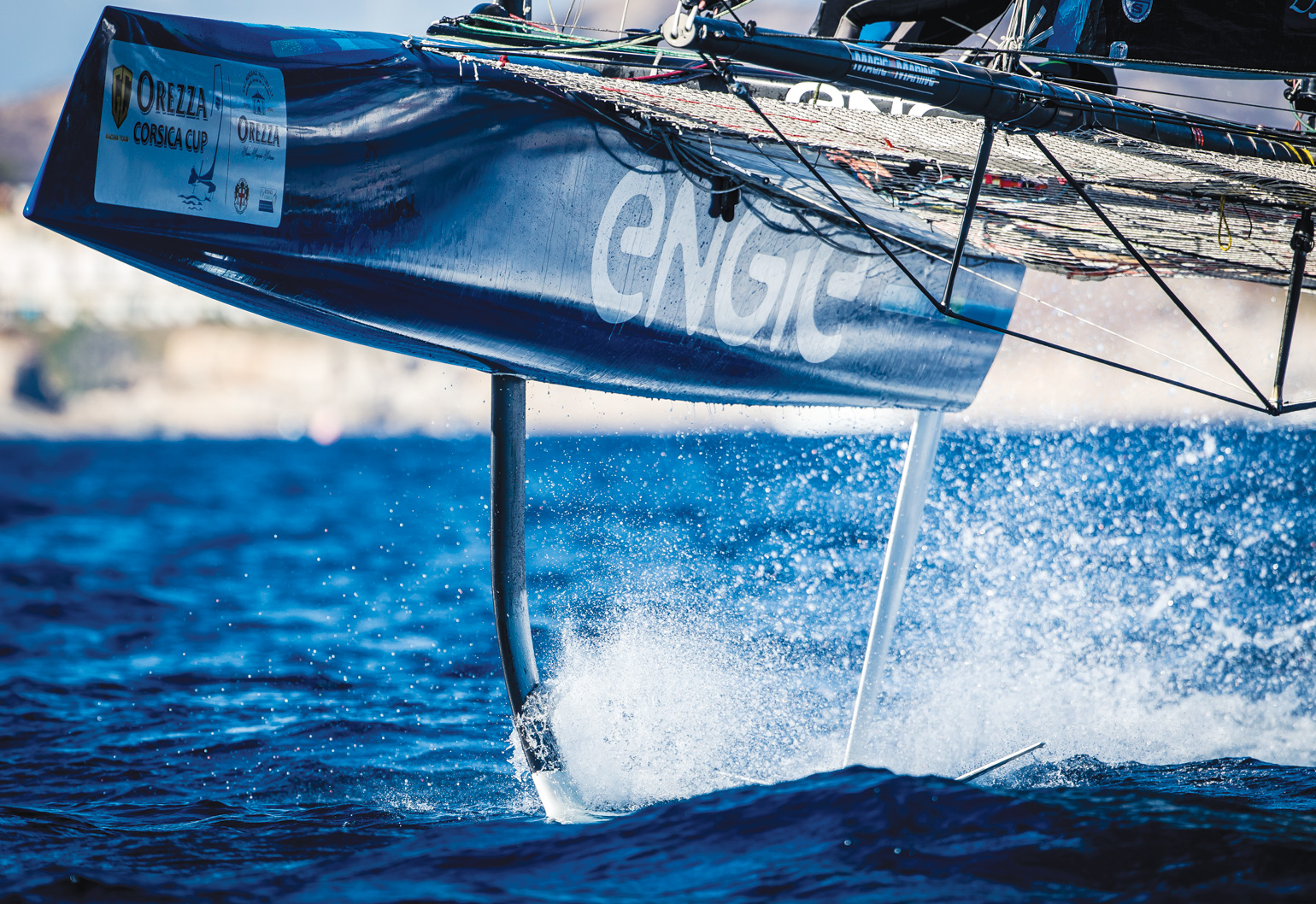 Delzoppo said it was the technology in the boat that attracted him to the competition, how they've used America's Cup class boats' performance attributes, but made them affordable and maintainable.
"Conditions were windy in the last race in Corsica, up to 30 knots of wind, so we were in survival mode most of the time, getting our sails down and foils just above water."
Delzoppo added that even in less than ideal conditions, the boats can still race at 25 knots.
In September .film racing won its first race, in Palma, Majorca.
"I have three guys who raced in the last America's Cup in my team, so we'll be competitive," he said.
Automation is the future
Laurent Lenne is currently considering automating the rake system. Not to replace the existing manual system in the current boats, but in case he wants, in the future, to produce a new boat that races over longer distances, in a different competition.
"Maybe with two crew members, instead of the current five," he said.
"For that you would need some automation."
Sebastian Rogues believes that into the future, racing catamarans will use autopilot systems, automated foils and sensors to manage data more effectively. Brett Ellis warns, however, that to maintain the competition's ethos, any new technology would also have to be compatible with the existing boats.
Laurent Lenne agreed: "We don't want to say to teams, hey we've got a new boat, you have an outdated one, so please buy a new one," he said.
At the moment, however, there are no technological, and therefore, performance, advantages for wealthier participants.
In a modern age where moneyed interests increasingly dominate sport; the GC32 Racing Tour is a hark back to the days when Nottingham Forest, Borussia Mönchengladbach and Atletico Bilbao won their domestic soccer leagues. When a different Formula One Champion was crowned each year. And when fast bowlers could bowl as many bouncers as they liked on lively cricket pitches.
From sporting contests such as these, came more than enough drama, romance and spectacle to secure and sustain an audience at the venues and on television. Sporting rule makers around the world take note.