They're recyclable, smart and can help reduce carbon dioxide emissions. Could archimats revolutionise the construction industry?
An international research team led by Monash University is pioneering the breakthrough materials, which have applications ranging from rebuilding disaster-affected areas to space exploration.
Archimats are part of the emerging field of 'architectured' materials that have an organised intertwined or interlocked inner architecture. This gives them an additional degree of freedom over conventional composite materials, such as concrete, when it comes to expanding design space.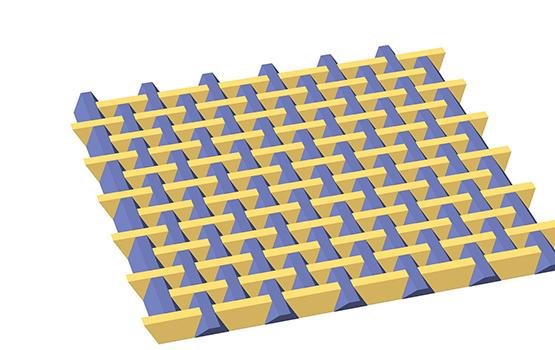 Not only can archimats better absorb energy and provide improved compliance and flexibility, they can also be engineered to have superior strength, enhanced ductility, a high tolerance to damage and good thermal insulation and sound absorption. 
Project leader Professor Yuri Estrin, an Honorary Professorial Fellow in Monash University's Department of Materials Science and Engineering, said that a further benefit of archimats was the ease of assembly and disassembly they provide a structure, as well as the almost complete recyclability of the elements involved.
"Archimats therefore offer smarter, safer and more sustainable materials for use in manufacturing and industrial design, with the building industry being arguably the greatest potential beneficiary of this design concept," he said.
In construction, archimats can reduce the use of concrete and carbon dioxide emissions associated with its production. They can also be used for rapid deployment and removal in disaster areas, and in the construction of extra-terrestrial buildings such as lunar bases.
"Archimats offer smarter, safer and more sustainable materials for use in manufacturing and industrial design."
"Archimats are also suitable for micro manufacturing," Estrin added. "They can be produced using desktop or benchtop manufacturing processes, without the need for heavy equipment and large amounts of material.
"This opens up new possibilities for industry to explore the use of archimats for application in smart manufacturing, in particular the development of gear for micro-electromechanical systems, micro devices and miniaturised drones, as well as superior structural materials for the automotive and aerospace industries."
The innovation is already attracting significant interest, with the European Space Agency considering using archimats in its designs.
Find out more about archimats in Estrin's study, published in Advanced Engineering Materials.