The bright ideas being developed at a Geelong incubator provide a glimpse of manufacturing's innovative future.
Old industries pass on and new ones replace them. We can always count on creative destruction to make life interesting, whatever our role or our industry.
It can be highly unpleasant, but reinvention, handled well, can be a positive.
A report on industrial clustering from the Brookings Institution describes how Pittsburgh's steel and iron industry collapsed in the 1980s and was replaced by thriving biotech and IT businesses. Akron, Ohio, lost its rubber and tyre capacity in that decade, then reinvented itself as a polymers powerhouse.
In Australia, Geelong's transition after the loss of Ford, Alcoa and other traditional manufacturers has been "painful", as a case study in the Australia 2030 report from Innovation and Science Australia notes, but it "is steadily carving out a brighter future".
New jobs and growth, the report said, are being created in "areas of existing strengths such as engineering, design and materials science, a legacy of its manufacturing base" as well as in newer sectors.
A central plank in this rebuilding is the Geelong Future Economy Precinct at Deakin University's Waurn Ponds, which includes the ManuFutures incubator.
The incubator is a new $13 million site in a neighbourhood well-known for its materials engineering excellence, and which was assisted by $3 million in State Government funding.
ManuFutures officially opened in April 2018 after a few years in gestation, said Dr Ben Spincer, Director, Deakin Research Commercial.
He believes it fills a missing middle at Waurn Ponds between research — such as at the Carbon Nexus, an open-access carbon fibre facility — and an established company, such as highly successful one-piece carbon fibre wheel manufacturer Carbon Revolution.
"There's the expertise we have in the university through three of our key institutes — Frontier Materials, Intelligent Systems Research and Innovation, and Applied Artificial Intelligence — plus obviously the School of Engineering across the road here," Spincer told create.
"We've had the really fundamental side, and the endgame of basically scale manufacturing, and there's this challenging gap in the middle."
The precinct is known for its strength in carbon fibre, which has attracted companies such as Quickstep Automotive, LeMond and Carbon Revolution, but there is a range of different businesses at ManuFutures.
Conflux and FormFlow make 3D-printed heat exchangers and bent corrugated metal respectively. Insight Engineering specialises in industrial automation. When create visited, a Deakin spinout company aiming to produce boron nitride nanotubes at scale is moving in.
There are 12 full-time tenants at the time of writing, with capacity for 15. Others use the co-working space, where hot-desking can be rented by the month. Production bays and offices are leased up to three years, with a two-year extension after that.
Lyn George, Director and co-owner at Austeng and Chair of the Geelong Manufacturing Council, said the site is an inspiring example of how a university can nurture startups.
"It is even more impressive that it is concentrating on 'hard tech' manufacturing, an area where high costs of product scale-up make the early stage commercialisation journey even more challenging," George told create.
The challenges of a young hardware business are many, but each occupant said the job was easier thanks to their neighbours.
"None of them compete directly with each other for customers," Spincer said.
"They have a lot of complementary skills and expertise, and I think we've got to the point now where the businesses are all starting to feed off each other and learn from each other."
Burning hot
Twenty years of engineering and 25 years as a Country Fire Association volunteer have come together for James Mullins, CEO, Chief Technology Officer and co-founder of Flaim Technologies.
Mullins is also an Associate Professor at Deakin's Institute for Intelligent Systems Research and Innovation and is applying haptics expertise to simulation kits for firefighters.
"It was some of the early days of applied haptics and force feedback," he told create of his robotics PhD, which concluded in 2007 and examined tissue simulation for surgeon training.
He was later inspired to tackle a very different training problem: that of contamination on firefighters' training grounds by chemicals such as perfluorooctane sulfonate, which comes from fire suppressant foam.
This has grown into a product integrating a head-mounted display virtual reality unit, a nano-fibre bio-feedback vest, heating pads, breathing and protective gear, and haptics, which emulate the kick from operating a firehose.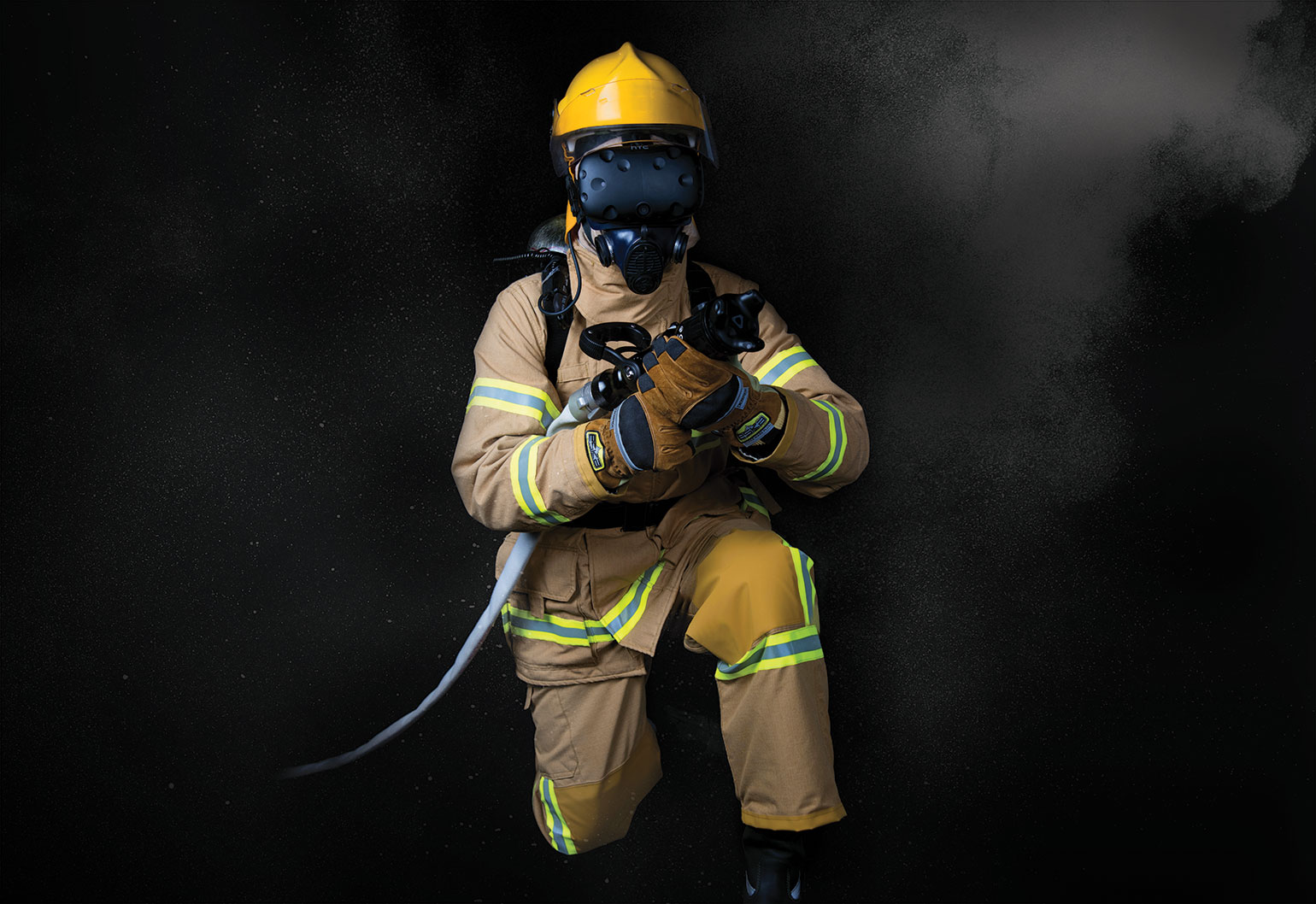 It comes with a scenario library, all aimed at producing the most lifelike training simulation possible, and usable at any time. It ends up a complicated "system of systems", said Mullins, and computationally intense.
"We are modelling fire, water and smoke in effectively real-time at 90 Hz or so, and traditionally that's in the domain of CFD," he said, referring to computational fluid dynamics.
"We take short-cuts obviously because we can't get to the accuracy of CFD modelling, but we try and get the realism as close to real-world as possible in fire, water, smoke models, and they're continuing to evolve."
Recreating real-life conditions has involved work with Cosumnes Fire Department in California, as well as NASA's JPL, the National Institute of Standards and Technology and others. Real burning buildings are instrumented, with as much data collected as possible, so the conditions can be reverse engineered.
"We put our software developers in the burn houses up in Queensland," said Mullins.
"We immerse our dev team into what fire is so that they can try and replicate those conditions as close as possible."
Flaim launched in September 2017, exports to 14 countries, and has grown to 18 employees.
"We try and get the realism as close to real-world as possible in fire, water, smoke models, and they're continuing to evolve."
The company received external investment this year, ending a period of 100 per cent ownership by Deakin. Mullins believes continued success will depend on agility. They are working to a five-year new product roadmap, while also juggling expanding distribution and reliability demands. 
He considers the location beneficial for advice from other ambitious little companies trying to take on the world. 
"It's those five-minute chats that really make a difference to both them and our operations," he said.
"We understand that we're not alone, but we also find good suppliers, we find good sharing of logistical ideas."
Cycles of innovation
Jon Partington threw himself into carbon-fibre research after completing a Bachelor of Engineering at Deakin as a mature-age student and then embarking on a PhD. 
Partington told create that composites are tricky but have a lot of untapped potential.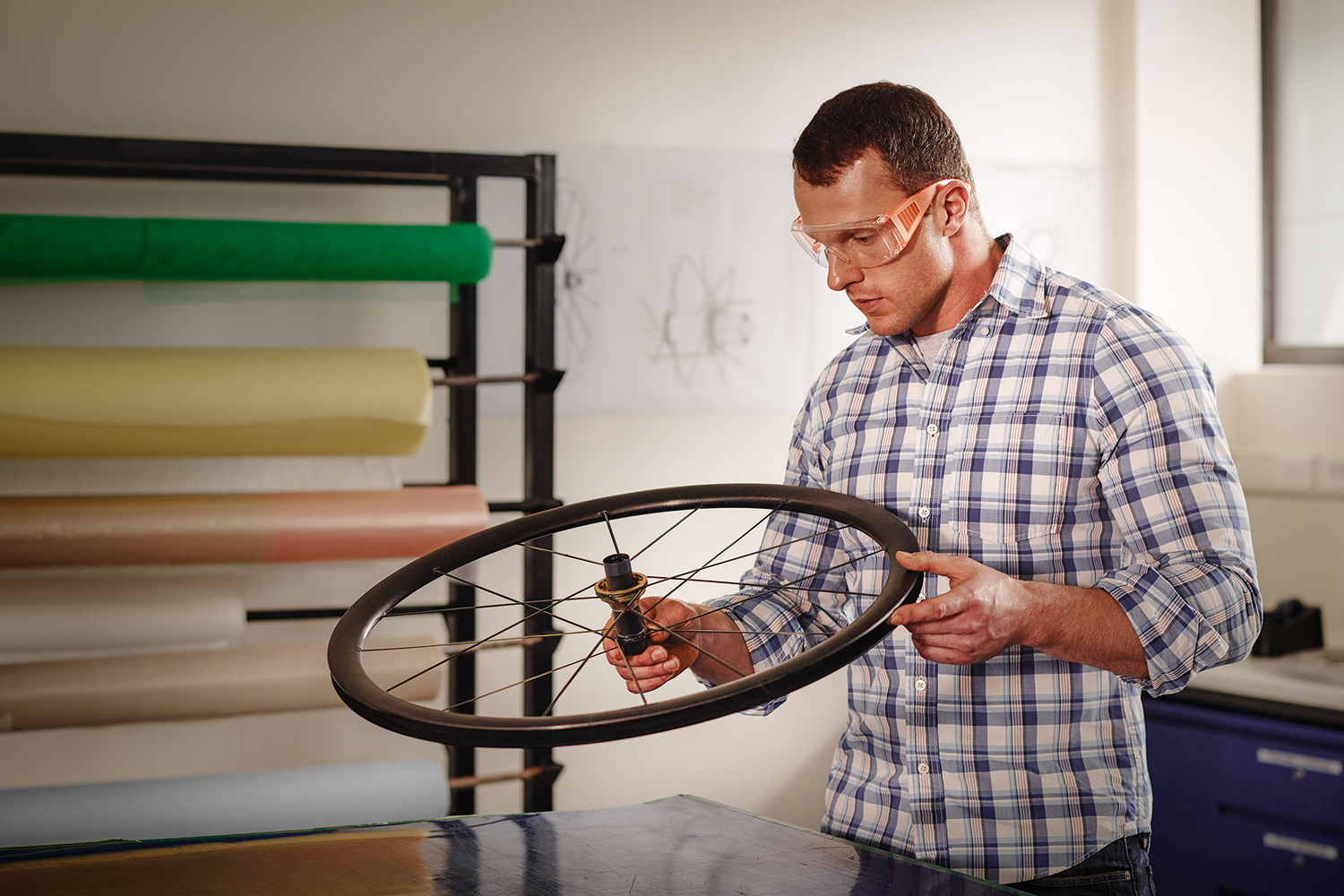 "It's a new technology, still, compared to metals, and the successful application of it, especially in more complex applications, is still juvenile," he said. 
"Coming up with a design concept with merit is one thing, but you've got to be able to execute it, and a lot of that's process development."
He points to one of the super lightweight wheels made by his company, Partington Advanced Engineering. The spokes are continuous carbon-fibre filaments mounted on little aluminium hubs. Aluminium is used for anchors, along with PMI foam, engineering plastics and three grades of carbon fibre. 
"Coming up with a design concept with merit is one thing, but you've got to be able to execute it, and a lot of that's process development."
For Partington, proximity to Carbon Nexus and test equipment — while working with materials still to realise their full potential — is valuable.
"We were questioning the modulus of carbon fibre, and there's not many places where you can measure that," he said. 
"We were able to take a bunch of strands next door, and they could test, strand by strand, for those mechanical properties."
A big shift
Since age three, Michael Williams has been passionate about bikes. He has juggled university and work life with racing at an international level in BMX and mountain bike competitions.
Back in high school, he came up with a concept for a novel clutch that would allow a rider to change gears while coasting. He calls it CentreHub.
"We've been able to achieve basically a clutch that's adaptable to a bicycle drivetrain, and we can change gears at any point in time, whether you're pedalling or not pedalling," he told create.
Williams said that not having to pedal and move through the gears sequentially can shave 4 per cent off a cyclist's time — the difference between winning and not qualifying.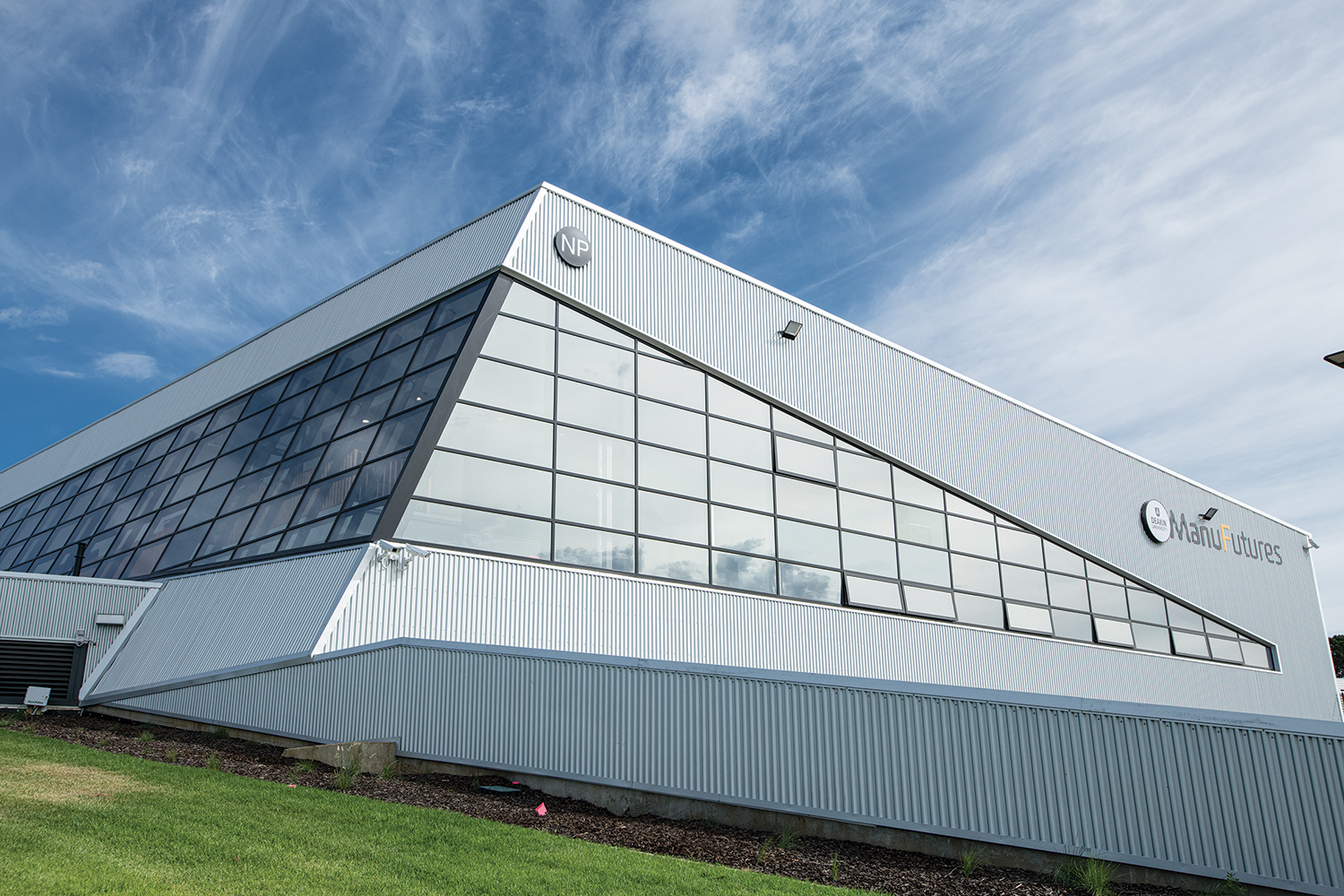 He is currently a Senior Engineer at VicRoads and comes to ManuFutures about two days a week to focus on Williams Racing Products.
Most of his research and development this year has been around design for manufacturability and trying to remove cost where possible. For example, 3D-printed titanium parts might end up being milled. 
"A top-of-the-range hub is no more than a thousand dollars, so you don't want it to be more than that," he said. 
"But to manufacture this thing as a good product, it's going to be at least $400."
He plans to keep production in Geelong. 
"It's having it made locally to a quality standard I know. And if it's got my name on it, I want some type of input into the machining of the thing," he said.
Being located next to other startups means sharing bold ideas and a love of technology with his neighbours.
"You're surrounded by a lot of very intelligent people you can bounce ideas off, and it's really motivating to come here," he said.
Forward advance
Advanced manufacturing start-ups are not for the faint of heart. 
But there are pluses to having a go at this in Geelong. 
Talented engineers from older industries are still about, and it is common to see Ford alumni play vital roles within the newer manufacturing firms.
For those with clever ideas, a willingness to compete on value rather than cost, and with — quite often — a heavily engineered product, it's possible to carve out a pretty bright future. 
This article originally appeared as "Working on a dream" in the December/January 2019 issue of create magazine.