Automation, diligence and kaizen production methods have helped keep Nissan Australia's Dandenong aluminium casting plant at the cutting edge of the nation's manufacturing for almost 40 years.
When it launched in 2010, the Nissan Leaf was the world's first mass-market electric vehicle (EV), and it has since been at the vanguard of a global shift to alternative propulsion. 
This past September, the 500,000th Leaf was delivered to a customer in chilly Norway. 
Wherever they are in the world, most of the car's owners will never know that beneath the metal skin of their shiny new EV are several Australian-made components, including an EV inverter water jacket cover and casing, as well as the motor's stator housing. 
These are all produced at the Nissan Casting Australia Plant (NCAP) in suburban Dandenong, Victoria.  
Like Holden, Ford and Toyota, Nissan once manufactured vehicles in Australia, but it has been almost three decades since a Nissan car was built here. 
The retention of its casting plant, however, has enabled the company's Australian operation to play an ongoing role in the Japanese giant's global parts supply chain, providing skilled jobs and earning valuable export dollars for the domestic economy. 
Under pressure
Like many car-makers, Nissan uses high-pressure die-cast aluminium in its global vehicle-making operations due to its excellent mechanical properties and machinability.
During the process, molten metal is injected under high pressure with a die casting machine into a steel mould, or die, to form various complex shaped products. 
Because of the dimensional accuracy and the surface finish, the die castings minimise the requirement for machining. 
NCAP can produce about 2.6 million metal castings each year, comprising more than 60 components that are critical to Nissan's global business, including its growing EV fleet. 
These include components for the Nissan Navara, Leaf, Qashqai, Pathfinder and X-Trail, which are exported to vehicle assembly plants and Nissan affiliate powertrain plants all around the world. 
NCAP's export markets include Japan, the US, Romania, Thailand and Mexico, where its components appear on more than 30 different models made by Nissan, Infiniti, Mitsubishi and Renault. Each component bears a distinctive kangaroo insignia as a nod to its place of manufacture.
NCAP's key machinery includes four melting furnaces, comprising two tower furnaces and two reverberatory furnaces. In addition, there are 13 die-casting machines, comprising five 800 t units, four 1250 t units, two 2250 t units, and two 2500 t units. 
The plant also uses a total of 55 robots, comprising 34 ABB and 21 Fanuc industrial robots. Finally, there are 34 machining centres, comprising 22 horizontal and 12 vertical DMG Mori Seiki machines.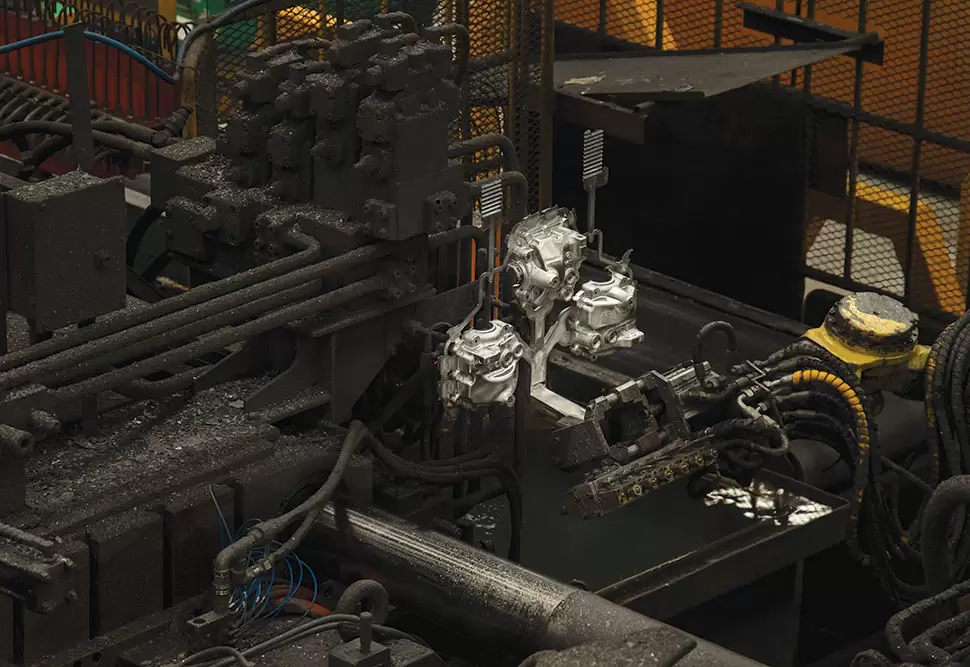 How Australian manufacturing is staying competitive
Asked how NCAP, which was established in 1982, has remained viable for almost four decades, during which time automotive manufacturing in Australia ceased, NCAP Plant Engineer Adeesha Samarakoon put it down to the plant's global competitiveness. 
"When we bid for new projects we compete against suppliers in Japan, or close by where we ship parts to. Because of our high-quality parts, we remain quite competitive as a supplier," Samarakoon said. "Another thing is the level of automation. We can quote or bid competitively because there's a lot of automation in our process, which reduces the amount of labour required to process the parts.
"There's been robotics and automation since the plant started, but the technicality of the automation has improved over the years, and especially since 2012 when we introduced EV products, there's been a lot more automation put into the processes to deliver consistent quality."
"When we bid for new projects, we compete against suppliers in Japan. Because of our high-quality parts, we remain quite competitive as a supplier."
Samarakoon cites the introduction of collaborative robots to the assembly area in 2018 and the use of 3D scanners on the production line as examples of this shift to automation. 
"The use of 3D scanners on the production line helped us to get both better output and improved quality. It helps the business produce more parts per hour and, in terms of quality, compared to the older systems we used, 3D scanning provides more precise measuring of the product," he said. 
A statement from Nissan Australia said that NCAP's quality department uses the same kind of measuring machines and granite tables used by Formula One teams. These measure production parts so precisely they match up exactly with parts made in Japan to a tolerance of 15 microns, which is less than the diameter of a human hair. 
It is this precision that has earned NCAP exclusive contracts from Nissan Global for the supply of specific parts, some of which are exclusive to Nissan Casting Australia.
"The quality department uses several measuring machines and other measuring instruments to check various machine features, including surface roughness and profile hardness testing," said Tim Simmons, a High-Pressure Die-Casting Engineer at NCAP.  
"These are used to ensure production is running within the agreed standards." 
In addition to these measurements, NCAP uses X-ray and CT scanning machines to understand what is happening with the parts internally — for instance, to detect any air pockets or other defects.
"The main difficulty we have to overcome is that parts are getting more detailed and complex each time Nissan brings out a new vehicle. They want to incorporate more features with much tighter tolerances, so we have to work out how to manufacture that component with the required quality," Simmons said. 
"We sometimes need to come up with new and novel designs to prevent defective parts and produce them in a cost-effective way. A good example is the Navara transmission, which in some respects is quite a complicated casting."  
The Navara's manual transmission case is typical of the lightweight high-strength alloy parts manufactured at NCAP. It is one of the largest commercial vehicle transmission cases in the Nissan range and the casting requires a high-pressure die-casting machine with up to 2500 t capability. 
"When we get into the EV components, however, it gets a lot more complicated," Simmons said.
"The quality department uses several measuring machines to check various features, including surface roughness and profile and hardness testing."
"The leak-testing requirements are much more rigorous because they contain electronics, so you can't have them get wet in any way. It's not just containing oils, but they're now containing different fluids and the criteria is far stricter. The expectation of the general quality is more demanding as well."
With some of the most advanced oil-based die-spray equipment across the Nissan network, and NCAP being one of only a few Nissan plants globally to conduct helium leak testing, the facility is ideally placed to provide this more sophisticated casting for the coming EV boom.
Local knowledge
While there has been significant investment in new equipment and technology throughout NCAP's lifetime, Manufacturing Engineer Travis McCooey cites local engineering know-how and the ability to redesign and modify existing equipment efficiently as another of the plant's advantages. 
"Some of the high-pressure die-casting machines are the same machines we were using when the plant opened in the early '80s," he said. 
"So even with time we've still managed to maintain efficiency and quality to maintain the good condition of the machines and remain competitive. That's due to proper preventative maintenance planning, scheduled down time, as well as adapting the latest technology upgrades to these machines to improve quality." 
Lean manufacturing methods and adhering to the Japanese concept of kaizen — continuous improvement — are key pillars of the plant's manufacturing ethos, said Simmons.
"A lot of our products have their own unique tooling that goes with them, so each time we introduce a new part there's a huge opportunity to improve on our methods from the previous product. It's a very Japanese manufacturing philosophy, to find out what went wrong and then improve for the next model, and that's been going for a long time within our plant.
"There's a lot of accumulated knowledge and skills and we adopt that from product to product."