When things go wrong at this major gas plant, all eyes turn to mechanical engineer Vanessa Bullock.
As a pigging engineer, people look to Vanessa Bullock when there are problems in the field. 
"A lot of people won't have seen a pig before, or been involved with this type of job," she said. "There are issues on every job — your level of planning determines how large they are and how quickly and effectively you can respond."
A "pig" is the tool used in pipelines for maintenance and inspection. Bullock, who works for Woodside on the North West Shelf Project, said being involved in emergency response management has helped her keep cool in high-stress situations. 
She knows pigging inside and out: Bullock has worked on projects from tender to execution, and wrote the contingency plans herself. But she also finds it critical to know who she has onshore that she can phone for help. 
"I had that support person lined up for every job," she said. "If I was feeling uneasy about something, I'd stop the job, call and have a chat. That five minutes could be critical, and the reality is most things in life can wait five minutes — so take that time."
"If I was feeling uneasy about something, I'd stop the job, call and have a chat. That five minutes could be critical."
Baptism of fire
Bullock leads the maintenance engineering team for power generation, distribution and utilities at Karratha Gas Plant. The plant operates like a small city, generating all its own power, compressed air, nitrogen and fuel gas, and treating sewage onsite.
At the 2020 Western Australia Women in Resources Awards, Bullock won the Outstanding Young Woman in Resources category, with the judges noting her leadership role, rapid responses to critical issues and delivery of two of Woodside's most complex subsea pigging projects. 
Bullock was also highly commended in the 2020 Women in Resources National Awards.
But the shift from systems engineering to pigging came six years ago, in 2015, as a graduate mechanical engineer. She worked on the inspection of a 40-inch pipeline connecting the Goodwyn Alpha (GWA) and North Rankin platforms to Karratha Gas Plant, as well as the first operational inspection of the Pluto flowlines. 
The senior pigging engineer on those projects told Bullock the two jobs were among the toughest of his 30-year career.
On the Goodwyn Alpha job, issues with the subsea launch facilities meant the team had to complete a bi-directional pigging campaign, starting and ending at Karratha Gas Plant. They reversed the gas flow within the plant and launched two pigs into the pipeline from the onshore receiver. 
The team inspected 5 km of pipeline, then turned on the offshore gas flow to receive the pigs back at Karratha Gas Plant. 
It was the first bi-directional inspection of a multiphase pipeline anywhere in the world. 
Pressure point
In 2017, Bullock became the Project Manager and pigging engineer for the isolation to facilitate the GWA riser emergency shutdown valve replacement. This involved a very small space in which to fit a pig that was 6 m long and weighed 6 t. 
"In the late 1980s, when the platforms were designed, pigs were around 2.5 m in length," Bullock said. 
The team built replicas of the pigging facilities and ran trials to make sure they could complete the month-long job offshore. They had to hold back 9.4 MPaG of pressure — a first for Woodside — and receive the first pig at GWA.
During this time, Bullock was also the pigging engineer for a challenging intelligent inspection of the Angel Export Pipeline. 
At the start of this project, there was no launcher at the Angel end of the pipeline. The subsea end had a commissioning launcher from the pipeline installation that had to be removed by divers.
For Bullock, the big prize was minimising diving operations to put safety first.  
"The receiver needed to be disconnected by saturation divers," she says. "If we wanted to receive the pigs one at a time, that meant three times the amount of diving."
Bullock says the team overcame the challenge by designing the pig around the launcher on the seabed, and using that as a receiver, as well as using novel pig design to ensure a passable pipeline. 
It was not an easy approach, but it turned out to be the right one. 
"Pulling the intelligent pig out and seeing it completely intact was one of the most satisfying moments in my career," Bullock said.
Giving back
Bullock's career has also taken in a six-week stint at Gulkula Mining Company — Australia's first Indigenous-owned and run mine. With coaching from Woodside experts, she helped shape the mine's emergency response systems. 
Bullock said it was the best experience of her life. 
"It was really hard some days, but other days it was awesome," she said. "Not only did I get to help start up a business, but I got to be a part of an Indigenous organisation helping decide its community's own future."
Being in charge of her own future has always been important for Bullock. She had seen her mother become financially dependent on her father and caught in an abusive relationship because of limited career options. 
"For me, it's so important to be able to financially support myself and my family," she said.
Outside of work, Bullock is completing her Master of Business Administration at the University of New South Wales. And she is the co-founder of Tompost, an urban composting business that converts organic waste into usable gardening products. 
Bullock has supported most of Woodside's assets, working from the frontline to technical support teams and production pigging projects. In each role, she has worked closely with operations and maintenance teams.
"I particularly love working with the tradespeople in the workforce," Bullock said. "As an engineer, you can learn a lot from them and that has helped shape my engineering approach."
And while she sees herself at Karratha Gas Plant for the near future, she hopes to one day move to Woodside's newer business areas in power, hydrogen or carbon management. 
"I'm passionate about being a part of the transition to a lower carbon future," Bullock said. 
"As an engineer, you can learn a lot from tradespeople, and that has helped shape my approach."
Pigging 101
Pigging is a technology used to maintain, inspect and repair pipelines. A "pig" is a tool that is loaded into the pipeline with a launcher. 
Pigs can be either "smart" or "dumb". Smart pigs are fitted with instruments to retrieve data such as magnetic flux leakage or acoustic resonance technologies. Dumb pigs are predominately used for cleaning and are fitted with various brushes and disks to scrape the pipe wall.
Pigs tend to be unique in their design, as no two pipelines are identical. They are propelled through the pipeline by a pressure differential. At the end of the pipeline there is a receiver to retrieve the pigs.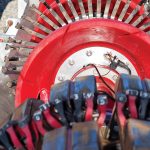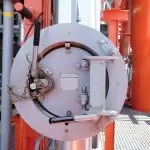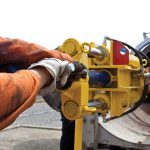 Why is it called pigging?
Although engineers have retroactively turned "pig" into a backronym meaning "pipeline inspection gauge", these devices that engage in gas field safety grunt work were originally named for the sounds they made.
"They were often made of bales of straw, maybe with barbed wire wrapped around them, and they would pump them through the line to do a cleaning job," Southwest Research Institute engineer Al Crouch told the US's National Public Radio in 2006. 
"This made a squealing sound and that's where the name pig came from."
Even though the devices are today made from high-tech components rather than steel and straw, the name has stuck.