Malaysian engineers have transformed the fibre found in pineapple leaves to make a sturdy, biodegradable material to build frames for unmanned aircraft.
With the capacity to fly up to 30 metres and remain airborne for 20 minutes, the Putra Unmanned Aerial Vehicle (UAV), is the first innovation of its kind to use biocomposites from pineapple leaves.
Professor Mohamed Thariq Hameed Sultan, of Putra University on the west coast of Malaysia, said that drones built with the material had a higher strength-to-weight ratio than frames made with synthetic fibres, and were also cheaper, lighter and easier to dispose of.
"Biocomposites have a great potential to replace existing materials because they are lightweight and are environmentally friendly due to biodegradation factors that allow them to be easily decomposed and disposed of in the soil," he said.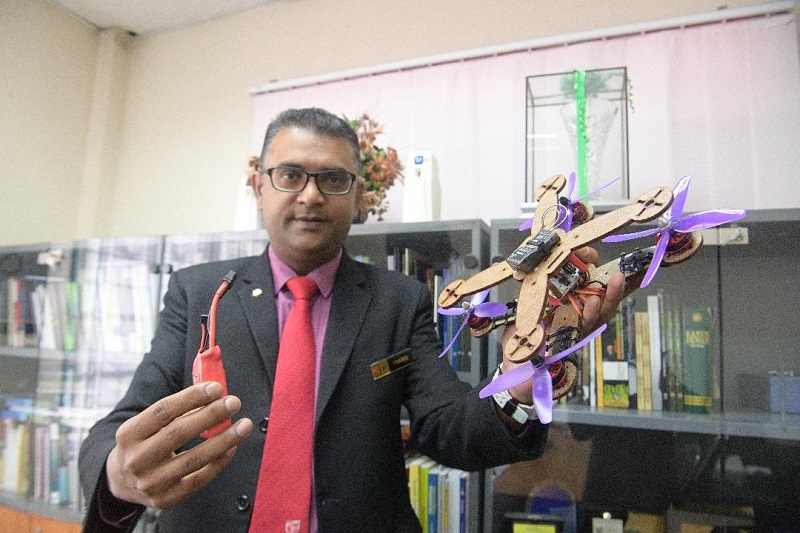 The project came about as the team was trying to find sustainable uses for pineapple waste generated by farmers in a plantation area about 65 kilometres from the capital Kuala Lumpur. The unattended mounds of pineapple leaves were attracting animals such as snakes and lizards, and became a pollution hazard when they were burned.
It is a welcome development for the rapidly growing UAV industry, with a recent study finding many drones that crash or get lost in remote areas can have negative impacts on the environment.
About 300 grams of pineapple leaves can produce four pieces of plates for the drones. If a drone is damaged, its frame can be buried in the ground and will degrade within two weeks.
Vegetables might fly
The pineapple drones join other ecologically sustainable UAV breakthroughs. 
Students from Louisiana Tech University created a drone made with 70 per cent environmentally-friendly materials. The plant-based bioplastic can be created using a 3D printer and is both recyclable and biodegradable.
NASA is also getting in on the action, with scientists developing a drone with the chassis made of a fungal material called mycelium, grown inside a custom mould in a laboratory. The body was then covered in cellulose sheets grown by bacteria, which were coated in the same proteins that paper wasps use to waterproof their nests. 
Back in Malaysia, Sultan and his research team hope to build on their invention to create a larger UAV featuring imagery sensors for agricultural purposes.