Growing up in the small Queensland town of Roma, Zoe Eather MIEAust CPEng knew she wanted to travel overseas and make a difference in developing countries. That passion took her from rural Australia to international smart communities consultant — and saw her named the 2021 Queensland Young Professional Engineer of the Year. 
Eather, the founder of consultancy firm My Smart Community, spoke with create ahead of Engineers Australia's national awards, the Pinnacles, next month.
"Engineering is about helping people," Eather said. "After graduating with a Bachelor of Civil and Environmental Engineering [from the Queensland University of Technology] in 2011, I joined the Department of Transport and Main Roads as a graduate engineer and started my career working in regional communities. That gave me a really solid foundation in thinking about engineering in terms of our communities."
It was working in the aftermath of the Queensland floods that put Eather's career in perspective.
"I was working in construction on the flood damage works in rural towns and I realised that the people side of engineering is what I really love," she said. 
"The stakeholder engagement, the relationship building — all the stuff that you don't necessarily get taught at uni."
A young engineer exploring new horizons
In 2016, Eather spent three months living and working in South Korea as part of an engineering exchange program. It was during this time that she found her true passion.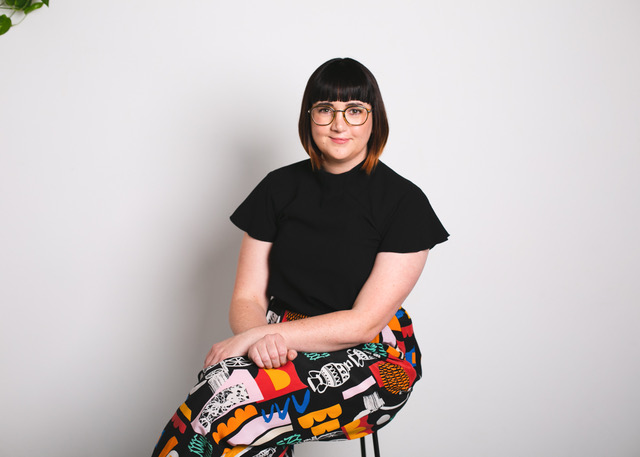 "That's where I learned about new technologies such as autonomous vehicles," she said. "When I heard about smart cities, I thought, 'Wow, what a concept. What are we doing about this in Australia?' I made it my mission to find out." 
So-called "smart cities", such as Singapore, Dubai and Copenhagen, use information and communication technologies to enhance sustainability and address growing urbanisation challenges. 
"When I returned home, I talked to anyone and everyone about smart cities," Eather added. "It was then that I realised it wasn't only about cities — it's about regional and rural areas as well. 
"I started using the term 'smart communities' and shifting my language so that we can engage with people at that level of the community. It takes more than just people in cities engaging in this conversation to enact the change we want to see."
Working on an autonomous vehicles project when she returned from South Korea, Eather decided she wanted to pursue broader initiatives that connected different levels of government. She also started a podcast to continue the conversation with interesting people working in the smart cities space. 
"When I heard about smart cities, I thought, 'Wow, what a concept. What are we doing about this in Australia?' I made it my mission to find out."
"In a funny way, the podcast was a great catalyst, because it was a conflict of interest at my government job," she said. "I decided to leave my role to continue podcasting and start my own consultancy — after all, you can only eat passion for so long."
Another research trip in 2018, as the recipient of a Churchill Fellowship, took her to nine counties in nine weeks
"It helped me understand what's deemed the softer side of things," Eather said of the trip, which included time in the United States, Mexico, Denmark and South Africa. 
"Smart communities are built upon having strong mobility and access, supported by underlying networks.
"There's lots of talk about mobility as a service, autonomous vehicles, those types of things, but actually, you need a really connected network. And you need to understand what the pain points are of the people that you're trying to serve and who is trying to use the network."
Building smart communities
Eather's consultancy, My Smart Community, focuses on how councils and local governments can become 'smart'. This includes looking at effective and efficient improvements to save time, money and resources, so councils can invest in things community members really care about. 
A key component of being 'smart' is also looking at innovations to improve quality of life for members of the community.
"I've been working on a research project with Moreton Bay Regional Council about improving asset management through automatic detection of potholes and other defects," she said. 
"The original project, which I helped set up in 2018, uses technology and artificial intelligence to automatically pick up the defects on the road, and it has been installed on garbage trucks in the Moreton Bay area. So every week now they have an up-to-date map of their road assets."
"Smart communities are built upon having strong mobility and access, supported by underlying networks."
Before the project began, this data was either not available or not accurate and timely. The project members are now working out how the data can feed into the Council's capital works program. 
"[This means] they can be more effective and more efficient with prioritisation, which isn't only about saving money, but safety and efficiency as well," Eather added.
Continuous improvement
When Eather is not out in the field or speaking on stage at conferences and events, she's working on The Smart Community Podcast. Her guests so far have included Dr Jonathan Reichental, author of Smart Cities for Dummies, Felicity Furey, founder of Power of Engineering and Simon Hunter, Executive Director of Strategy and Innovation (Smart Places) at the NSW Department of Planning, Industry and Environment.
She also works with Arup on  intelligent mobility and shaping the future of transport, partnering with state and local government agencies to embed the smart community concept into traditional projects and planning processes. 
Eather aims to continue expanding her knowledge, recently completing a Master of Data Science, and is  using her Churchill Fellowship as a platform to spread the message of smart communities.
The Young Engineer of the Year 2021 winners will be announced 1 March. To view the full list of finalists, visit our awards website.