A reinvented fitness tracker that can be used for livestock is helping farmers save time and money.
Fitness trackers have long been a must-have item for people who want to monitor their wellbeing or spur themselves on to healthier living.
But fitness trackers are no longer just the domain of people. A version for animals is being developed by Ceres Tag in partnership with Meat & Livestock Australia Donor Company, the Queensland Government, CSIRO and James Cook University.
The new technology is housed within a smart tag, which can be attached to the ear of livestock such as cattle and produce similar data to that of consumer smart watches.
Farmers can then use this data to track aspects such as where on their property their livestock is located or if an animal has escaped or been stolen. It can even indicate if an animal is giving birth or sick.
This could not only save farmers time and improve efficiencies, but also save substantial amounts of money compared to tracking animals using vehicles or aircraft.
The tags have been enabled with GPS capabilities via low earth orbit (LEO) satellites that allow farmers to remotely track — via the Internet of Things — the location of their animals.
On-board accelerometers also alert farmers about unusual activity, such as if an animal has wandered off from the herd, which could indicate that it has been stolen or might be sick.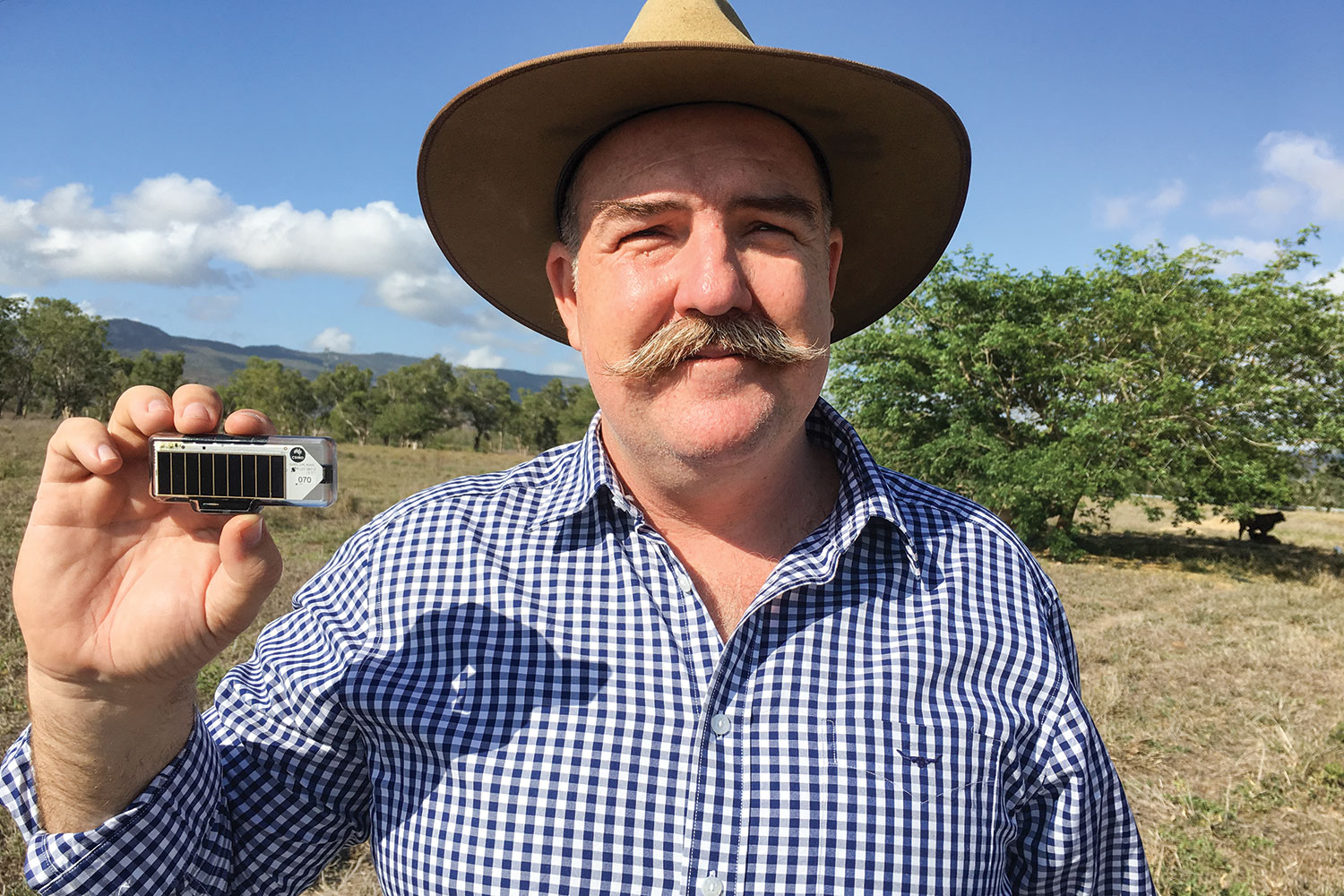 The algorithms can detect behavioural patterns of animals and pick up if an animal is moving in an irregular way.
And radio frequency identification is embedded into the tag, which means it can be used to identify the ownership of an animal.
"When the ownership of the animal transfers from one owner to the next, the data of that animal — health, welfare, bio-security — can be transferred to the new owner, and that new owner has a complete history of the animal," said David Smith, CEO of Ceres Tag.
Designing durability
Smith, a materials engineer, is also a livestock producer, and said one of the main issues with ear tags is the retention rate — ensuring that it stays on the animal's ear.
"So we went back to the principles of designing a new retention system that would be three times easier to put on the ear," Smith said.
This meant trying different materials, different sizes and different orientations. For example, some of the material options included polymers and metals, and the design moved from a single pin to a double pin.
The choice of technology was also an important aspect of the tag — Smith said there were several options when it came to deciding which to use.
For example, he said, some products use cheap sensors such as LoRaWAN or NB-IoT.
"We proved that these were not suitable because you have to put up terrestrial infrastructure, and as soon as you put up terrestrial infrastructure, you have natural impediments to being able to track the animal, maintenance, and additional time to install, all of which adds significant cost," Smith said.
"So any hills, trees or valleys will serve as an impediment to be able to trace animals using terrestrial communication infrastructure.
"Therefore, we chose to go with LEO satellites and remove that restriction so that the owners of the animal can receive the tags, put them straight on an animal, and, no matter where they go, they can track them."
One example of how farmers might use his company's device is during mustering, which typically happens once or twice a year.
This involves looking for animals, which can take one to two days and can require a helicopter.
But if a farmer were able to pinpoint exactly where an animal was, they would be able to immediately round up that animal without needing to spend human and financial capital on the search.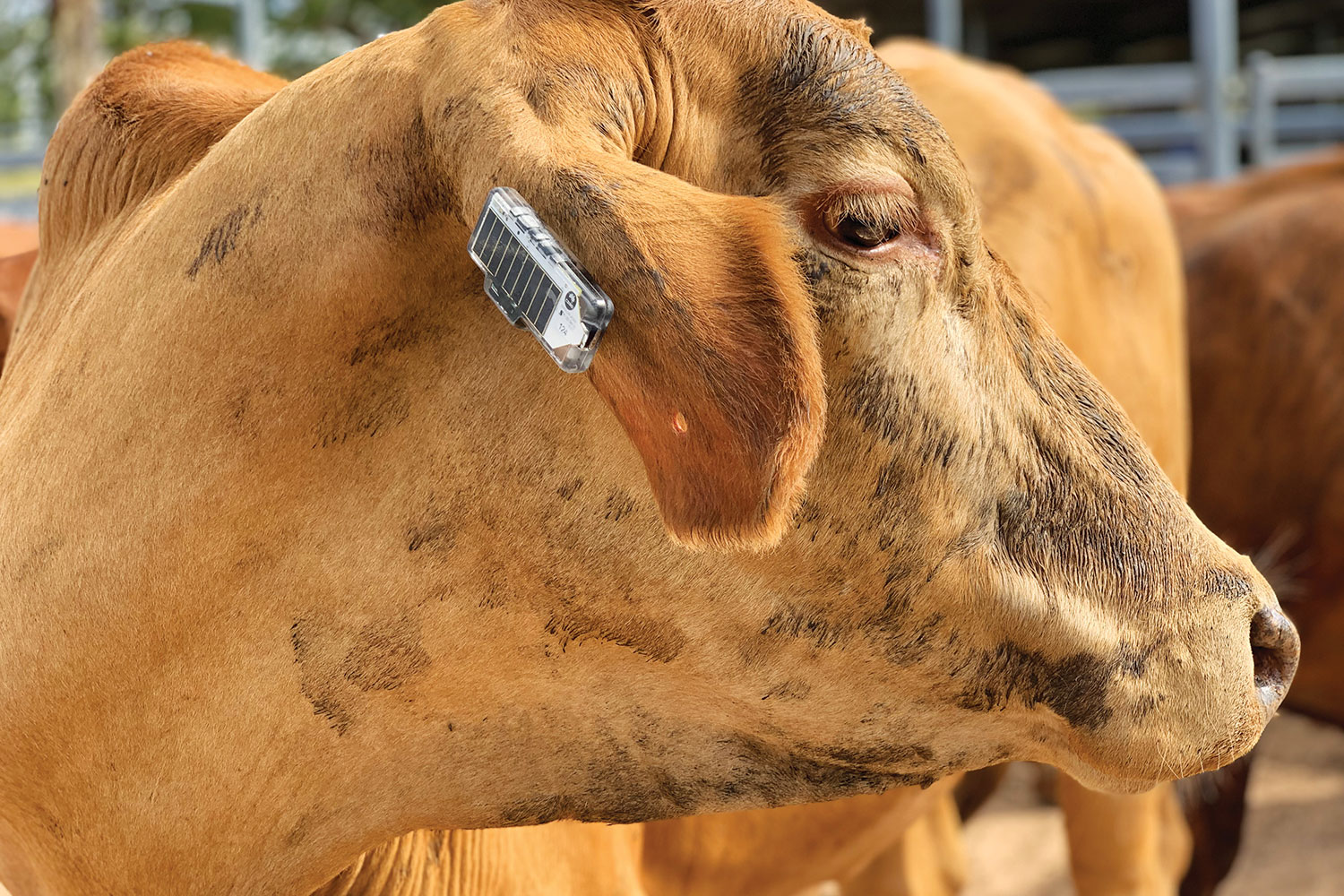 Bull run
The smart ear tag has been trialled on 100 cattle at CSIRO's Lansdown Research Station near Townsville, Queensland. A range of aspects — the communications system, positioning accuracy and the materials of the tag — were tested, and the team developed its algorithms.
Following this trial, the team plans to make a slight adjustment to materials, communications and the resilience of the tag.
Smith is also hoping to reduce the size of the tag to two-thirds its current size — currently that of a cigarette lighter — and make it lighter, which would require producing an electronic chip from the product circuit board and possibly changing the antenna.
The team is also looking to add functionalities such as a temperature sensor, which could alert farmers that an animal is sick at an even earlier stage.
The applicator was also a prototype, with the team working on a pre-loaded type for the next trial. This will be conducted over three to six months later this year at Aileron Station in the Northern Territory, a 400,000-ha property north of Alice Springs.
"The materials will have probably a different grade of the same material that we use," Smith said.
"The robustness of the tag was more than satisfactory, but we've got some improvements to make in the communications."
Ceres Tag aims to commercialise the technology in 2020.  
This article originally appeared as "Cattle tracker" in the June 2019 issue of create magazine.