When year 12 student Tamsyn Burley came up with a way to stop plastic pollution entering her city's waterways, teaming up with some local engineers helped to turn the idea into reality.
In late 2020, Burley, a student at Newcastle Grammar School, was looking for an idea for her design and technology major project. Walking past a gutter and drain, she was inspired to design a novel filtering system to stop plastics from getting into stormwater drains.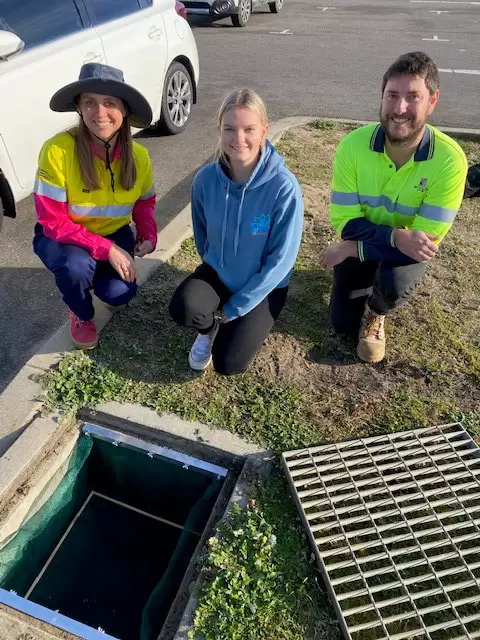 Her school contacted Engineers Australia Fellow and Chartered engineer Jo Withford FIEAust CPEng, Senior Project Engineer for Transport for NSW, to see if she could mentor Burley. Withford immediately recognised the value of the project and together they pitched the idea to City of Newcastle Asset Engineer Luke Jaszczyk, who set up a real-life trial.
"I started researching and couldn't find many solutions that were environmentally friendly," Burley told create. "So, we designed a basket that sits in stormwater drains and captures runoff and pollution from car parks. That stops [the pollution] from going into the beach.
"It's made out of shade cloth mesh and it has an aluminium angle frame that sits on the edge of the drain. Not needing to drill it into the drain is a big feature. Then the Council has a big truck with a large vacuum that sucks the debris out."
Supporting students in STEM
When the call came to Withford to get involved, she didn't have to think twice. The recipient of an Engineers Australia Medal last year, Withford is a passionate mentor for young women in STEM.
"I've spent the last 10 to 15 years working closely with schools to mentor and support kids, especially females, to try and increase the representation [of women] in engineering," she said.
The initial contact from Burley's teacher was an email with her pitch, requesting some information on engineering standards from Transport for New South Wales that might assist with the design. 
"I thought the pitch was just so great — it was a really good idea and needed more than just sending back an engineering standard," Withford said.
"I reached out to my contacts at the City of Newcastle, and Luke came on board. We collaborated to provide support, assistance and friendship as Tasmyn worked on the project for about a year."
I think you reach a stage in your career where it's great to do something bigger than yourself."
Turning an idea into reality
Luke Jaszczyk works with the city's stormwater engineering team, and was able to provide a perspective on how the idea needed to work in reality.
"We provided some minor guidance to Tamsyn on what that asset might look like if we were going to own it hypothetically," he said. "We gave some details about where the stormwater system goes and how much pollution we might think might go into the beach." 
Jaszczyk added that the Council was already receiving customer complaints about plastics going into the oceans.
"We thought microplastics were being delivered to the beach from a part of the stormwater system which wasn't pretreated," he said. "We began using Tamsyn's device to prevent them from going to the beach through our stormwater system."
Burley's teacher Rob Barter said the experience of applying her idea in a real-life situation was invaluable.
"One of the key take-homes for me was being able to see Jo and Luke so freely provide their time for Tamsyn and to make it real," he said. "To have the expert advice of engineers, as opposed to being in the classroom with the teacher, helps our students to look at their projects in the light of how we make the world a better place."
For Withford, she continues to find supporting young women extremely rewarding.
"I love mentoring and empowering other people, especially females, because we need to increase our representation," she said.
"It's also an opportunity for me to give back to the engineering profession. I think you reach a stage in your career where it's great to do something bigger than yourself."