A smartphone app for early diagnosis of cerebral palsy in babies is set to be trialled across Victoria, Queensland and NSW this year.
create
caught up with the researcher and product
developer behind it.
Medical smartphone apps are a fertile field of research, yielding tech to detect ear infections, heart disease, pancreatic cancer and brain injuries.
These tools help with early diagnosis, as prompt treatment has a better chance of being effective. This was also the driving force behind the Baby Moves app, which allows parents to take videos of their infants at home and securely transmit them to specialists to check for signs of cerebral palsy.
Project lead Associate Professor Alicia Spittle told create that clinicians usually video babies' movements in hospital to assist in diagnosing cerebral palsy. But the assessment should ideally be done at three months old, and it was difficult for such young children to attend as outpatients.
"We thought we could probably get parents to do the video [at home] with some simple instructions, and then it could be sent securely through our app," Spittle explained, adding that clinicians could request a follow-up hospital visit if needed.
Spittle , who is based at the University of Melbourne's Department of Physiotherapy, attended a presentation by digital health product developer George Charalambous, director of Curve Tomorrow. This led to a partnership that made the app a reality.
"We had the idea, and they were able to provide some of the solutions as to how we were able to get it into practice," Spittle said.
Safe and simple
Spittle said that before the first version of the Baby Moves app was developed four years ago, some clinicians were already asking parents to take videos and send them in for assessment. But there was a need to make sure that this didn't put patient confidentiality and security at risk.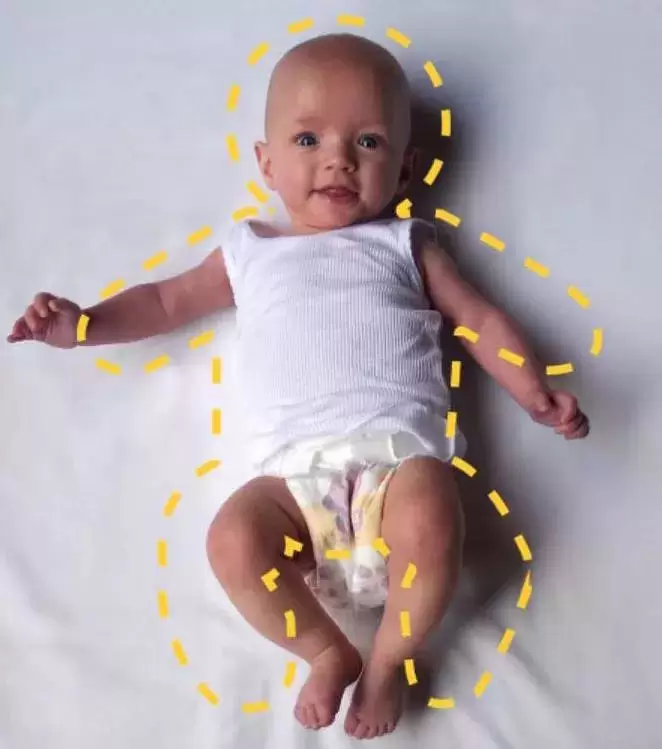 "We wanted a safe and secure method for families to send videos," she added.
Charalambous explained that this was achieved by encrypting the video files on the smartphone, as well as during transmission and storage. Keeping security software up to date, from the version of the app on the device to the hospital facilities where footage is stored and assessed, has been an ongoing challenge.
Another key feature is the simple user interface. There are only two buttons on the screen, and the app uses prompts to walk parents through the process. A baby-shaped overlay helps parents keep the phone stable and the child in view.
"The user interface and experience were designed to hide all complexity," Charalambous said.
The latest version of the app gives researchers more control over the duration of videos and how often they are recorded.
Making an impact
Cerebral palsy affects around 34,000 Australians, and is linked to brain damage during early development either before or after birth, and premature babies are at high risk. The symptoms can be mild or severe, and restrict peoples' movement and motor skills. There is no cure.
Spittle has completed a study that included every baby born in Victoria at less than 28 weeks gestation over a 12-month period, as well as babies who were delivered at term and admitted to the neonatal unit.
"The majority of families preferred using the app to coming in for an outpatient appointment," she said.
Spittle is now working with researchers and clinicians across NSW, Victoria and Queensland to roll out a wider trial of the app over the coming months.
Remote screening could be particularly useful in remote communities without easy access to health services. To this end, Professor Roslyn Boyd and Dr Katherine Benfer from University of Queensland have used the Baby Moves app to conduct studies in rural and remote communities in Queensland and Western Australia, with local healthcare workers providing support to capture videos. They have also trialled the app overseas, screening more than 850  babies in Kolkata, India, with donated mobile phones.
Boyd said there is strong evidence that movement assessment at three months old complements neurological examinations to provide a 98 per cent accurate prediction of cerebral palsy, and allows early referral to physiotherapy and occupational interventions to optimise brain development.
Engineering for health
Spittle said the concept of patients taking videos at home to be securely transmitted for remote screening could be adapted to patients who have had a stroke or leg injury.
"I think it's the beginning of a big explosion in the area," she said, adding that her team will be meeting with engineering colleagues to discuss collaboration on future products .
Charalambous, who studied engineering and science at the University of Melbourne, added that engineers can apply their skills and knowledge to a lot of problems in the field.
As well as Baby Moves, his company has built products to help manage concussion, allergies, type 1 diabetes and drooling. Charalambous said they are working towards the goal of positively impacting 1 billion lives, and estimates they reached the 120,000 mark at the end of June.
"Simple solutions can have a huge impact," he said.