Two Australian firms have come together to design a new system for constructing small bridges that will be a boon for natural disaster-prone and remote areas. 
The InQuik Bridge System by engineering firm SMEC and InQuik Bridging Systems was awarded an Australian Engineering Excellence Award last month, and will go on to compete against other regional winners for the national Sir William Hudson Award at the Pinnacles Award Ceremony on 9 November.
create sat down with Robert Hunter, an engineer and area manager for SMEC in Grafton, New South Wales (NSW) to find out how this innovation came about and why the engineers behind it think it will change the game. 
"The InQuik bridge takes the best features of off-site manufacture — quality control, standardisation, safety, out of the weather, and so on — but also allows for the concrete to be fully poured in-situ," he explained. 
"This means the components are much lighter than precast, and thus easier, simpler and safer to transport and place, and the bridge structure is a monolithic mass of concrete with no dry joints."
The pre-certified, modular design approach allows for fully or semi-integral bridge structures, which reduces the need for tie-downs and bearings. This in turn reduces potential workplace safety hazards and has features that protect the environment and reduce lifecycle costs. 
"The formwork is also generally left in place, which has a number of surprising long-term benefits, including increasing the concrete strength by retaining moisture, which reduces the risk of cracking and degradation of the concrete structure," Hunter added.
Joining forces
InQuik came about after Goulburn-based builder, farmer and inventor Bruce Mullaney approached SMEC's Canberra office with an idea for a new modular bridge system. 
"SMEC is fortunate to have a strong local structural team in our Canberra office, who saw that it had major potential to solve a lot of the problems of conventional precast concrete bridge construction," Hunter said. 
SMEC entered a partnership with Mullaney and his team to help them develop the system, providing engineering input and creating efficiencies, as well as ensuring compliance with Australian codes.
"The key to making the InQuik system work is finding a way to use the strength of a welded steel reinforcing cage to support the formwork when wet concrete is poured into it," Hunter said.
"This connection method also had to be easy to fabricate, and easy to install onsite."
"The components are much lighter than precast, and the bridge structure is a monolithic mass of concrete with no dry joints."
InQuik's design evolved to use a reinforcing truss in the beams, as well as thick steel straps spaced along the outside of the formwork, which are bolted into steel connectors that sit inside the reinforcing cage. 
In combination, these elements distribute the construction load from the formwork into the reinforcing cage, allowing the system to be self-supporting during construction.
Changing the game
To date, the system has been used for bridges as short as 6 metres, and as long as as a multi-span 36-metre bridge, Hunter said.
It is also being used to provide environmental benefits over culverts. On the far north coast of NSW, for example, Byron Shire Council has used the 6.4-metre-span design, which has a narrow girder profile, to replace culverts up and down the Brunswick River, enabling free passage of aquatic life. 
"The NSW bushfires at the beginning of the year destroyed many timber bridges across the state,"  Hunter said.
"The speed of manufacture and installation of the InQuik system has allowed rapid, cost-effective replacement of many of these bridges, some of which are in very remote locations that are difficult to access, and which would be near impossible to use a precast design.
"InQuik bridges have helped to provide councils with resilient infrastructure, which can withstand floods, bushfires and future traffic loads for the next century or more."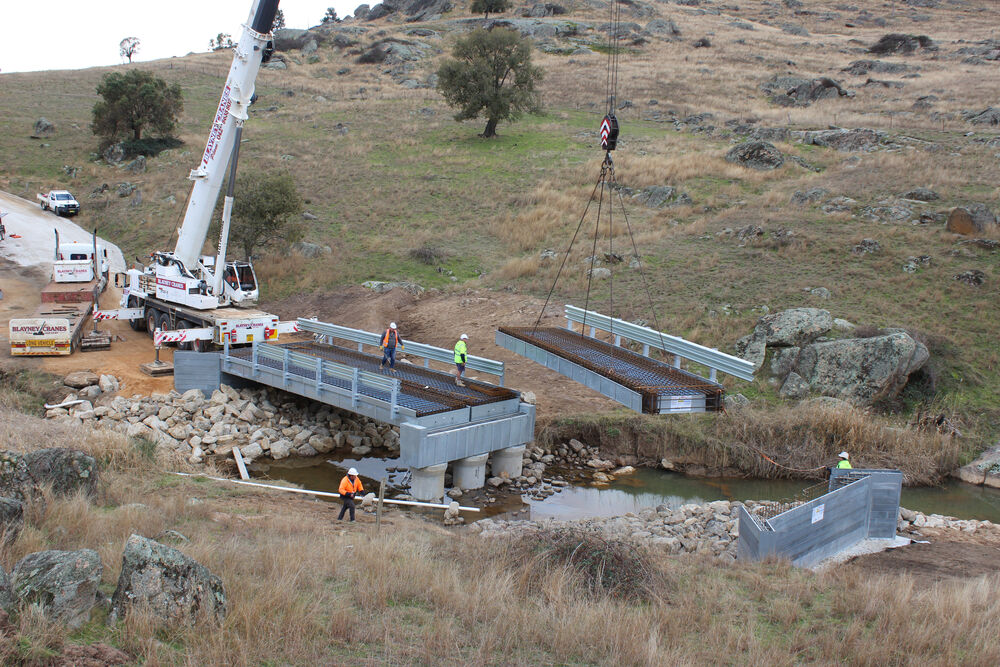 New horizons
With some success under its belt already, InQuik is now looking to new horizons, both internationally and in terms of the scope of its innovation. 
"Negotiations are already underway to introduce InQuik into three more continents," Hunter said. 
"Different countries appear to focus their interest on different benefits in the InQuik system, such as the ease of transportation and installation, or financial competitiveness in the market, or the ability to more easily ensure quality and long-term confidence in the structure, so InQuik could be a global solution for small bridge construction."
Hunter said the team is also exploring broader applications for the system, such as rail bridges, which are especially challenging considering the demanding load and fatigue requirements.
"I think it's safe to say that this bridge system is revolutionising the way that small bridges are constructed," he added.
Don't forget to tune in to the Pinnacles Awards Ceremony on 9 November to find out who will take home the Sir William Hudson Award.