Engineering has a diversity problem, and who better to discuss solutions to this challenge than a cross section of the global engineering community?
Engineers from around the world converged on Melbourne last week for the World Engineers Convention (WEC), and one of the main topics up for discussion was how the profession can improve diversity within its ranks – and in turn better reflect the communities it serves.
During her keynote speech, Lydia Gentle OAM, Engineering Manager for mining giant BHP, said diversity is so important in the engineering profession today.
To illustrate this point, she shared BHP's efforts to promote diversity within its ranks and how they have yielded tangible results. There is a clear business case for why more companies should strive for diversity, she said.
According to Gentle, the top 10 most diverse teams within BHP are also the top performing teams. Focusing on diversity has also meant that the skill set of employees within the company has broadened, bringing with it knowledge and expertise that would have been hard to obtain otherwise.
One interesting insight was how advances in technology have removed some of the barriers to more women entering engineering roles. For example, repositioning equipment for maintenance and automating parts of the process reduced the amount of physical strength or height required of a person to perform work at some of BHP's sites, which in turn saw more women taking up positions.
She also spoke of the company's efforts to rethink equipment design to be more inclusive, including the height of step ladders, the weight of hoses, the orientation of parts to be fitted and more. This led to a roundtable between female engineers and equipment suppliers to discuss small changes that can have a big impact.
She closed with a call to action for those in attendance, stating that there is now an imperative to change – and change quickly.
"The workforce expects more from us; they look for things like flexibility and serving an inspiring purpose," she said.
"What will your role be in this transformation?"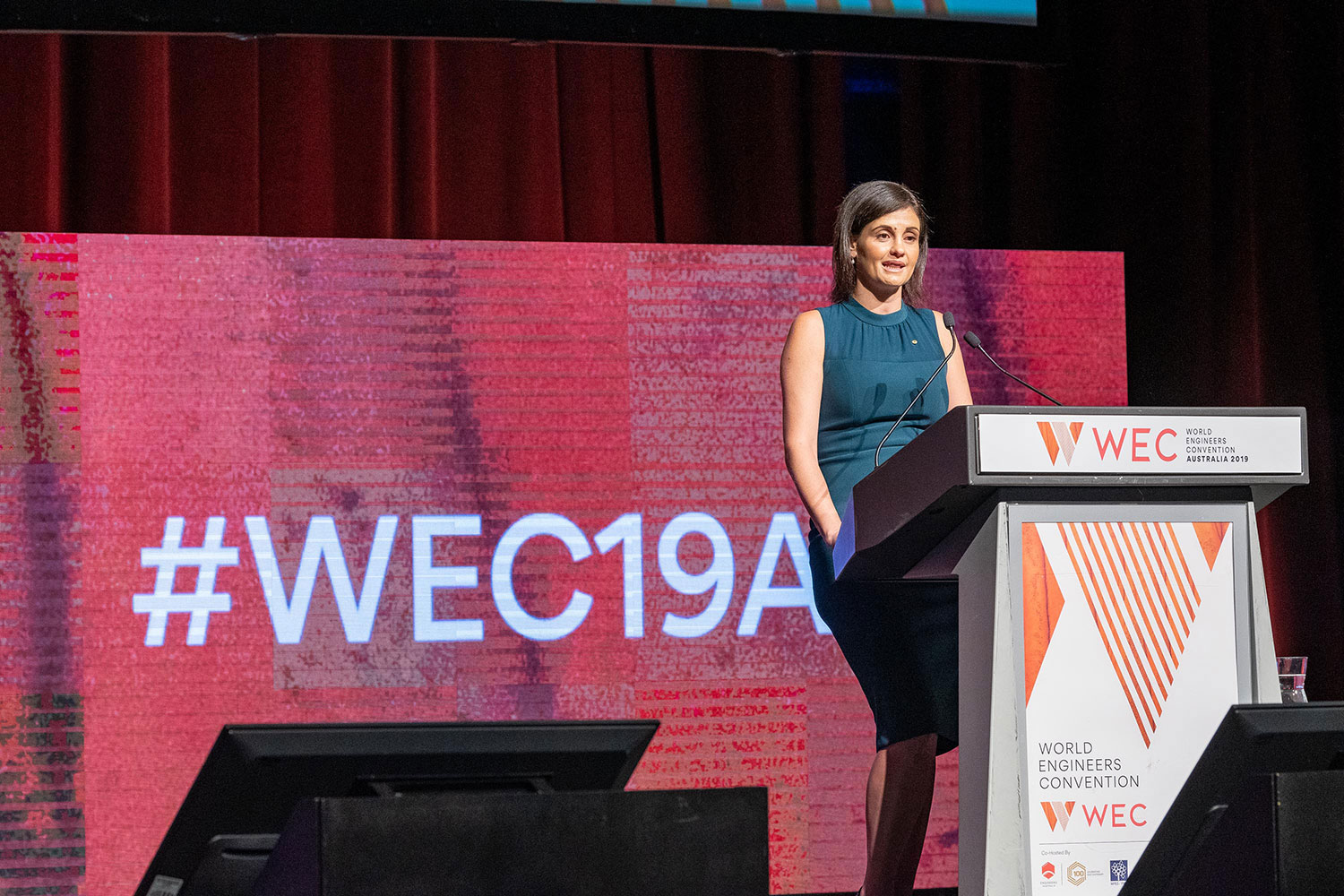 Small changes, big impact
The theme of diversity and inclusion in engineering was further dissected during a panel discussion on 'The Diversity Imperative', comprising professionals from New Zealand, Nigeria and India.
Creating diverse and inclusive workplaces can be a daunting task, so panelists presented the audience with insights into what their own organisations were doing to promote diversity, and provided delegates with some actionable ideas they could take back to their workplaces to continue the conversation.
Valerie Agberagba, Vice-President and Chair of the Committee for Women in Engineering with the Federation of African Engineering Organisations, suggested that attendees take advantage of the fact they are surrounded by engineers from a diverse range of backgrounds at the convention.
"We're all diverse in how we do our work, but we all have common problems," she said.
"We must be able to learn from one another."
Krishna Bodanapu, Managing Director and Chief Executive of Cyient, said it's important to focus on small changes. He gave the example of a board room at his company that only had a men's toilet attached. This sent the wrong message – that only men would be there, he said. Now, he's proud to say it has facilities for men and women.
"It's a small change, but years later there could be significant change from one small step," he said.
Susan Freeman-Greene, CEO of Engineering New Zealand, said as important as it is to look at the wider company culture, it's also important to look at yourself and your own biases.
"We all have biases, but finding out what they are is a good place to start, and then think about where they might pop up," she said.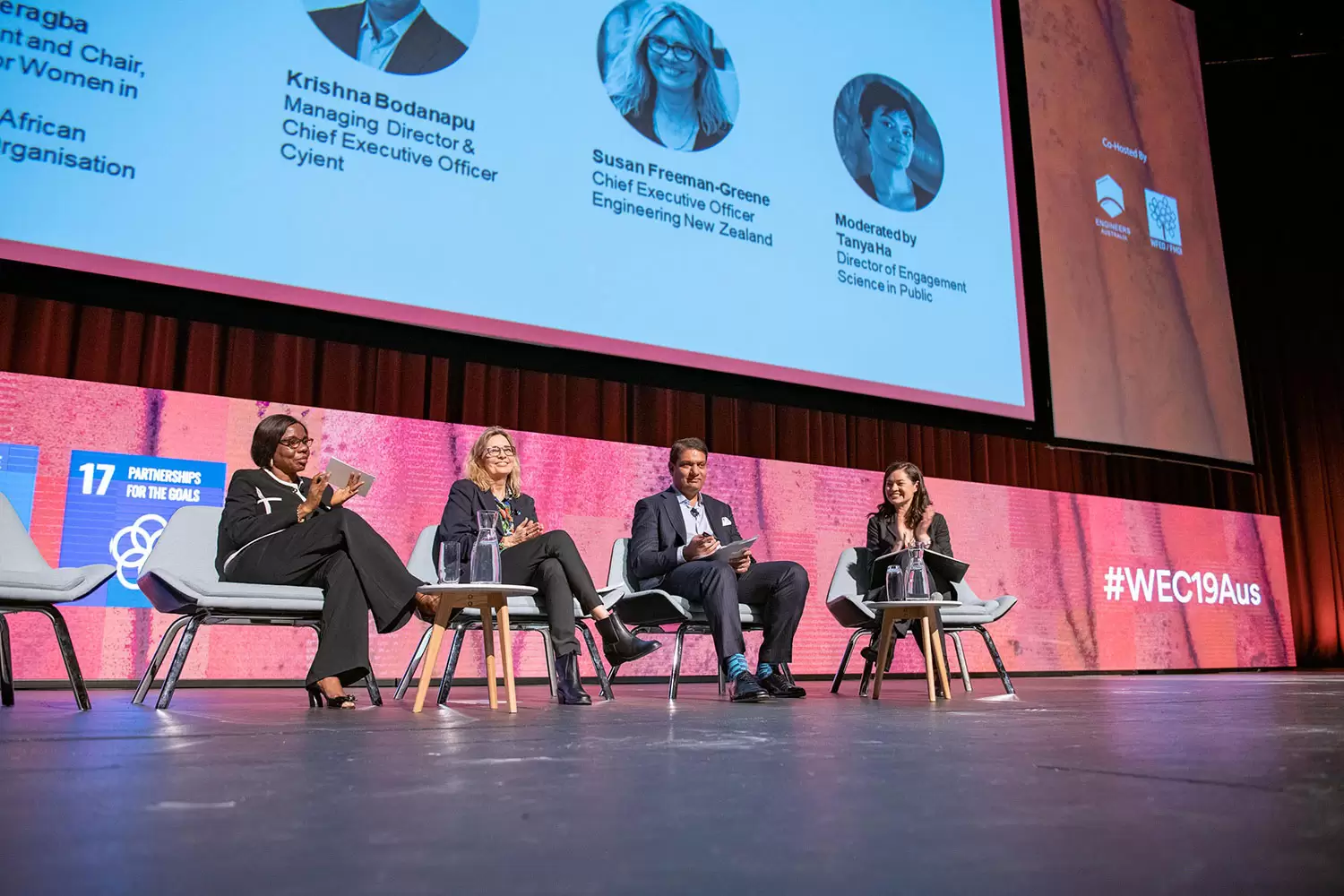 One audience member prefaced their question with a warning it was controversial: "Shouldn't we forget about labels and just focus on the right person for the right job?", they asked.
Bodanapu said it best: "Yes, but the system is not set up well to ensure that happens. The fact that we don't already have diversity means that the system is broken, so we have to take this approach."
"I'm not confident the process supports the best candidate coming through – if it was a fair process, we wouldn't be having this conversation," he continued.
About more than gender
A poll of WEC 2019 delegates during the panel discussion revealed that 36 per cent were most concerned about gender diversity within their engineering organisations. Age diversity came in second at 24 per cent, with cultural diversity at 16 per cent.
While many discussions of diversity in engineering focus on gender, diversity of culture and ethnicity is important as well. Allan Murray, Senior Manager – Indigenous Participation and Outcome for WSP Australia, told attendees during his presentation that it's time for a closer relationship between Aboriginal and Torres Strait Islander communities and Australian industry.
He shared his experience working with an Aboriginal Design Principles process for WSP's Southern Program Alliance (SPA). He said it has put this in practice by using Aboriginal design concepts on infrastructure.
The project took place in Boonwurrung country, and the diamond symbol representing the Boonwurrung, of the Kulin nation, became the preferred symbol for the project. WSP's Indigenous Specialist Services team took steps to make sure that their use of the symbol was respectful and considerate, and community consultation led to meaningful conversations about appropriate use of the design.
Murray said incorporating traditional designs was a way to combine engineering and architecture with Indigenous ingenuity and principles.
"It enhances the connection to place, and pays homage to the land," Murray said.
"To have the community involved is a great outcome."
Looking even further back to Indigenous engineering, Bill Jordan, Director of Bill Jordan & Associates Pty Ltd, spoke about the significance of one of Australia's earliest engineering feats: the eel traps of Budj Bim.
The site, a complex system of weirs, channels and races, has recently received UNESCO World Heritage listing. But for something that is more than 6000 years old, it took a while to be recognised for the feat it is, Jordan said.
He spoke of the early efforts to recognise the site in Australia as a place of significance. It received National Landmark status some years ago, which helped the bid for UNESCO World Heritage listing. Still, there are those who oppose applying the term 'engineering' to efforts like this, Jordan said.
"Defining it as engineering was a problem for some," he said, as its creators "didn't have four-year engineering degrees". But he said that's an extremely narrow and limited view, and only served to reinforce the idea that engineering only came to Australia with colonisation.
Murray echoed this thought, pointing to achievements like the boomerang as evidence of engineering thinking.
"I see my ancestors as engineers," he said.
"Their ability to transform raw materials into tools, and to see the potential for what can be done … that's engineering ingenuity."
Couldn't make it to the World Engineers Convention? Many of the sessions will be made available to stream in the next week. Watch this space for details.