For the engineers charged with bringing theme park rides to life, it's vital to balance intensity and safety.
How does an engineer create excitement, danger and fun?
More importantly, how does an engineer ensure these thrills are actually safe, meeting all regulations, even as the end user is speeding through the sky, gliding across water or perched hundreds of metres in the air? 
These are just a few of the challenges faced by Australia's amusement park designers and engineers, who work hard to bring some of the safest "danger" you can experience across the country. 
There are currently 35 operating roller coasters around Australia, with more than half of them in Queensland, as well as a raft of other amusement park rides across the country designed to entertain people. 
Each one has required a unique design and engineering approach to suit Australian conditions and regulations.
But who are the people building fun from the ground up?
Designing "danger"
The creative mind behind Australian design and strategy firm Atomiq is creative director Philip Drake. For him, the amusement and tourism industry has truly been a roller-coaster ride.
Drake's journey to become a major creative mind behind Australia's rides started during the construction of one of the country's largest theme parks.
Beginning his career as a production designer in the film industry, Drake got his first taste of designing for amusement parks when the original Movie World began construction on the Gold Coast. For that project, film designers were asked to come on board to make the site look like the sets on a studio backlot. 
"I spent about six months working on Movie World and became very interested in theme park design," Drake said. 
"About five years later when I was ready for a career change, I started looking for theme park design projects as a freelancer, eventually forming Atomiq Design — which has led me to working on large projects across Australia, New Zealand and Asia."
These projects include The Claw, Tower of Terror II and the horror-themed Buzzsaw at Dreamworld, as well as the globe's tallest and steepest Tornado slide at Perth's Adventure World.
"We might start with an existing ride design in mind or work with multiple types of engineers to create something completely new."
Drake describes his job as creating problems so that engineers can create the solutions. Over his career, he has developed a number of these problems, and evolving technology has enabled him to take different approaches to the rides.
Walking through his creative process for designing a ride, Drake said he starts with a conception of the overall ride experience. 
"We might start with an existing ride design in mind or work with multiple types of engineers to create something completely new," he said. "The challenges are many and varied as you go through the process.
"Firstly, translating an abstract experience concept into physical objects and movements is a big step. We have to start by conceiving the ride experience and then figuring out how it can be achieved.
"A big challenge, especially for the engineers, is making whatever crazy stuff we designers come up with consistently repeatable every three minutes, 10 hours a day, 364 days a year. We need to work closely together and often think outside the box."
He said that while the foundations for creating fun are the same, he is increasingly combining diverse technologies within a single ride. 
"While many of the core principals have stayed the same, such as setting out to engage, entertain and thrill, there is definitely a larger toolkit now to consider," Drake said. 
"In the early days, this was mainly scenery, physical effects and perhaps simple mechanics — and that is often still the right way to go for some rides."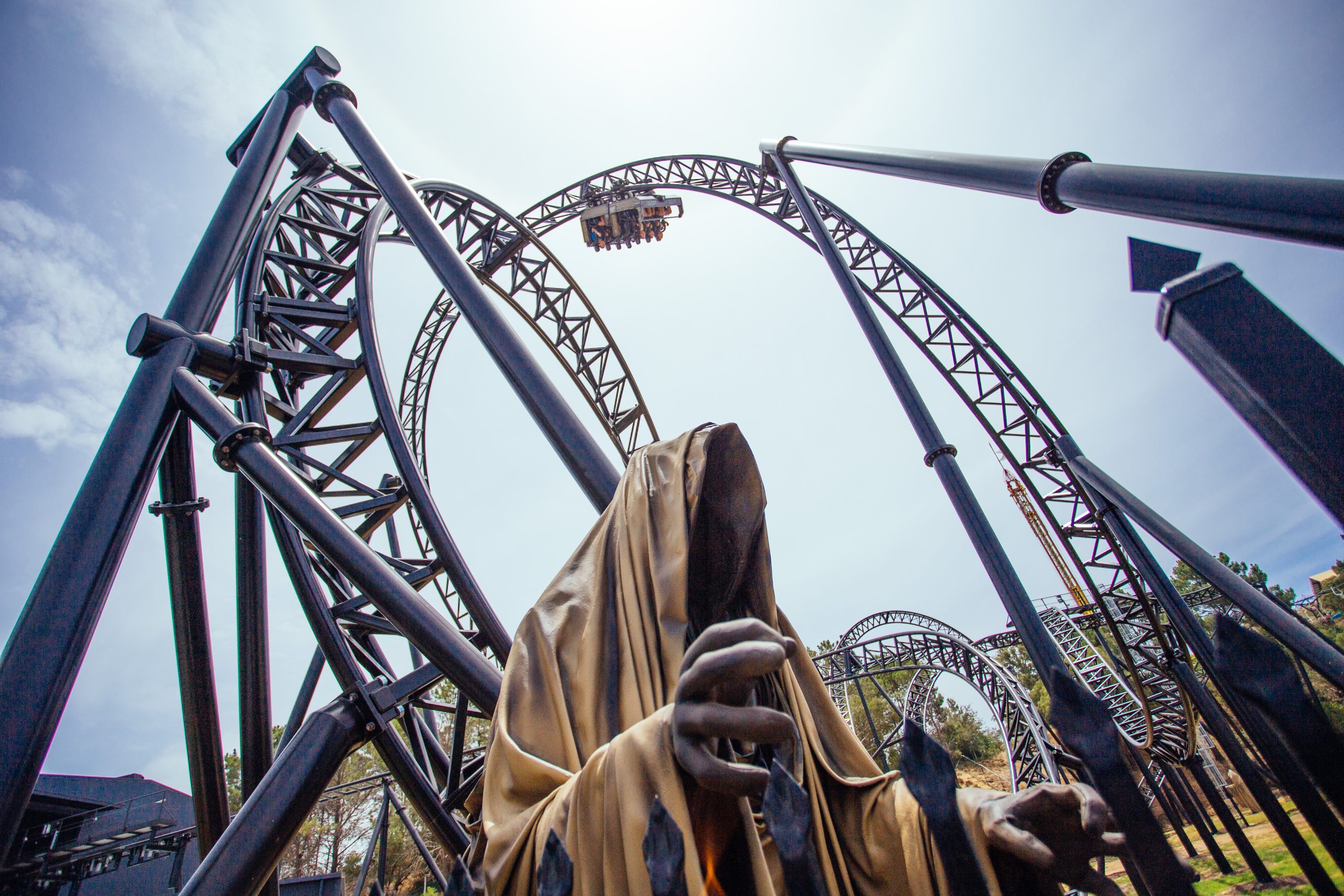 Designers today, however, incorporate virtual reality into roller coasters, or use trackless ride vehicles with story choice options. 
"Also, rides that have multiple experiences built in, either through variable routes, variable media, or other customisable aspects," Drake added. 
"There will always be a place for keeping it simple and telling a good story; however, now we consider if we can, or need to, integrate more impactful elements such as large media screens, lighting effects, movement simulation, animatronics, or even complex ride movements."
One increasingly important aspect in designing for Australian theme parks is water usage on rides, particularly aquatic experiences. Drake said engineers have adjusted their thinking on water-based experiences. 
One technique uses reticulating systems rather than an inbound source to minimise water. Another approach works closely with engineers to control and manage run-off and rainwater to minimise loads on filtration systems.  
"I don't know of any water park these days who is not extremely conscious of water wastage and upgrading systems all the time to minimise their use," he added.
Staying safe
Amusement park rides are intricate pieces of infrastructure — machinery  that operates on a number of different systems and requires all the elements working in conjunction — there are multiple potential points of failure. 
The likelihood of unsafe incidents is low; the International Association of Amusement Parks and Attractions puts the odds of serious injury on fixed-site rides at US amusement parks at about one in 15.5 million. 
Even so, injuries and even fatal accidents occur. Between 2001 and 2016, there were 111 serious amusement ride incidents in Australia, most caused by operator error. 
In 2014, there was a fatal incident at the Royal Adelaide Show and four people died on a ride at Dreamworld in 2016.
As recently as January, Movie World shut two rides — Doomsday and the Green Lantern — after issues were uncovered. A week earlier, riders had been briefly stuck on Sea World's Leviathan ride after it stalled. 
"In theme park design, core safety trumps all other concerns, and sometimes things are just not possible due to practical and safety matters."
The Leviathan incident came after the ride closed temporarily only days following its opening. Australia's — and in particular Queensland's — amusement park ride safety standards have since been overhauled.
Following a best-practice review in Queensland, new rules were introduced, comprising mandatory major inspections for amusement devices, such as rides.
The people operating specified amusement devices are now required to be properly trained, qualified or experienced, and details of statutory notices are to be recorded in log books. Theme parks must also apply a licensing regime and prepare safety cases similar to the regulatory models of major hazard facilities.
Mitigating risk
"In theme park design, core safety trumps all other concerns," Drake said. "Sometimes things are just not possible due to practical and safety matters."
He said when it comes to the design phase, if there is a potential for machinery that is properly operated to cause significant injury, the design and engineering are altered to mitigate the risk or the project will not go ahead.
This may include safety barriers, slower speeds, greater clearances for the ride, or multiple sensors and control systems.
Drake said that these control systems have become a lot more sophisticated and this allows everything to be deployed in a far more tightly orchestrated experience, further aiding safety.
"As a designer, I know that no matter what fantastic ride experience we come up with, there's a line that cannot be crossed and, apart from simple common sense, we rely on the engineers to interrogate, refine and challenge what can be done, and then to let us know exactly where that line is," he said.
"As far as I know, most companies in Australia adopt the highest possible standards of anywhere in the world.
"If there's no specific Australian code or standard for something in a theme park, we would often be looking at British, US or German standards, then mirroring the one with the higher levels."