Advanced artificial intelligence, sensing and mobility tech for robots, and developments that could give people "superhuman capabilities" are among the trends pinpointed in this year's Gartner hype cycle.
The hype cycle is released annually by global business research and advisory company Gartner. The 2019 iteration highlights the emerging technologies that will have a significant impact on business and society over the coming five to 10 years.
"Technology innovation is the key to competitive differentiation and is transforming many industries," added Gartner Research Vice President Brian Burke.
This year's hype cycle focuses on emerging technologies that have not featured in their previous reports. Others, like augmented reality, carbon nanotubes and quantum computing, have been dropped. According to Gartner, while these technologies are still important, some have become integral to business operations and are no longer emerging, or have been featured for multiple years.
Out of the 29 technologies featured, 21 are new this year. The cycle highlights five major trends: sensing and mobility; technologies that augment human capabilities; post-classical computing and communications; digital ecosystems; and advanced artificial intelligence (AI) and data analytics.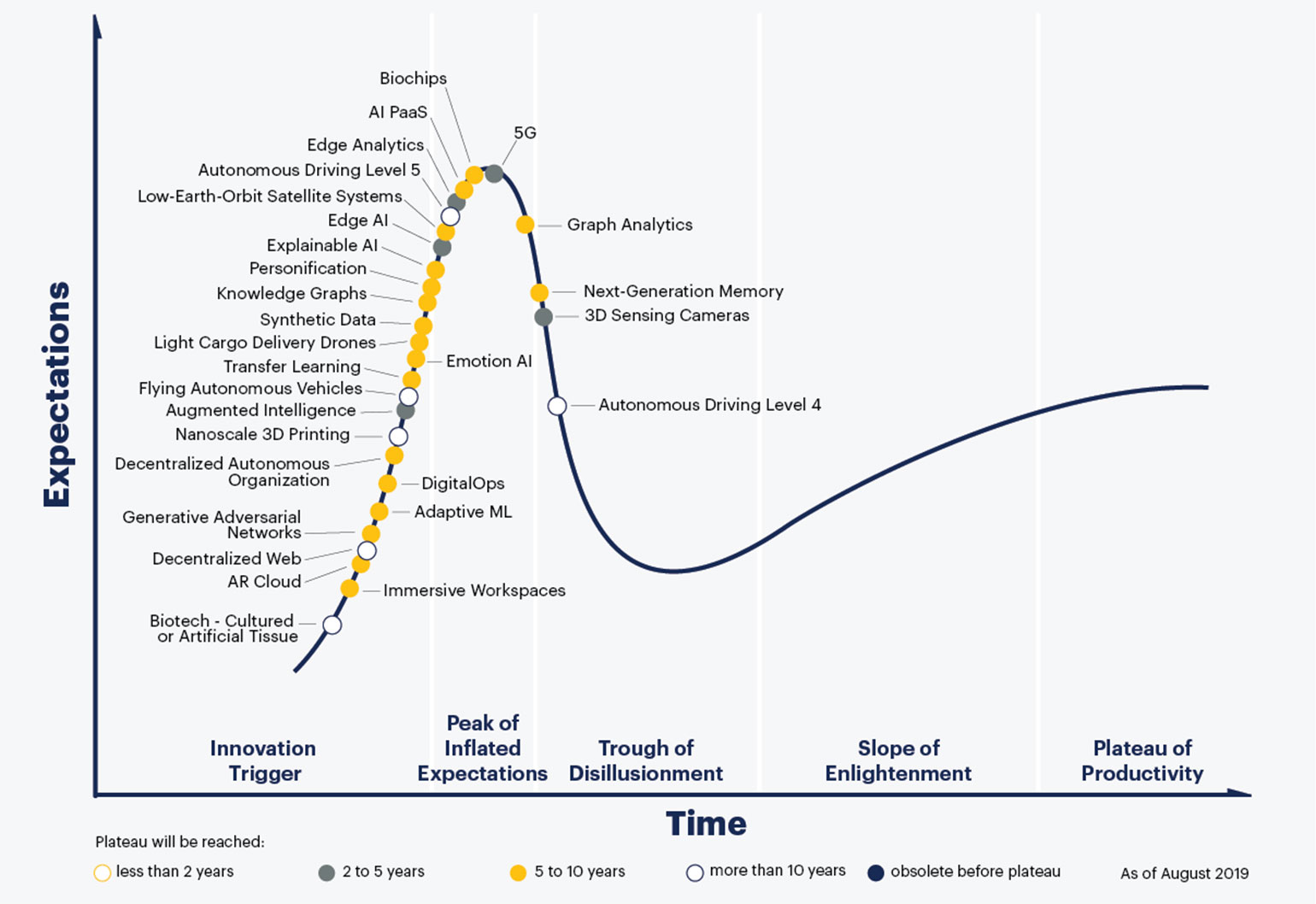 Towards the superhuman
The 2019 Gartner cycle states that some emerging technologies will provide people with "superhuman capabilities" by enhancing their cognitive and physical abilities.
"These technologies will also eventually provide a more seamless experience that improves the health, intelligence and strength of humans," Gartner stated.
Among the technologies featured was emotion artificial intelligence, which has the potential to detect emotions through voice analysis. This could help put a lid on things like insurance fraud, which the FBI estimates costs the US industry around US$40 billion (AU$58.7 billion) each year.
It could also help with more accurate diagnoses of dementia, and adapting teaching strategies to the emotional state of students.
Other featured technologies in this category include biochips, augmented intelligence, immersive workspaces and biotechnological advances such as cultured or artificial tissue.
Building deeper insights and taking computing to the next level
In the advanced AI and analytics category, the cycle highlighted technologies including adaptive machine learning, edge AI and analytics, generative adversarial networks, explainable AI and graph analytics.
Gartner said that new classes of algorithms and data science are leading to new capabilities, which enable deeper insights, predictions and recommendations for industry and business.
They also tapped emerging computing and communications tech such as 5G, next generation memory, nanoscale 3D printing and Low Earth Orbit satellite systems in the post-classical compute and comms category.
Under digital ecosystems was a range of tech including synthetic data, knowledge graphs, decentralised web and decentralised autonomous organisations.
The final category was sensing and mobility, which included 3D-sensing cameras, artificial reality cloud, autonomous driving levels 4 and 5, light cargo delivery drones and flying autonomous vehicles.
Gartner said as sensing technology continues to evolve, it will aid more advanced technologies like the Internet of Things (IoT). 
"These sensors also collect abundant data, which can lead to insights that are applicable across a range of scenarios and industries," the report said.