Victoria's ongoing efforts to remove 110 congested level crossings from the Melbourne rail network have received international recognition, with two Australian consortiums taking home first place last week at the Bentley 2023 Going Digital Awards in Infrastructure.
WSP Australia's Southern Program Alliance claimed the prize for the Bridges and Tunnels category, while Laing O'Rourke's South Eastern Program Alliance (SEPA) was awarded first place in Construction.
Held this year in Singapore, the Bentley Going Digital Awards recognise digital advancements in infrastructure across 12 categories, with nominations coming from 235 organisations encompassing 51 countries.
Level crossing removals
Laing O'Rourke's SEPA won its award for the Surrey Hills Level Crossing Removal Project, which saw a new station built in Melbourne's east, along with a new 1.7 km rail trench that required excavating 200,000 m3 of earthworks over a 93-day shutdown.
The team was recognised for the complexity and scale of the works, which involved using Bentley construction management software and digital 34D planning to simulate onsite works and reduce the risk of scheduling errors.
"We've worked pretty hard over the last nearly three years on SEPA trying to implement these new digital initiatives," said Laing O'Rourke's SEPA Digital Engineering Manager Stephen Corney.
"It's definitely giving back to the community: a safer area to live in and to commute into, not having to drive across these level crossings anymore. There's new public spaces created with these projects as well; it gives the whole area a sustainable environmental outcome."
Corney said the SEPA project saw Laing O'Rourke adopt a number of digital tools in the Australia for the first time.
"Using drones for surveying purposes limit[ed] the amount of surveyors we needed on site, and then also using the drones for video capture to show the progress and also for health and safety," he said.
"The other aspect was the machine control side of it. We'd created 3D models for the majority of the earthwork, so the whole trench was modelled in 3D. It wasn't just a typical survey model; it was actually modelled in 3D and it was coordinated with all the other models on the project."
"A software solution was required that was versatile, dynamic and centralised to handle design challenges."
WSP's Southern Program Alliance, meanwhile, won its category for the Parkdale level crossing removal project, which used digital twins in its construction of a new viaduct and station on Melbourne's Frankston line.
"There are 20,000 vehicles travelling through this crossing each day; the boom gates are down for 44 minutes in the morning peak time and 24 trains run during peak time," said Jaimin Patel, WSP Senior Structural Technologist.
"It's a brownfield construction and a very narrow corridor, and there are a lot of heritage buildings that we don't want to touch."
Patel said it was a challenge to work on a multidisciplinary project that involved multiple teams with varying expertise.
"To meet these challenges, a software solution was required that was versatile, dynamic and centralised to handle design challenges," he said.
"The team was able to work together seamlessly, and the software solution provided a streamlined process that enabled the team to meet the project objectives.
Patel also highlighted the contribution the models made to the teams' community outreach efforts.
"The biggest help was setting up these digital models and engaging with the community to show it what it would look like, and then convince them that there wouldn't be any major shadowing effect on their houses or their shops," he said.
"This project will leave an intergenerational legacy with impacts that extend far beyond the rail corridor itself —  it will change the way people move around."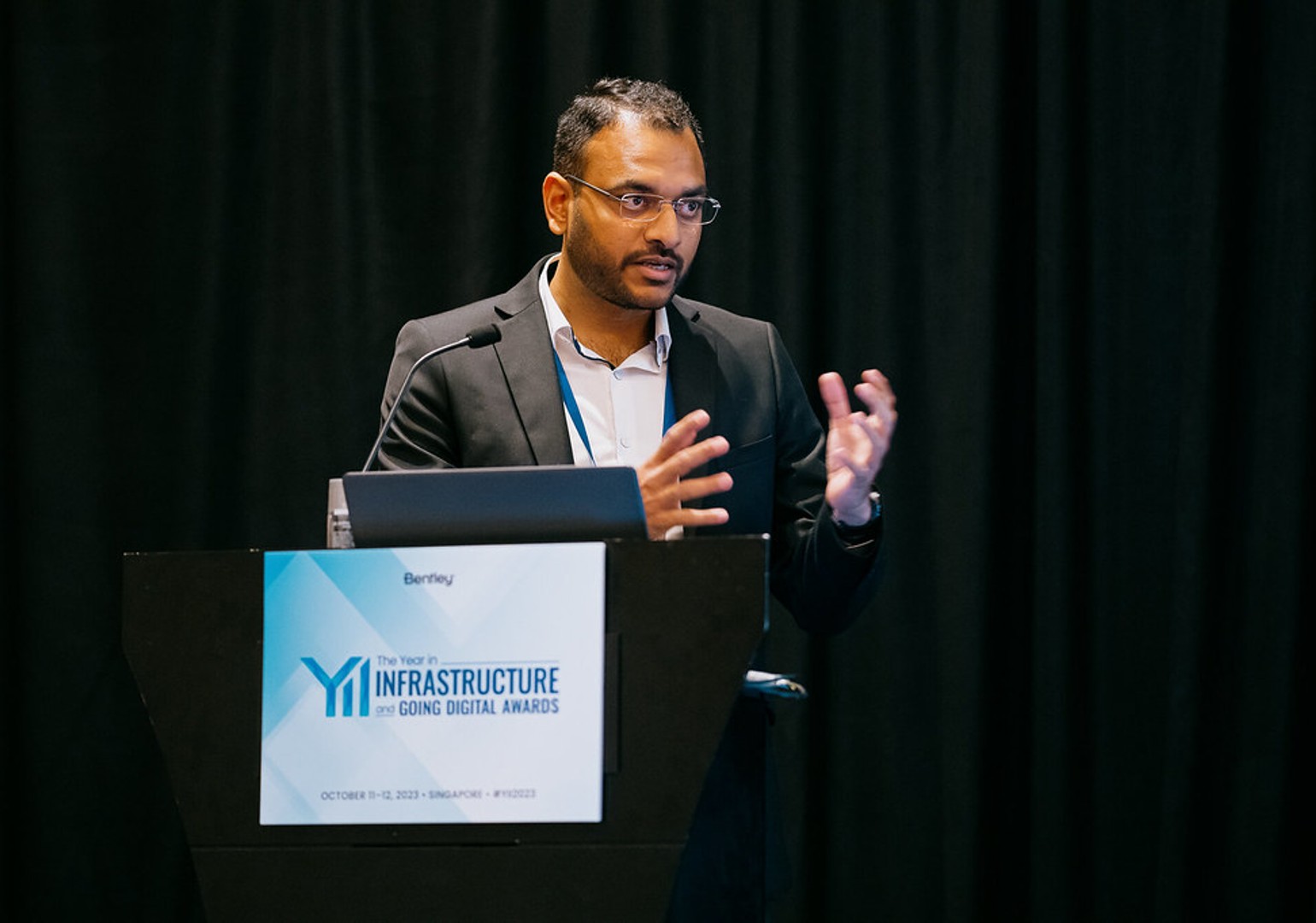 Recognition for port transformations 
Along with the two winners, the Port Authority of New South Wales, which was a finalist in the Facilities, Campuses and Cities category, was one of 15 entrants to be recognised by Bentley chief executive Greg Bentley and executive vice president Keith Bentley with Founders' Honours.
 "Their advancement in Going Digital is about an iTwin experience–digital twin environment, bringing together representations of their physical assets in what they call an 'intelligent hub'," Greg Bentley said.
"I think that these asset owners are setting the pace for infrastructure intelligence." 
WSP also received Founders' Honours for its Melbourne Port Rail Transformation Project, which was nominated in the Enterprise Engineering category.
"This is really about a rail transformation project to get trucks off the road and services into the existing rail network; building a new rail terminal; and using the existing rail network to get more efficiency into the way the port operates," said Henry Okraglik, Global Director Digital of WSP Australia.
"We reckon we saved about 200 hours just on the cross-section drawings and about 100 hours by connecting and synchronising ProjectWise and iModel and maintaining our ISO 19650 compliance, which was mandatory for that project."
Earlier this year, the Southern Program Alliance was nominated as a finalist in the Australian Construction Achievement Awards for its work on the Edithvale, Chelsea and Bonbeach Level Crossing Removal Project.
See all Going Digital award winners at the Bentley website.