Australians Rose Amal and Marita Cheng have been named two of the world's most highly influential women engineers, in a list powered by an advanced machine-learning engine.
The engineers joined three former NASA astronauts and a Nobel Prize winner on the list, which was compiled by Academic Influence, an organisation founded by academics and data scientists to provide objective, non-gameable influence-based rankings.
Released in celebration of International Women in Engineering Day on 23 June, the list of 35 women also included Dr Mae Jemison, keynote speaker at Engineers Australia's International Women's Day event this year.
Featured for her achievements in the design and development of nanomaterials and systems for chemical and solar energy conversion was University of New South Wales chemical engineer Professor Rose Amal. 
She has conducted world-leading research in the fields of fine particle technology, photocatalysis and functional nanomaterials, which have led to important developments in treating water, purifying the air and generating renewable hydrogen. 
Amal has served as the inaugural Director of the Centre for Energy Research and Policy Analysis, Chair of the ARC-ERA Research Evaluation Committee in the Engineering and Environmental Sciences Cluster, and Director of the ARC Centre of Excellence for Functional Nanomaterials. 
She was named one of Engineers Australia's Top 100 Most Influential Engineers three times and was awarded a Companion of the Order of Australia in 2018. Most recently, she was honoured as the 2019 New South Wales Scientist of the Year.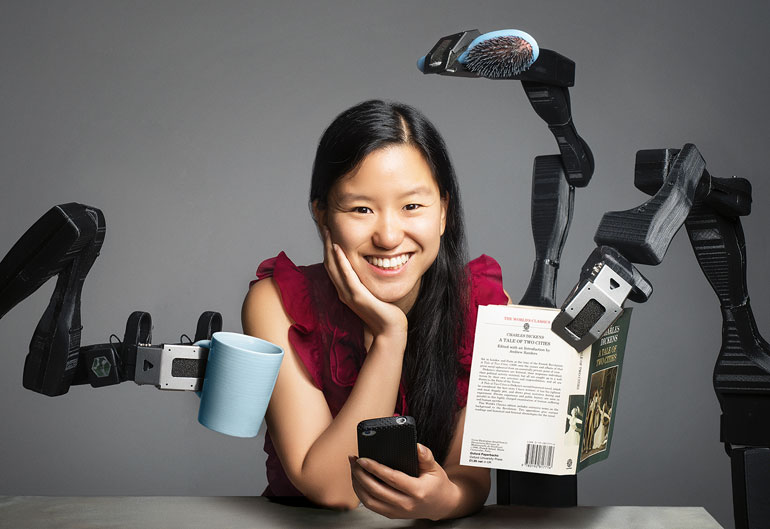 Robotics whizz and technology entrepreneur Marita Cheng specialises in telepresence robots — remote-controlled, wheeled devices with wireless internet connectivity that are changing the lives of disabled people.
Growing up in public housing in Cairns with her brother and mum, Cheng went on to be inducted as the youngest Member of the Order of Australia in 2019, named the 2012 Young Australian of the Year, and recognised internationally by Forbes as one of the World's Top 50 Women In Tech in 2018.
Cheng is the founder of Robogals, which encourages young women to pursue STEM fields, as well as start-up robotics company Aubot. She also co-founded Aipoly, an app to assist blind people to recognise objects using their mobile phones. 
Machine rankings
Amal, Cheng and Jemison were included on the list devised by machine-learning technology developed with funding from the United States' Defense Advanced Research Projects Agency.
The algorithm accessed open-source data from billions of continuously updated data points in sources including Wikipedia and CrossRef, which reference papers, chapters, books and citations to the work of individual researchers around the world.
According to those behind Academic Influence, the method is not simply a popularity contest. It focuses on the intersection of name mentions and discipline mentions, so individuals are credited with "hits" only when their names also intersect with mentions of their field. Combined with other data, including the reach of their institution, the algorithm calculates an influence "score" for the researchers which determines their ranking.
View the full list of highly influential women in engineering here.