In the wake of a pandemic that has changed how many people work, a major transport project in Melbourne's south east has successfully used digital engineering (DE) to achieve world-leading results. 
That project is the $1 billion Cranbourne Line Upgrade, being delivered under the umbrella of Victoria's Level Crossing Removal Project, which involves the removal of 75 dangerous and congested level crossings by 2025.
The Cranbourne Line's current sole track is the legacy of a time when the suburb — about 50 kilometres from Melbourne's CBD — was more country town than booming population hub. Work is underway to duplicate the line, allowing trains to run every 10 minutes.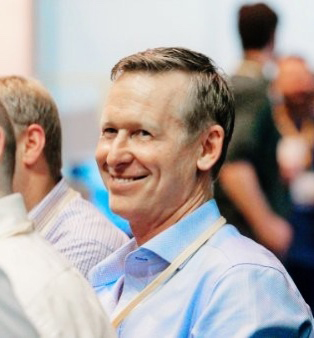 "DE continues to revolutionise the construction industry, as the software evolves, enabling more collaborative and productive methods of project delivery," Don Cameron, Digital Engineering Manager for the Western Program Alliance and Cranbourne Line Upgrade, told create.
"It uses information-rich models, which are used to create technical drawings and specifications, 4D construction schedules and even terrain-mapping drone imagery, and enables a holistic view of any project."
Cameron said it is a highly technical, not just visual, exercise with each component having its own dataset and, as the design or construction methodology changes, adjustments can be made. 
"With so many different types of specialists involved, from engineers to environmental and construction planning specialists, it's an enormous boon to be able to translate data sets into a common — and powerful — language," he said.
Linking time, cost and design digitally 
Cameron, who is on the board of buildingSMART Australasia, said something that sets the Cranbourne Line Upgrade team apart from other DE projects is the collaborative use of 4D modelling.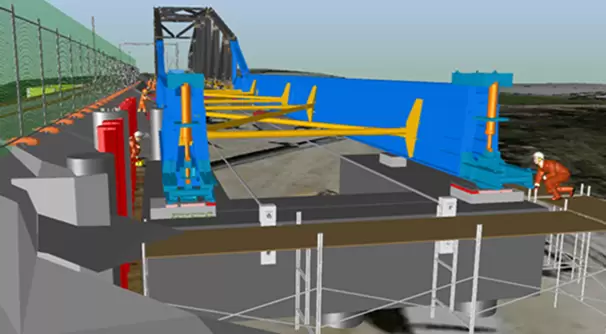 This refers to time linked models that show how the structure is taking shape over both time and space, and is something that allows for deep day-to-day collaboration.  
"Commonly, teams outsource the modelling to create point-in-time versions, but our team members created their own continuous feedback loop that allows everyone to respond and review actual engineering designs via an online platform," Cameron said.
Other DE techniques used by the team on the project have included GIS mapping tools that allow data to be generated for a discrete land area; issues tracking software like Revizto that can help designers and construction teams coordinate work; and augmented reality that allows team members to view overlay models and information out on location, via a tablet or virtual reality goggles. 
"All this helped us with procurement, re-adjustment, cost-planning and responding to unexpected events like COVID-19 that can interrupt usual supply chains," Cameron said.
"It was about the holy trinity: time, cost and design, and linking them all together."
"It was about the holy trinity: time, cost and design, and linking them all together."
Pushing the technological boundaries 
Cameron is particularly proud of the team's work on the Eumemmerring Creek rail bridge in the industrial suburb of Dandenong South, which forms part of track duplication works between Dandenong and Cranbourne. 
It was on this project they were able to push the boundaries of DE to refine designs and construction methodology.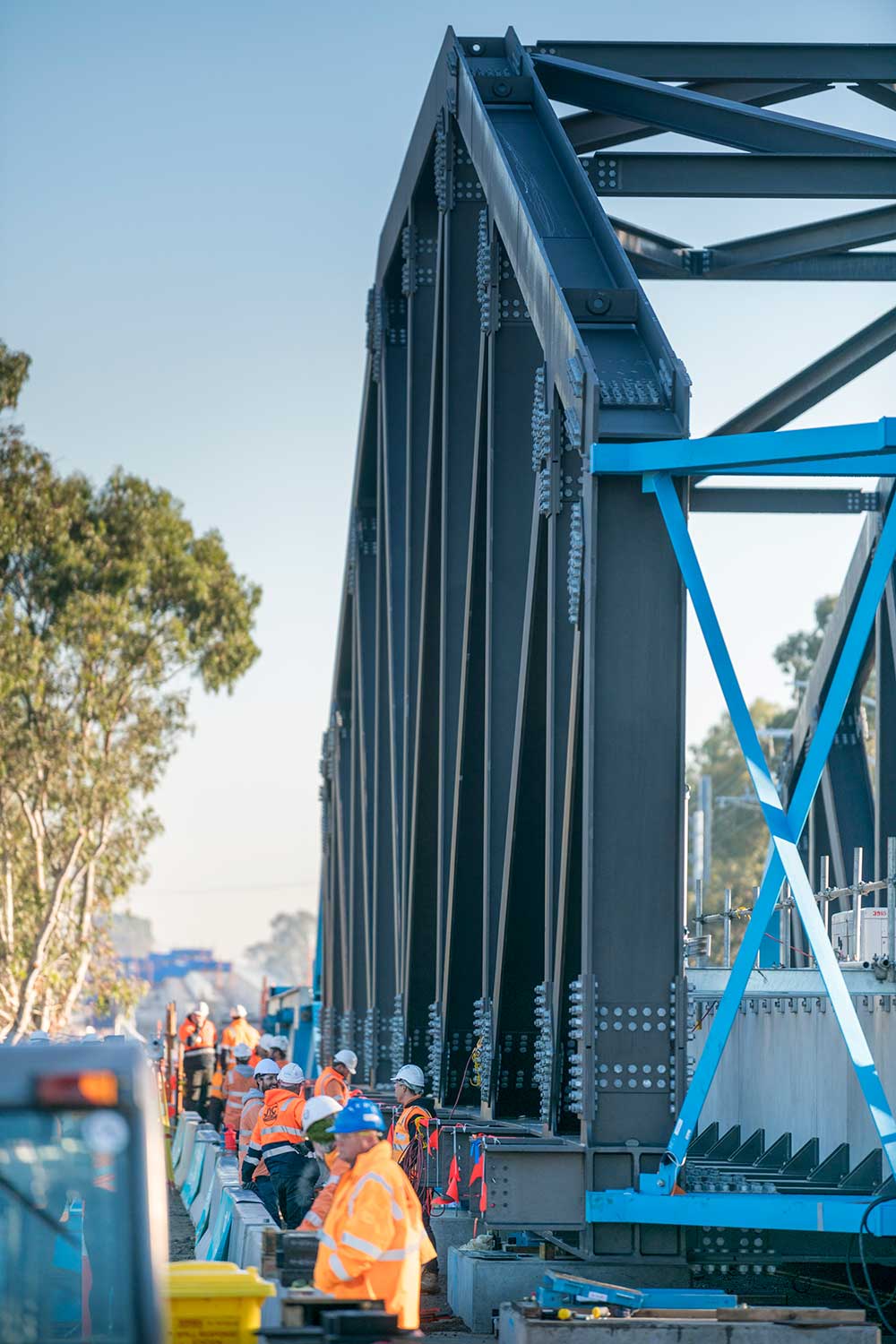 A highly customised solution was needed to ensure the bridge construction and subsequent launch could be achieved without disturbing sensitive vegetation within the waterway.  
"The construction and engineering teams used DE to make an early analysis of the components, and what sort of equipment was needed in transporting all elements to the site, as well as coordinating how it was assembled," Cameron said.
And 4D modelling allowed them to identify and rectify early problems, including a clash between temporary and permanent retaining walls, as well as signalling cables and wall panels.
"The 4D planning exercise has been a game changer in helping the design, engineering and construction teams achieve an authentic digital rehearsal," said Rafael Vendrame, 4D Planner and team member on the project.
After months of painstaking planning, a 'virtual launch' of the 63-metre, 340-tonne steel bridge structure allowed the team to check every element of the design and construction before the real bridge launch occurred. 
While the future possibilities for DE are limitless, the field is reliant on professionals who are willing to push the boundaries and explore the potential the technologies have to offer, Cameron added.