Solving the world's great humanitarian problems is high on the agenda for the global STEM community, and a recent hackathon at the University of Sydney showed that this is a key priority for the next generation of engineering students.
Over the weekend of 24 to 26 July, some 144 university students from 19 Australian universities participated in the RedR Ron Johnston Rapid Response Hackathon, hosted by The Warren Centre for Advanced Engineering as part of the Humanitarian Innovation Awards. 
The students, who were mostly engaged in STEM fields, were placed into groups and tasked with engineering cutting-edge solutions that could save lives and make a positive impact on people around the world.
The winning entry, titled H2ArchipelagO, was the brainchild of students Alex Hofmann (Monash University), Allan Soo (University of Technology Sydney), Ben Hofmann and James Hurst (Australian National University) and Emily Unewisse (University of Adelaide).
They took on the challenge question: how might we efficiently and effectively undertake asset maintenance and operation of water infrastructure for remote, dispersed and isolated populations? 
Their solution was a simple water filtration system that would teach primary school children in a remote village in Vanuatu how to purify drinking water. The 'Super Sand School Initiative' uses layers of material, such as gravel, coarse sand, charcoal, fine sand and cloth to filter out pathogens and solid bodies. Their small-scale concept model can be recreated by anyone, anywhere in the world, using locally sourced materials. 
Allan Soo, a mechanical engineering and business management student, said he was able to apply his research speciality of reverse osmosis membrane distillation technologies to the challenge.
"I understand the economic side of water dissemination and treatment technologies, and know that we're talking about very expensive infrastructure in a developing community," he explained.
"We had to go back to the basics of water and salination, but in the end that helped us pivot through a variety of ideas and then ultimately we came to a solution."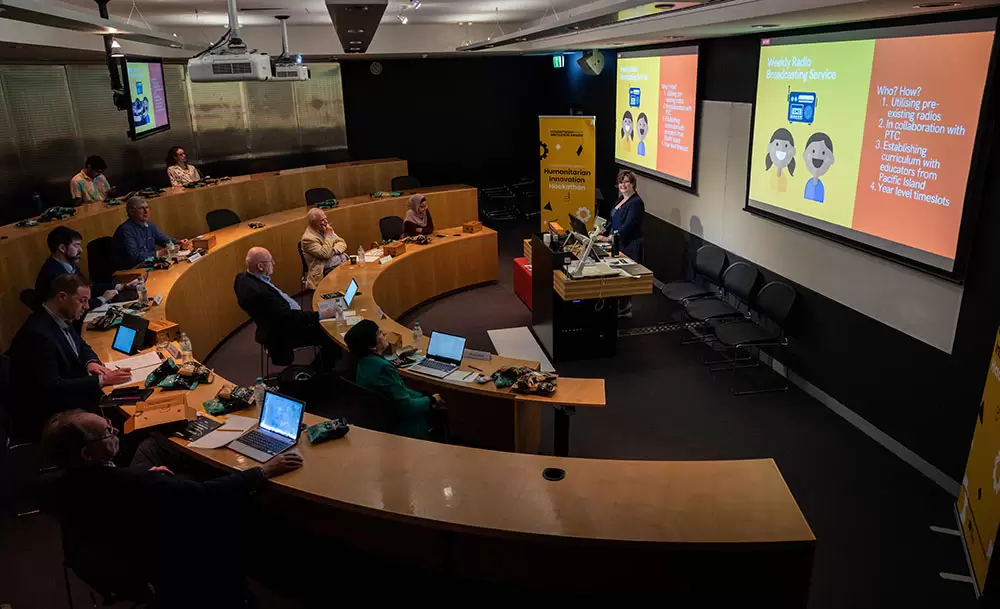 Teammate Ben Hofmann, who studies engineering and economics majoring in mechatronics, added that a key challenge in the ideas process was coming up with solutions for people who live in markedly different conditions to most Australians.
"We tried our best to relate to people, and interpret how they would interact with our concept," he said. 
"We broke down what the short term and long term goals would be, and selected the design that we thought had the most promise."
For Emily Unewisse, the success of the project was not only in creating the winning design, but in seeing a world of possibilities open up for the largely first-year students.
"We got to see the real world applications of doing engineering," she said. 
"When you go into your degree, you're doing all your assignments and you can't really see what it's all for. This really said, 'here's how we can make an impact in the world and have a positive impact'."
Showcasing the power of engineering
Dr Ashley Brinson FIEAust, executive director at The Warren Centre, agreed that the hackathon brought the profession to life for students.
"It's about changing the imagination of students, and showing how engineering has the power to change the world," he told create. 
Brinson said that the pandemic had brought the event a set of its own unique challenges to solve. They were not able to hold the hackathon in person, but moved it to a digital platform, as "the humanitarian health crisis demanded that we proceed." 
"The hackathon was about changing the imagination of students, and showing how engineering has the power to change the world."
Brinson added that the weekend had the power to challenge and change the viewpoints of mentors and judges about the nature of the problems engineers are solving.
"The rising generation of innovator-humanitarians are very interested in progressive ideas," he said.
"They're concerned about climate change and gender equity and lifting up all people so that they can participate in society."
Judges including Sir Peter Cosgrove and Engineers Australia CEO Dr Bronwyn Evans looked for entries that addressed the issue using engineering skills and humanitarian know-how in a novel, sustainable and practical way.
"The teams came up with very creative and sustainable solutions and demonstrated great resilience themselves in working remotely with team members that they had just met at the start of the Hackathon," said judge Dr Marlene Kanga AM HonFIEAust.
"There was a good spread of entries across all the themes and a clever integration of modern communication systems, including Wi-Fi into the solutions that were developed," she said. 
"The presentations were excellent and juxtaposed the difficult living conditions with the contented and happy lives of the Pacific Island people."