For Australia to rebound over the coming years, the focus will not be on one industry or sector, but on the application of engineers' enormous knowledge, best-in-class skills and powerful capabilities.
Before the COVID-19 interruption, there were some very encouraging, real-world examples of how technology, collaboration and smart engineering were enabling businesses to thrive in a competitive environment. 
One such case is the Evolve Group, Australia's leading plastics manufacturer. When Ty Hermans took over the business in the mid-2000s, "re-shoring" was not even a business term, but he did it anyway. 
By the late 2010s, Evolve Group, using advanced robotics and plastic injection moulding machinery, and run by a highly skilled team of designers and engineers, produced goods in Brisbane at a cost competitive with China. And they didn't have any of the supply chain issues, foreign exchange risk, problems with negotiations of trading terms or import hassles that the old version of the business once had.
They recently partnered with another Australian business known as the Seabin Project when it reshored their production from Europe. The Seabin Project designs "bins" that catch and store floating debris from the surface of lakes, harbours, bays and the ocean.
The refuse collected by the Seabin Project also has the potential to be recycled into valuable raw materials for other manufacturers. 
Scientia Professor Veena Sahajwalla, an internationally renowned expert in the field of recycling science and founding Director of the Centre for Sustainable Materials Research and Technology at the University of New South Wales, is leading the charge in the production, via recycling, of a new generation of green materials.
This all comes together to form the perfect image of the engineering, research and development, design, collaboration and entrepreneurial talent that Australia has in spades, says Dr Jens Goennemann, Managing Director of the Advanced Manufacturing Growth Centre.
It's also an excellent example of the circular economy we will need to develop as we navigate our way out of the COVID-19 crisis. 
Plotting our way out
When defining the role and value of engineers during Australia's upcoming recovery, Nev Power FIEAust CPEng, Chair of the National COVID-19 Coordination Commission (NCCC), said it's less about the industry engineers are in and more about their unique and vital set of skills.
"I think the role of engineers in the recovery is diverse and critical," said Power, who is also Chairman of Perth Airport. 
"My definition of that role comes from something said by one of my bosses a long time ago. They said an engineer should be able to do with 50 cents what anybody else can do with one dollar.
"It's absolutely true that for us to come out of the coronavirus with globally competitive, commercially viable, productivity-enhancing economic developments, projects and businesses, we need smart, innovative, entrepreneurial people to find the very best technologies, processes and techniques to apply to our industries. 
"Of course, we can throw enough money at the problems to get our economy restarted. We can stimulate the economy artificially to create jobs and get the economy going again. But it's unsustainable. Our key focus, from an engineering perspective, needs to be sustainability."
Innovation, Power said, is not just about technology. Innovation can also be about processes, organisational structures or the development of technical knowledge. Innovation is also about the navigation of approval processes, community standards and regulatory standards.
In many of these areas, and in the field of technology, engineers will be expected to find the most cost-effective, efficient solutions.
"If we just throw money at this, we'll end up with welfare businesses," Power said. 
"As soon as government support is withdrawn, they will fall over. The challenge I would put out for engineers is that in rebuilding and developing new segments in our economy, we focus very much on developing techniques, processes, projects and businesses that are sustainable because they're competitive in global marketplaces."
That's not to say there's no role for government.  
In fact, the opposite is true, Power said. The role of government is absolutely to provide support, but only as the cherry on the cake. 
"If we just throw money at this, we'll end up with welfare businesses. As soon as government support is withdrawn, they will fall over."
The Australian Government's HomeBuilder program, which offers a grant of $25,000 to eligible owner-occupiers doing a renovation or new build worth more than $150,000, is an example. 
It doesn't pay for the whole lot; it simply encourages investment by others and incentivises.
Consider how government might do the same for business. 
Private enterprise might evaluate a gas pipeline by analysing the commercial return from a certain diameter of pipe. 
A larger-diameter pipe, while better for future proofing, might be cost-prohibitive. 
"Government could invest in expanding the diameter of that pipeline, to increase its capacity so we get infrastructure that is future-proofed," Power said. 
"And government can sell down its ownership as demand builds. That has been done very successfully in Western Australia, where the government has built the gas pipelines and then sold them to industry. That so-called asset-recycling process is a very effective way of governments continually using the same stimuli over and over again."
What's all this about manufacturing?
Various supply chain and geopolitical risks have increased dramatically over the last 12 months, resulting in much talk about bringing manufacturing back to Australian shores, just as Evolve Group did so many years ago.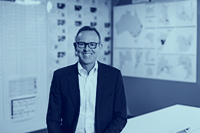 To comprehend the real power and opportunity of this idea, Goennemann said, it's important to first understand the meaning of "manufacturing".
"First, manufacturing is not a sector, it's a capability that spans many sectors," he said.
"Second, people confuse manufacturing with production."
In fact, Goennemann said, manufacturing is made up of seven parts. 
These are research and development, design, logistics, production, distribution, sales and service.
"Apple is an advanced manufacturer," Goennemann said. 
"They do research and development on the iPhone. They do design, and that's why it looks so good. They do distribution. They outsource the production to Foxconn, in China. Then comes distribution; the iPhones are sent to every Apple store in the world. Then comes sales, and then service.
"So Apple controls all seven steps of manufacturing. But the one part of it that we in Australia think is the important part, they have outsourced. This misunderstanding I cannot overemphasise. If we do not distinguish between production and manufacturing, we repeat a 100-year-old mistake."
Here, Goennemann referred to the story of Edward Holden, who was building horse carriages in Australia 100 years ago. 
Then General Motors asked him to help with the production of parts and cars. 
In those early days, he didn't manage the research and development, or the design.
The more we focus on what happens before and after production, Goennemann said, the better it will be for the nation, because this is where the higher value-adding jobs sit. 
This is also where we already boast enormous strengths.
"The engineer thinks about a product, how to find a technical solution, how to design the product, how to set up a production system, how to service the product," he said.
"These are all things that come before and after production, and this is where the smart stuff is."
Goennemann and Power share a message: it's not about the industry in which the engineer works, but about the engineer's skill set, and the value and capability they introduce to the process.
"It's not about the industry in which the engineer works, but about the engineer's skill set, and the value and capability they introduce to the process."
Challenge and opportunity
It is clear that there is a new normal; things will never go back to the way they were. And there is much positivity to be found in this fact, said Dr Bronwyn Evans, CEO of Engineers Australia. 
"What I'm seeing after roundtables with CEOs and leaders across industries, government and sectors is that Australian businesses are resilient and agile," Evans said. 
Interestingly, it's becoming clear that Australian businesses are not just looking to continue to build this resilience and agility into their own structures and processes, but are increasingly figuring out how they can ensure the health and viability of their communities and extended supply chains.
"There's a maturity companies are showing that revolves around the fact that it's not good enough for only their own staff and customers to succeed," Evans said. 
"They understand that Australia's future success is going to rely on us getting through this period together and being able to have the right skills in the right places along the way."
The right projects are also important, she said.
A strong focus on ensuring a constant supply of shovel-ready projects will ensure the viable ecosystem of engineering businesses that Power said is so vital to the success of the economy.
However, it's not just about new projects. 
A thorough strategy for maintaining existing infrastructure and an investment in the full asset management lifecycle is also vital. This will not only encourage innovation but will be good for communities and for building a vibrant economy.
Some types of infrastructure will be more important than others. One of these, Evans said, is communications. 
"As the dynamic of the economy changes and there is more remote and flexible working, it will only be successful with a strong and resilient communications network," she said. 
"The other benefit is that good communications technology ensures the city-region divide is narrowed."
Innes Willox, Chief Executive of Australian Industry Group and part of the NCCC's manufacturing taskforce, said many of the perceived challenges in industry revolve around the future of the project pipeline. 
"We've seen project pipelines dry up over the past three or four months," Willox said. 
"That means there are going to have to be some big decisions made in the second half of this year around workforce and capability needs. That has been leading to questions around business investment, which is looking fairly weak at the moment." 
And if the future of office work is, indeed, about not working in an office, that could also have negative effects, Willox said. 
"It's all right for people to be divided for a little while, but at some point they need to get back together for creativity to flow," he said. 
"Incidental conversations are where serendipity in business often happens. If that goes missing, what you end up with is a very planned and formulaic way of working." 
"A strong focus on ensuring a constant supply of shovel-ready projects will ensure the viable ecosystem of engineering businesses that Power says is so vital to the success of the economy."
The opportunities, Willox said, are many and varied. 
They will come from digital integration and from new infrastructure projects. They will come from learning institutions developing more powerful industry-education collaborations and creating more employable graduates. 
And, as Power also believes, they will come from innovations in the engineering sphere.
"This virus is not going away overnight. We're probably talking three to five years," Willox said. 
"These are the new circumstances in which we live and it's going to mean that some businesses will thrive and some will not. Those businesses that are innovative and inventive and that add great value will do well." 
Engineers and the cost of renewable energy
As an example of how engineers can help boost our nation's future prosperity, Power pointed to the renewable energy arena.
"There is a lot of talk about how the cost of renewable energy has come down so dramatically that it's now competitive with traditional energy generation. However, that's not quite the case. We need energy 24 hours a day, seven days a week. Or, as the energy companies say, we need energy when the sun don't shine and when the wind don't blow.
"For this to work with renewable energy, we need technology that dramatically reduces the cost of renewable generation storage, I would say to 50 per cent of what it is today. That's going to be a challenge for engineers.
"One of the key challenges I see is how we become fast adapters of technology to drive those capital cost efficiencies and operational productivities to bring those technologies into our economy quickly. 
"If we don't, if we try to introduce large-scale, renewable energy as baseload power today, then we're condemning Australian households to very high electricity prices, because it's not at the productivity and efficiency levels that we need, long term.
"That's a great example of why the role of engineers is going to be so important. It's not just about building things; it's about building commercially viable and competitive businesses."
National Bushfire Recovery Plan
Despite the scope of COVID-19, bushfire recovery action is still very much on the agenda, and needs to be a part of Australia's plans for the future.
A major change of direction occurred recently in the vision of the National Bushfire Recovery Agency (NBRA). It shifted its focus from looking backwards, to figure out the causes of the disaster, to looking forwards and focusing instead on the recovery.
Many voices were heard in the Royal Commission into National Natural Disaster Arrangements, said Engineers Australia's Senior Policy Advisor Sybilla Grady. That effort is backwards-looking, analysing what could be done better in the future.
Rather than doubling up, the National Bushfire Recovery Agency focuses on collaboration from states, and from local governments, to push forward recovery efforts.
"The NBRA is looking to act as an enabler for local recovery efforts," Grady said. "Their plan is almost complete and it will be very transparent. The idea is for it to be iterative, to be able to change according to specific regional needs."
What is the role of engineers in this recovery plan?
"Primarily, what we're hoping to see is that when state and local governments evaluate the opportunities for improvement in rebuilding, they consider the principles of building back better," Grady said. 
"Engineers play a role in ensuring the safety of communities and evaluating risks. But they can also be consulted about how we might build back better, so we're not just erecting things quickly in the interest of expedience."
"We're looking for that triple bottom line around social, economic and environmental progress. Engineers are pivotal in that space."
Engineers Australia's wish list for Australia's recovery
Dr Bronwyn Evans, CEO of Engineers Australia, lists six desirable outcomes from the changes we'll face as a nation over the next few years.
Keep the focus on infrastructure.

Make the supply chain more resilient, with some sovereignty but not isolationist, and in a global, rules-based system that Australia is active in designing.

Build skills for a digital future, including cyber engineering and a better understanding of how to engage with data.

Reverse the STEM skills deficit by getting STEM into the school system earlier.

Double down on diversity, especially in engineering, to attract the best and brightest minds from every part of society.

Capture the workplace revolution we're currently witnessing that makes leaders focus on creating a place of psychological and physical safety for their people.