Australia could be smarter when it comes to disaster relief, technology leaders have told the Royal Commission into National Natural Disaster Arrangements.
A number of Australian technology experts appeared before the Royal Commission this week to explain how their developments could be used to help combat catastrophes such as last summer's tragic bushfires.
Australian Space Agency Deputy Head Anthony Murfett told commissioners that a recent report from the Bushfire Earth Observation Task Force, a partnership between his agency, the CSIRO, Geoscience Australia and the Bureau of Meteorology, found that satellite technology played a crucial role in combating the fires — both before, during and after they burned. 
"They relate to active fire mapping, the detection of smoke, understanding the weather conditions that can happen through fire, and thinking through other things such as access to water, as well as other pre-fire information," Murfett told the Commission.
Murfett added that the Task Force would be looking at "how space technologies could be used in the future," not only how they had been used over the summer.
To this end, the commissioners heard from a number of Australian innovation leaders whose technology could be used to help combat disasters. 
Smart tracking
Eugene Blignaut, a solutions engineer in telematics at fleet management company Smartrak, was one expert who appeared. He told create that the firm's technology had featured bushfire feeds since 2016 and now covers Tasmania, ACT, Queensland, New South Wales and Victoria.
"We found that satellite technology played a crucial role in combating the fires — both before, during and after they burned."
"Smartrak can integrate GIS layers and RSS feeds into our map interface," he explained. 
"This allows organisations to integrate data, such as bushfire locations, in conjunction with our telematics information such as personal safety devices and vehicle GPS locations."
For emergency services, the technology can be used for preparation, response and coordination management and recovery management, as well as in lone worker devices to ensure the ongoing safety of operators in the field.
"Displaying these feeds within the same interface provides more accurate and usable information when setting up features such as geofences, or virtual thresholds, which trigger notifications when vehicles equipped with tracking, or individuals carrying personal safety devices, cross this threshold," Blignaut said.
"This allows dispatchers to contact and redirect staff members moving into at-risk locations."
He said that it was difficult to estimate the number of devices that would be needed to help coordinate a wide-ranging response to a disaster, but it would likely be "in the thousands" and they would need to be enabled and deployed ahead of time. 
"The technology allows dispatchers to contact and redirect staff members moving into at-risk locations."
Sensing danger
Intelligent sensors can also be used to respond to emergency situations.
Cameron McKenna, Managing Director of Attentis, gave evidence of how the firm's smart sensors can monitor fire, flood, noise, vibration, ground movement and air composition to enable rapid investigation, allowing for responses that take into account live conditions.
"Located on 8.5-metre-high poles throughout a region, the individual sensors operate autonomously, as well as forming an integrated real-time, high-speed data network to maintain continuous 24-hour situational awareness through the area," McKenna explained to create.
He said that outside of both natural and man-made emergency management, the firm's technology also has applications in powerline infrastructure, mining, demolition and environmental monitoring.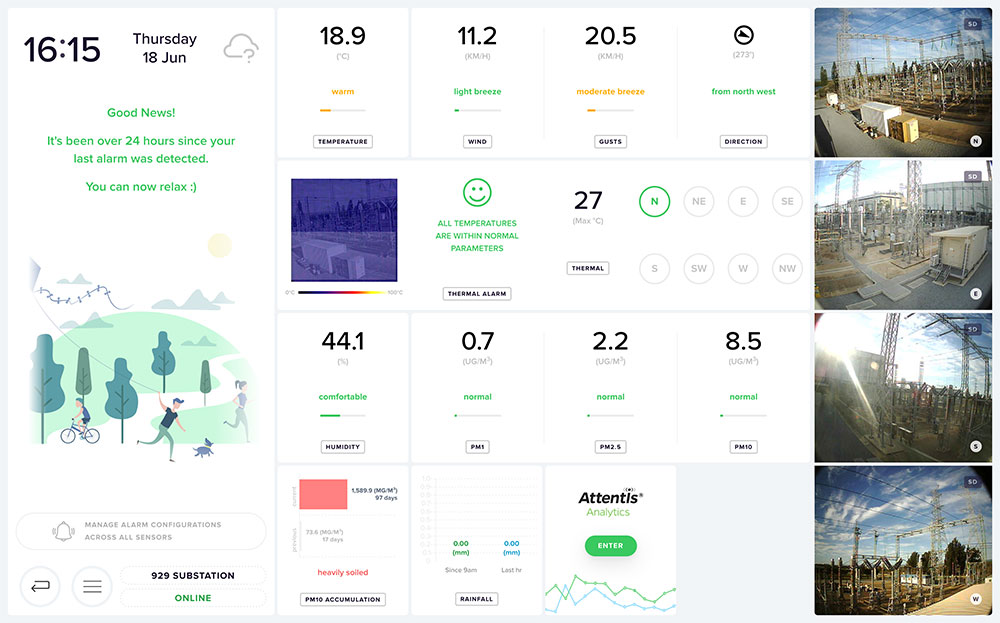 "The networks are designed to be located in high-risk locations and service a complete range of emergency management, local industry and general public needs year-round, not only during fire and flood season," he said.
"It reveals and notifies of fine scale changes and analysis to predict and detect an event, providing the key platform for the prevention and impact reduction of future events."
The technology was recently put to the test across a 1470-square-kilometre area in Victoria's Latrobe Valley, where it combined bushfire ignition detection with river and stream level monitoring, air quality tracking and 24-hour microclimate weather conditions to provide early notification of fires, floods and air quality issues, such as storm asthma that could impact the lives of residents. 
McKenna said it cost $1.7 million to install the technology over a four month period involving 44 individual locations.
Smarter data
Managing Director of emergency and event management software company Red Helmet Technology Tarron Newman presented his firm's range of tools for smarter emergency data to the Royal Commission.
"Our systems are built on cloud-based technology and our suite of products are an evolving suite of tools," he told create. 
"Data to prepare for and respond to natural disasters will dilate further in the coming years. Coordinating that data and making it useful is the next big challenge."
"We aim to release often and continually enhance based on user feedback. By doing this production times are faster and are more focused."
Red Helmet Technology has five different tools that range from a free app, Alert2Me, to emergency service product Alert2Mate, as well as additional open source and commercial arrangements.
Newman said that while "there are apps for everything these days," a maturing technology market will enhance automated decision-making support for emergency managers at all levels of government.
"Data and information to prepare for, respond to, and recover from natural disasters will dilate further in the coming years," he said. 
"Coordinating that data and making it useful to the community and emergency services is the next big challenge."